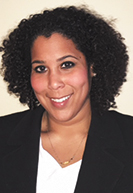 By Magistrate Melanie L. Kendrick, Marion Superior Court
The IndyBar Foundation Visibility Committee is excited to announce some upcoming events. Trivia Night is back on April 6 at Blind Owl Brewery. The event will start at 6 p.m., so grab your friends or come solo and join a team and earn some bragging rights. It's the perfect time to tout the obscure knowledge you learned from deep-diving various Wikipedia pages to avoid studying in law school! When else will it come in handy that you know the capitals of all 50 states or that you can name every kingdom in Game of Thrones? It's your time to shine!
The Foundation's Empowerment Breakfast is back and coincides with the IndyBar Day of Giving on April 27. The breakfast will be held from 8-9 a.m. at the Meridian Hills Country Club. Tickets are $25 or you can reserve a table for eight for $200 at indybar.org/events. Celebrate the impact of the Indianapolis Bar Foundation and its many supporters at this special breakfast gathering! Those honored at the event include the 2023 Class of Life Fellows, the 2023 Class of Distinguished Fellows and the 2023 Community Empowerment Grant recipient.
The Day of Giving will kick off at the breakfast and continue throughout April 27. This is more than a 24-hour giving challenge: It's our chance to come together to demonstrate the important impact that lawyers and legal professionals make in our city every day. This helps IndyBar Foundation-funded programming like the Virtual Help Desk, which connects individuals seeking legal assistance with free guidance every weekday via a live online chat; Ask a Lawyer and Legal Line, which provide additional opportunities for free legal assistance; the Free Wills Clinics and the Hospice Program, which provide peace of mind for vulnerable neighbors through no-cost estate planning; and The Homeless Shelter Project, which connects individuals experiencing homelessness with advice to help address legal issues. We're asking you to donate the equivalent of one billable hour this year, but any donation, big or small, makes a difference in the IndyBar Foundation's ability to fulfill its mission to advance justice and lead positive change in Indianapolis.
Speaking of positive change in Indianapolis … the Block Party is back again this year! Apologies in advance to the other tenants on Illinois and Ohio, because there ain't no party like an IndyBar Party and an IndyBar party don't stop! Kick off your race weekend with us on May 25 at IndyBarHQ. There's a potential for things like palm readings, dunk tanks, (perhaps to dunk that one judge who ruled against you), carnival games and more. We make no promises quite yet, so mark your calendars and stay tuned for more information in the coming weeks!•
Please enable JavaScript to view this content.