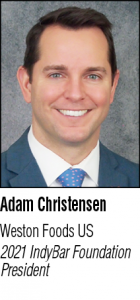 Dear Indianapolis Bar Foundation,
Hey! What's going on, IndyBar Foundation? Not much here other than spiraling rapidly toward the holiday season and the end of my tenure as your president, both of which seem too temporally close to be real.
Not that I've had much time for tooling around these days, but I have managed to watch a bit of the Peter Jackson cut of "The Beatles: Get Back" sessions. As you know, dear IndyBar Foundation, The Beatles are without equal for me. No matter how stereotypically middle-aged-Caucasian-male that statement is, it's no less true. These guys friggin' rock. I've tried to explain the nearly impossible "amaze-balls-ness" of The Beatles to the skeptics/haters/uninitiated (or as much as a Midwestern kid born in 1981 can divine about the real Beatles experience), and this is the best I've come up with:
Imagine the best pop band in the world: attractive, rebellious, wildly talented, equally venerated or vexing depending on which side of 25 you're on when you hear them. For sake of argument, let's call this band "The Justin Swift Destiny's 5." They're not just here and hot; they're everywhere and they're sizzling. They put out a half dozen killer pop albums, dominate the charts and sell out the biggest venues their promoters can find.
Then one day, that band stops touring. They travel halfway around the world. They go into hiding, vanish from public view. They pursue some "individual interests." When they return, they seem different. They don't look the same. Their personalities are starkly distinct and shockingly different. Everyone's worried. How are they going to recreate the success they had before? Then, they release their new album, and it has a funny name…
Now, imagine the most creative rock band of all time: experimental, bold, totally unique yet comfortably familiar, equally venerated or vexing depending on which side of 35 you're on when you hear them. For sake of argument, let's call this band "The Kendrick Floyd RadioKast." They release a single and … holy crap! Not only do you have to reexamine what you thought about the "JSD 5," you have to reevaluate everything you've ever thought about music. This band isn't just tsunami-big like they were before. They're mythical-big, beyond-the-elements BIG. They push music to places it had never been and, more than 50 years later, they continue to influence generations and scores of musicians on style, structure, sound and what it means to make music.
The Beatles are The Justin Swift Destiny's 5 that became The Kendrick Floyd RadioKast. It's a mind-boggling legacy: to be the best band in the world, not once, but twice!
It struck me, however, while watching these sessions that The Beatles left another legacy behind: a masterclass in what it means for a group of people to come together to create something bigger than themselves that can evolve and endure despite time and change.
It's this, dear IndyBar Foundation, that reminded me of you. At your core, you are a group of well-meaning, hard-working, dedicated individuals each with their distinct personalities, talents and goals. Celebrated in their own regard, these individuals become magnificent in harmony, a charitable "Eleanor Rigby." Along their journey together, there are triumphs and tragedies, breakups and reunions, but the central foci remain the same: fellowship, charity and respect. From this center, they develop new techniques, innovate styles, vary themes, and that keeps your sound fresh and vibrant. It keeps you at the top of the charts.
I'm grateful to have been your walrus for a brief period of time. I'm not sure if I was any good at it, that I did it better than any other studio musician would have. As any of the boys from Liverpool would acknowledge, it's hard enough to live up to a legacy, let alone help a legacy evolve. But the egg-men (well, egg-women) are ready to release a new album into your rich catalogue. I have no doubt that it's going to be an instant classic.
I think you catch the metaphor I'm torturing. You're in great hands, IndyBar Foundation. Raegan Gibson, Biz Walker, Elisabeth Edwards and Julie Armstrong: individually, they're rockstars. Together, they're Fab. Take good care, IndyBar Foundation.•
– Adam
Please enable JavaScript to view this content.