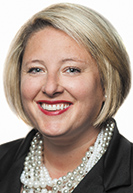 By Raegan Gibson, Paganelli Law Group
The Indianapolis Bar Foundation is hosting its annual Day of Giving on Oct. 27. Through this online fundraiser, with one donation big or small, you have the opportunity to touch thousands of people — your fellow lawyers, law students, and people in need in and around Indianapolis.
Fellow lawyers. The IndyBar Foundation supports lawyers through a number of philanthropic initiatives. In 2020, at the height of the COVID-19 pandemic, some of our fellow attorneys were struggling financially. The IndyBar Foundation responded with the Crisis Empowerment Grant — a $35,000 grant that compensated attorneys in exchange for their representation of community members in need. The program was a tremendous success, so the IndyBar Foundation continued the Crisis Empowerment Grant in 2021. Additionally, the IndyBar Foundation makes it possible for the IndyBar to offer virtual CLE access for almost all of its continuing educational programming — keeping us both educated and safe.
Law students. The IndyBar Foundation has helped scores of future attorneys attend law school and pass the bar exam with scholarships totaling more than $235,000. The IndyBar Foundation supports the Diversity Job Fair, which provides a forum for racially and ethnically diverse law students, LGBTQ+ students and those with disabilities to interview with law firms in and around Indianapolis. Finally, the IndyBar Foundation provides a number of networking and social opportunities for law students embarking on their careers and navigating their way into the legal community.
People in need. The IndyBar Foundation supports a number of charitable programs that allow our lawyers to volunteer, give back to the community and fulfill their pro bono duties by providing free legal assistance to people who cannot afford legal services. These programs include, but are not limited to the Free Wills Clinics, Legal Line, Ask a Lawyer, and the Virtual Help Desk. By and through these programs, over the last five years, the IndyBar Foundation has supported nearly 2,000 volunteers in providing free legal services to over 10,000 people in our community.
These figures make me incredibly proud. Proud to lead the Indianapolis Bar Foundation. Proud to give my time and money to such a wonderful organization. And, proud of the tremendous impact it makes in the lives of my colleagues and my community. I hope that you feel the same way. I hope that you will strongly consider supporting the IndyBar Foundation and its goal of raising $60,000 on the Day of Giving on Oct. 27. What an amazing opportunity in one day with one gift to help thousands.
If you would like any additional information on the IndyBar Foundation or if you would like to learn more about the Day of Giving, please don't hesitate to contact me at [email protected] Additionally, please feel free to stop by IndyBar HQ at 140 N. Illinois St., Indianapolis on the Day of Giving. There will be a Happy Hour to thank all of our supporters from 4 to 6 p.m. •
Please enable JavaScript to view this content.