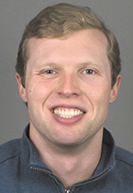 By Riley Parr, 2019-2020 chair of the IndyBar Law Student Division
My name is Riley Parr, and I have the privilege of serving as the chair of the Indianapolis Bar Association Law Student Division for the 2019-2020 academic year. When I took over this role, I soon realized that many people, including students (I certainly fell into this group), had no idea of the uniqueness of our division: few — if any — bar associations around the country have a separate and distinct law student-run entity that comes close to matching our level of programming and involvement. But the evolving nature of the legal field, both educationally and professionally, requires constant re-evaluation to make sure we remain in front of the curve.
That's why the first thing that the current board did after taking over mid-year was identify what we wanted the division to do for fellow students. What was it that, at our core, we wanted to be? The answer was relatively straightforward: position ourselves as the go-to organization for students who want to get a head start on their career and begin building their reputation by meeting, interacting and networking with legal professionals.
With that mission at the forefront, we excised from our offerings those things that were at one time helpful but whose usefulness had since passed, while emphasizing and expanding those opportunities that provide consistently high value for law students and further our objectives.
One of our most popular events is the monthly Breakfast with the Bar series, where local attorneys and students share breakfast, mingle and chat in small groups about a particular topic. Among this past semester's breakfast events were two extremely successful events. One focused on in-house counsel, and one highlighted solo/small firm lawyers. Apart from the free food—always a sure-fire way to attract law students—these intimate gatherings provide law students with the chance to talk one-on-one with attorneys in a certain practice area or demographic. And, on occasion, students who attend these breakfast events have even come away with job offers. In the spring of 2020, we'll have breakfast events focused on intellectual property, health law (in conjunction with the Indiana University Robert H. McKinney School of Law's Health Law Society) and non-traditional legal careers.
Those in the legal profession have rightfully long-extolled the importance and virtue of giving back. But Law Student Division members aren't waiting until graduation. We frequently volunteer by assisting lawyers at the Free Wills Clinics and Ask a Lawyer programs, simultaneously gaining valuable knowledge and skills while helping those in need.
Our future looking ahead into 2020 promises even more. The Law Student Division is one of several law student groups helping to plan special events celebrating the 100th anniversary of the 19th Amendment. Consistent with our mission, we're hoping to do even more to connect and engage with other committees and divisions within the IndyBar.
When people, especially new law students, ask for advice about law school, the first thing out of my mouth is that the singular best thing they can do is join the IndyBar Law Student Division. No other organization or experience in school provides opportunities for personal and professional enrichment. In five years, nobody will remember or care what grades somebody got or what position somebody had in a student group or if somebody had been unenviably marked as a "gunner" (or so they hope!) But people will remember if you showed up to an event they planned, introduced them to a friend or future boss, or spent an afternoon volunteering to help improve our community.
The Law Student Division recently welcomed several outstanding new board members. Their experiences and ideas, coupled with the energy and commitment of our continuing leadership, will continue to push the IndyBar Law Student Division to help students maximize their time and potential. Here's to the best year yet!•
Please enable JavaScript to view this content.