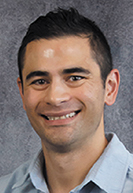 By Trenton B. Morton, Mercy For Animals
Let's kick off 2023 with a statement that's never appeared in Indiana Lawyer: I work in animal welfare and I'm optimistic. I'm optimistic because I think Americans are, ever-so-subtly, considering the well-being of nonhuman animals with ever-increasing concern. I think our laws are obliged to — and will — follow suit. Peter Singer's concept of the "expanding circle" will help explain.
Since prehistory, humanity has expanded its scope of moral concern, but inconsistencies remain.
Early humans primarily protected their kin, but cultures developed to protect progressively larger, unrelated tribes and groups. Our norms and laws have evolved from considering only those in our family or tribe to protecting people we'll never meet. Take today's international environmental commitments as exemplary.
The growth of our moral concern is the "expanding circle." The philosopher Peter Singer has written that humans' cognitive ability to reason about desirable ethics has expanded the "altruistic impulses once limited to one's kin and one's own group" into a wider circle, because humans have learned that their ingroup is "no more important than others." This widening circle for humans has been accompanied by a growing circle for nonhuman animals. That is, beyond our species, human altruism has begun to reach some animals in some circumstances.
Animal abuse prohibitions exemplify the expanding circle's nonhuman reach. In many places, abuses that were lawful less than a century ago are now illegal. These prohibitions, however, have clear inconsistencies.
For example, Indiana criminalizes abusing vertebrate animals unless you conduct that abuse under "[a]cceptable farm management practices." Other states' laws operate similarly. Vexed by this, New York Times columnist Nicholas Kristof quipped, "Torture a single chicken and you risk arrest. Abuse hundreds of thousands of chickens for their entire lives? That's agribusiness." If enough people in one industry act in the same abusive way enough times, what was criminal becomes legal.
The arbitrariness of animal cruelty statutes is the antithesis of the rule of law.
"Inconsistency is the antithesis of the rule of law," the D.C. Circuit has repeatedly emphasized. LaShawn A. v. Barry, 87 F. 3d 1389, 1393 (D.C. Cir. 1996). In his seminal treatise "The Morality of Law," legal philosopher Lon Fuller required that law be noncontradictory as one of his eight principles of the rule of law. Retired U.S. Supreme Court Justice Sandra Day O'Connor has written that "the Rule of Law requires that legal rules be publicly known, consistently enforced, and even-handedly applied." Sigh. My point is axiomatic: Inconsistent laws demand reform.
You can probably tell where I'm headed. Indeed, recall that, in many states, animal abuse is fine if the right people, in the right industry, do it enough. These laws are not logically consistent. They are, quite simply, affronts to the rule of law.
Today, our scope of moral concern continues to expand, and our laws must follow suit.
I'm nevertheless hopeful. Our social norms are nudging our laws toward greater consistency. Humans can be rational animals — Aristotle was partly correct — who can use reason to overcome their dissonance. The circle expands in fits and starts. But it's happening.
You can see it in the 14 states that have banned cruel confinement for chickens, pigs or cows in the past two decades. A 2022 YouGov poll found that 46% of Americans think animal protection laws aren't strict enough, versus 32% finding laws "about right" and 5% finding laws too strict (17% were unsure). In a 2019 Johns Hopkins poll, 57% of Americans wanted stronger legal protections for farmed animals. People want the law to consistently value the well-being of animals.
Powerful institutions contort themselves to try to look like they're onboard. The National Pork Producers Council's website proclaims that "producers care deeply about the health and well-being of their animals and have a moral obligation to raise them humanely and compassionately." However, while challenging California's Proposition 12, which bans the sale of meat from pigs kept in cruel confinement, before the Supreme Court in October 2022, an NPPC attorney beamed that the industry "sell[s] everything except the oink… [s]o the blood, the fat, the collagen, everything is sold" so that "[e]very piece of that pig is going to bear the cost." Which claim sounds sincerer?
People are beginning to understand what these institutions truly represent.
In October 2022, a jury acquitted two animal rights activists of burglary and theft charges for rescuing two sick piglets from a Smithfield Foods farm in 2017. During the trial, prosecutors admitted that Smithfield valued each piglet at $42.20 and analogized the rescue of the piglets to the shoplifting of groceries: "Oh my goodness, that can has a dent… I better rescue that can." After the trial, jurors cited as one of their reasons for acquittal their belief that Smithfield deemed the piglets valueless. As the circle expands, society is wising up.
Next time we talk, I think I'll have more reasons to be optimistic. Society's altruistic impulses are growing for a greater number of sentient creatures. The moral circle is expanding. Consistency — indeed, the rule of law — demands that our laws match that expansion.•
Please enable JavaScript to view this content.