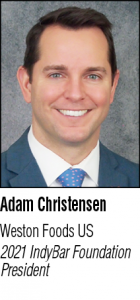 The first official meeting at the new IndyBarHQ space – a meeting of the Indianapolis Bar Association Board of Directors – was held on March 4, 2020. On Tuesday, March 10, the newly christened HQ officially opened to the public. By the end of that week, we held our first Zoom call of many and settled on the language for our message.
"To ensure the health and well-being of our members and staff, IndyBar will postpone and reschedule all in-person events at least through April 10, 2020. In addition, we will close IndyBarHQ to members until that time, with the option to reopen if the situation materially changes." It was Friday, March 13, 2020.
Three hundred and sixty-four days later, on March 12, 2021, an article appeared in this very space officially welcoming members back to the IndyBarHQ most of them had never seen. In those intervening days, IndyBarHQ was largely still, waiting for the time, sweat and resources invested into its new home to finally pay off. The Hub of the Indy Legal Community, a "home away from home" for Indy lawyers, sat quietly empty just as it had been given purpose.
All the while, our practices, our offices, our families, our entire worlds did not stay so frozen in time. We all know the things that have changed – from the way we work, to the way we socialize, to the way we value our time – and we all sense a new truth: many of these changes, now so engrained, are likely indelible.
What, then, of IndyBarHQ, a beautiful facility with private focus rooms, large meeting spaces with state-of-the-art audio/video equipment and a large, airy common area stocked with refreshments for morning (coffee), midday (popcorn and soda), and after hours (frothy, beer-y goodness)? How will IndyBarHQ evolve to meet the changing needs of our members and our legal community? What can become of our "home away from home" when our actual home looks nothing like it did one year ago?
An IndyBarHQ utilization task force has been organized, featuring a diverse group of members, to direct our new HQ's evolution with intention and creativity. The ideas already are simmering vigorously: law student luncheons, tailgating, business development, cocktail hours, etc.
But we need your help to bring them to a full boil. Send us your thoughts, ideas, proposals, wishes, critiques and suggestions as to how we can maximize IndyBarHQ as a member service, as a true hub for the Indianapolis legal community. We'll take those ideas an incorporate them (the good ones, anyway) into our ongoing strategic planning and into our new home.
Send your ideas to us on social media: on Facebook (facebook.com/indybar), on Twitter (@indybar) and Instagram (@indybar) or via email to Kara Sikorski at [email protected]•
Please enable JavaScript to view this content.