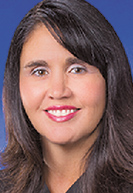 Each year, the IndyBar Women and the Law Division presents the Antoinette Dakin Leach Award to recognize the accomplishments of a female attorney in central Indiana. The award is named in honor of Antoinette Dakin Leach, one of the first women admitted to the Indiana Bar.
The spirit of Antoinette Dakin Leach lives on through each award winner including this year's recipient, Judge Heather Welch of the Marion Superior Court. She exemplifies the definition of a trailblazer in the legal profession, as she was recently elected to lead Marion Superior Court's first all-female Executive Committee.
Judge Welch currently sits on the civil division bench in Marion County, where she was elected in 2007. She's also served in the criminal division and was the civil chair from January 2009 to January 2011. She's very active with the IndyBar and has served in numerous roles, including vice president on the Board of Directors.
Judge Welch's nominator, Sally Zweig of Katz Korin Cunningham PC, commends Judge Welch for her work as the first Marion County judge to preside over a specialized docket of involving commercial business disputes. Zweig notes that she has done much to make that initiative a success, and although she manages an increased docket, her court is well-run and she is always well-prepared.
Zweig also says Judge Welch's collegiality with counsel makes her a worthy recipient of this year's honor. "When asked to assume the specialized jurisdiction, she said yes, whereas others might have said no, and although she must have known that her work load would increase, she surely has exceeded anyone's expectations," Zweig said.
Judge Welch will be honored at the annual Antoinette Dakin Leach Award Luncheon, to be held this fall.•
Please enable JavaScript to view this content.