Lucy Dollens, IndyBar Women and the Law Division Executive Committee member, recently sat down with Sonia Chen Arnold, Senior Director, Assistant General Counsel- Consumer/Customer Operations at Eli Lilly and Company. Sonia is part of the general legal team that supports Eli Lilly's business units, and she focuses on supporting consumer and customer operations. Tellingly, Sonia's email signature block includes the powerful phrase: "I stand in solidarity against injustice and in support of humanity." Sonia's responses to my interview questions were enlightening, and I encourage you to check them out here: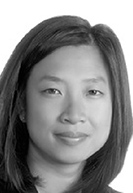 What about your career brings you the most joy?
I enjoy supporting a business that is focused on creating medicines that make life better for people around the world. What makes it even more rewarding is that part of my job is to help develop a strong and diverse legal team to successfully support the company (something that I've always been passionate about). And what keeps me going is that the job never gets boring- I'm constantly learning new things and being challenged in my roles with the company.
Can you speak about your experience as a diverse female attorney in Indy – positive or negative?
When I left private practice ten years ago, I was really torn about the decision to go in-house since I felt there was still a lot of work to be done in the profession and at my firm to create a more diverse and inclusive culture. I felt an obligation to show the younger, diverse associates behind me that it was possible as an Asian female attorney to be a partner at a law firm.
Now I'm blown away by the diverse talent in and outside of Indianapolis when we are conducting interviews. I'm pleased to see the increasing number of women and minority attorneys that have become successful partners at law firms and who serve as lead attorneys on large litigation matters and on management committees leading big law firms.
The legal community has certainly made progress, but there is still work to be done. I love opportunities where in-house and private practice attorneys are able to share ideas and best practices to advance our common goal of "raising the bar" in our profession.
I've also learned a lot about myself in the past 10 years as an in-house attorney. I have learned to embrace strengths and weaknesses, to leverage strengths, and not to over-index on weaknesses. I have learned not to be afraid to have a different style and not to adopt a style that is not a natural fit for me.
Can you share a beneficial piece of advice you've received or given that you think other attorneys should hear?
I'm often asked by candidates when conducting interviews: "What is the key to being a successful attorney at Eli Lilly?" I don't think it's unique to Lilly, but in order to have different and new opportunities, people have to be able to envision you in that role. Even if you aren't an expert in the area, when you start developing a track record of being flexible, adaptable and capable of quickly picking up different/new skill sets, people will continue looking to you to fill gaps/open roles. It's not for everyone, but I personally welcome change and new challenges. As a result, I have had the opportunity to take on new positions every two to four years at Eli Lilly, allowing me to learn different parts of the business throughout the past 10 years.
What do you like to do outside of work or in your free time (if any!)?
I enjoy spending time with my husband and two little girls (4 yrs and 6 yrs). Even with all of the challenges of the pandemic this past year, there have been so many positives. Spending 90+ days hunkered down together at home at the beginning of the pandemic with my daughters is one of them. I've also been able to drop off and pick up my 6-year-old in her first year of elementary school and eat dinner as a family together every night. We've been on road trips! Looking back, I have so many things for which to be thankful from this past year.•
Please enable JavaScript to view this content.