By Kayla Moody-Grant, Taft Stettinius & Hollister LLP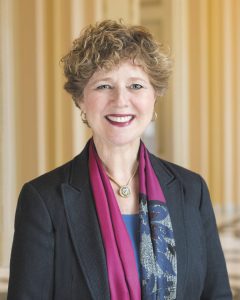 The IndyBar Women and the Law Division (WLD) is pleased to announce former U.S. Representative Susan Brooks as the 2021 Antoinette Dakin Leach (ADL) Award winner. The ADL Award recognizes the accomplishments of female trailblazers within the Indianapolis legal community who have paved the way for other female attorneys to continue breaking barriers within this honorable profession. It is only fitting that Congresswoman Brooks, who has spent her career serving Hoosiers, be honored with such a prestigious award.
Congresswoman Brooks represented Indiana's 5th Congressional District in the U.S. House of Representatives from 2013 to 2021. As a Congresswoman, Brooks made history as the first woman in her party to serve the state of Indiana in Congress since 1959 and the first woman from Indiana to chair a House committee.
Congresswoman Brooks began her career in private practice as a criminal defense attorney for 13 years. She went on to serve as deputy mayor of Indianapolis under Mayor Stephen Goldsmith, where she focused on public safety and criminal justice and worked closely with the city's police and fire departments and first responders. Congresswoman Brooks took her talents to the government services practice group at Ice Miller LLP before being appointed U.S. attorney for the Southern District of Indiana. She was also the general counsel and senior vice president for workforce and economic development at Ivy Tech Community College.
Congresswoman Brooks was recently appointed as a distinguished scholar and ambassador at large at her alma mater, the Indiana University Robert H. McKinney School of Law, where she will co-teach a course on law and leadership with former Dean Andrew Klein.
Congresswoman Brooks' career has been anything but ordinary. But throughout, she has always found time to mentor countless female attorneys, be a champion for public service and serve her community. All while being a trailblazer in her work to create work-life balance in the offices she leads.
The WLD will be hosting a virtual event to honor former Congresswoman Brooks as the 2021 ADL Award winner on October 7, 2021 at noon. Sign up to join this wonderful event to learn more about Congresswoman Susan Brooks' journey at indybar.org/events!•
Please enable JavaScript to view this content.