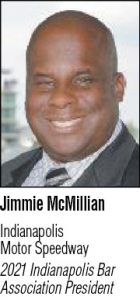 The most common question that I receive from lawyers and business professionals is, "How do you manage what appears to be very busy and hectic schedule?" The work/life balance dilemma is perhaps the toughest challenge faced by members of our legal profession. My answer to the question is typically an honest one: "I don't manage my life; I live it and hope that I have done my very best to do the things that I was required to do during that day."
Time is a unique mixture of blessing and curse for lawyers. It is limited. It is consistent. It is relentless. Everyone wants more of it, but no one knows how much you really have left. For most lawyers, it is the very measurement that determines our pay. Billable hours, filing and project deadlines, partnership and retirement goals are all dates that populate our calendars. Overlay that with our personal calendar equally populated with birthdays, wedding anniversaries, graduations, children's sports games and vacations. Overlay both of those with meetings for boards of directors, community service projects, church, political fundraisers, leadership series meetings, conferences, bar association meetings, professional networking events, business breakfasts and lunches, mentor and mentee meetings and (for me) motorcycle club president obligations, meetings and rides across the country.
Time! The most valuable thing we all have. Once it is gone, you can never get it back. How do you choose to spend it? How do you do all of the stuff that you have to do in the limited time that you have to do it? It's all important, but how do you personally prioritize what goes first and what will unfortunately be left undone?
If you are like me, the answer truly depends on the day and the urgency of the activity, phone call, meeting, email or text message. I would like to say that family always comes first! But honestly, there are many times that my kids have sat in the next room, at the restaurant table or in the grandstands at the Indianapolis Motor Speedway while daddy has a meeting or is conducting business for work. I would like to say that I am that superhero professional leader that makes every deadline, responds to every email within 24 hours and completes each and every project with time to spare. I assure you that I am not that superhero. I am often flying around the city, not with a cape but with my phone to in my hand trying to finish my last Zoom call before storming late into my next in-person meeting to serve as board chair or IndyBar President. I am not really sure if there is such thing as a comfortable, relaxing work/life balance for lawyer leaders. Our best and brightest attorneys have such big hearts and desire to help others that they tend to take any empty space on their already overflowing calendars and despite their best judgment offer that time freely and willingly. We are taught to say "no" but we are called to say "yes."
Perhaps the right question is not, "How do you create work/life balance?" but rather, "How do you mentally, physically and emotionally deal with the inherent inability for lawyers to have work/life balance?" My best answer is to schedule and calendar regular time for yourself and things you love and that make you whole. Hopefully, they are not exclusive from family, work, networking and community obligations. If your schedule is jam-packed with things that you hate or drain you dry, then you will undoubtedly eventually burn out. Your internal engine can only run so long without the oil of happiness. Consider whether the activities that fill your day fill you up or leave you empty and exhausted. Your time is far too valuable and precious not to spend it on things, people and organizations that bring you joy. My answer to the work/life balance dilemma is to make sure you schedule time to have fun! Simple and obvious but does your current schedule include activities that are fun for you? If not, time to make a change today.•
Please enable JavaScript to view this content.