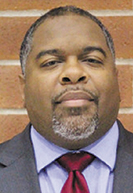 By Terrance Tharpe, Marion Superior Court
Employment and housing are two of the biggest issues individuals deal with when released from prison, and numerous entities rightly focus on these issues in hopes of reducing recidivism. However, research shows that the effects on the children of the incarcerated are just as daunting and in need of attention. A decade of academic and government research links absent fathers to every ill that besets children, including poverty, truancy, teen pregnancy and suicide. According to the National Survey of Children's Health, Indiana ranks second in the nation for incarcerated parents. Thanks to a $35,000 grant from the Indianapolis Bar Foundation, YouYesYou! (YYY) will expand its programming to help incarcerated and formerly incarcerated men become better fathers.
As the 2023 Indianapolis Bar Foundation Community Empowerment Grant recipient, YYY will create a Legal Assistance Initiative to complement its services for incarcerated fathers. Current programs include bonding opportunities with children, fatherhood workshops, group and individual therapy, and prerelease planning with fathers to prepare for a successful return to their families. YYY currently operates inside the Putnamville and Plainfield Correctional Facilities. Through the Legal Assistance Initiative, Indianapolis Bar Association members will meet with YYY fathers twice a month and assist them with various legal issues to successfully prepare for life post-release.
About the Indianapolis Bar Foundation and the Community Empowerment Fund
The Community Empowerment Fund (originally known as the Impact Fund) began in 2011 as a vehicle to maximize the financial generosity of Indianapolis Bar Foundation donors and to provide members of the Indianapolis Bar Association with compelling opportunities to donate their time through pro bono service. Since its inception, more than $380,000 has been awarded through the fund to organizations like Reach for Youth, the Center for Victim and Human Rights, Kids' Voice of Indiana, Indy Reads, Peace Learning Center, the Joseph Maley Foundation, Indiana Legal Services Inc., the Health and Human Rights Clinic at the Indiana University Robert H. McKinney School of Law and last year's grant recipient, Indiana Disability Rights, to provide a significant positive impact in central Indiana through the promotion of access to justice for indigent persons.
The Community Empowerment Fund is an important tool in the foundation's efforts to fulfill its mission: to advance justice and lead positive change in Indianapolis through philanthropy, education and service. In addition to the Impact Fund, the Indianapolis Bar Foundation grants $140,000 each year to various community service programs co-sponsored with the Indianapolis Bar Association.
About YouYesYou!
The mission of YouYesYou! (YYY) is to help build relationships between incarcerated fathers and their children and strengthen their ability to be fathers. YYY's unique model of reentry support for incarcerated fathers and their families enhances relationships between fathers and their children as a foundation to build upon after their release, connects fathers to resources prerelease to optimize their transition, and continues providing individualized support post-release.•
Please enable JavaScript to view this content.