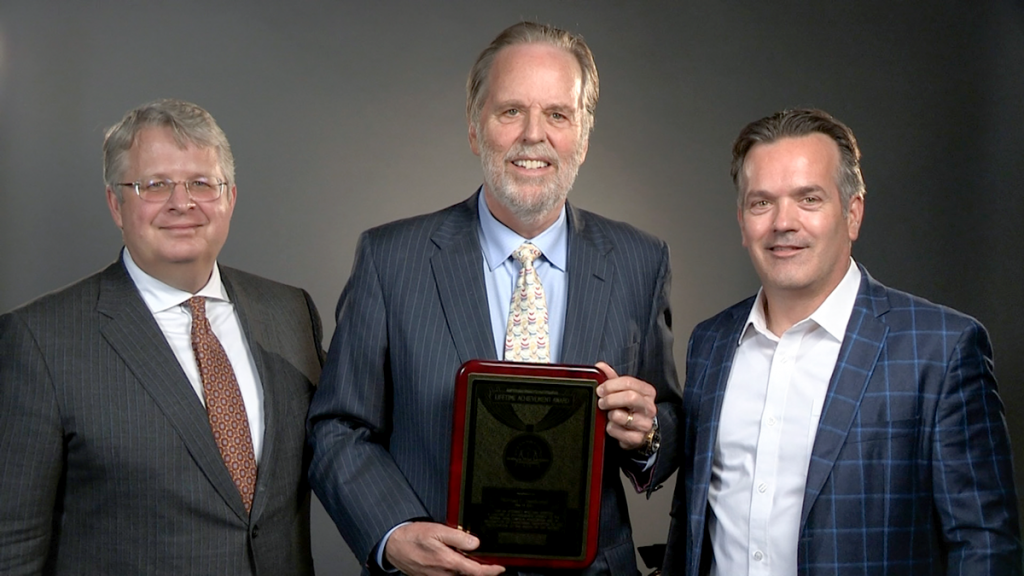 Two Indianapolis lawyers were recognized with the Indiana Trial Lawyers Association's 2021 Lifetime Achievement and Young Lawyer awards at the associations' 33rd Annual Lifetime Achievement Event.
Thomas Doehrman of Doehrman Buba Ring was awarded ITLA's Lifetime Achievement Award, while Brandon Tate of Waldron Tate Bowen Funk Spandau was awarded the Max Goodwin Young Lawyer of the Year. Both lawyers were honored at a virtual event May 19.
Doehrman, a personal injury attorney experienced in representing clients with traumatic brain injuries, served as ITLA president from 2010 to 2011 and is a current member of the ITLA board of directors. He said he was more moved when he received the award than he had anticipated.
"It's hard to put into words," Doehrman said. "It's an incredible honor when an organization you think so fondly of gives you this kind of award. It's humbling."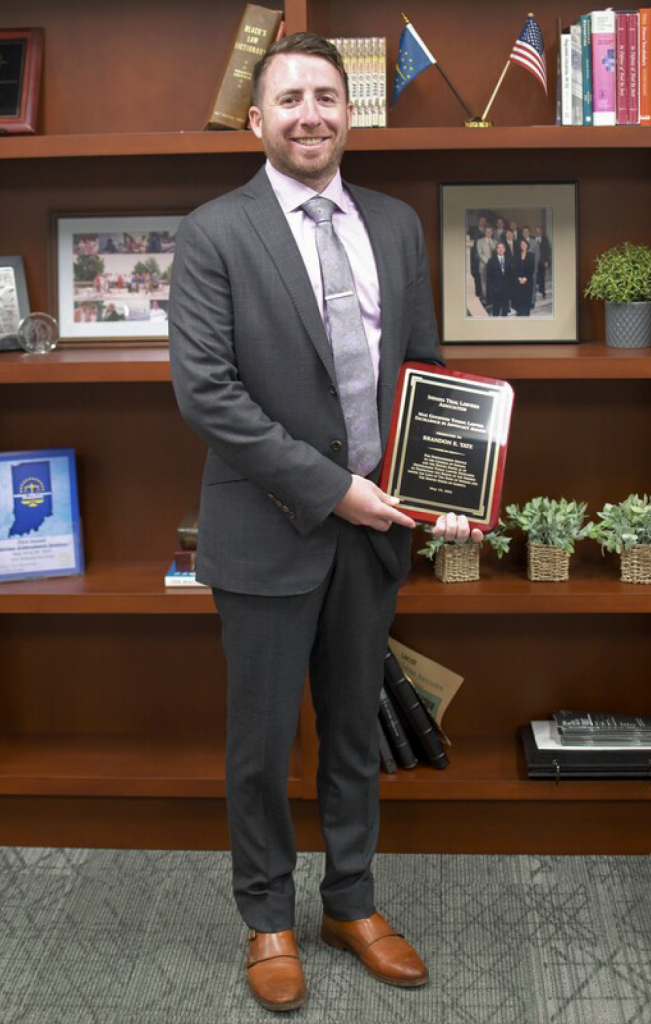 Tate focuses his practice on personal injury, wrongful death and Section 1983 constitutional violation claims against state and local entities, among other issues. The young attorney, admitted to the Indiana bar in 2013, said being recognized under Max Goodwin's legacy is an honor.
"He was zealous for his clients," Tate said. "His drive for helping enact laws and change for the clients was something that stood out, which is what my drive is."
Remembering what matters
After being sworn into the Indiana bar in 1976, Doehrman worked as a Marion County deputy prosecutor for about a year before going into private practice. He's stayed there ever since, honing his skills in personal injury trial work.
Looking back at more than four decades of practice, a brain injury case from the early 1980s served as the turning point for Doehrman's legal career, he recalled. The case, Robert Joseph Kennedy v. F.A. Wilhelm Construction Company, involved a construction site in Crawfordsville where abandoned gasoline tanks were dug up and left on the property, slowly leaking gas and vapors.
"A number of little kids were playing on the hills and an older boy threw a match on the gasoline and that went to one of these tanks and it was a huge explosion," he said. "The little boy that lit the match was killed and another was catastrophically brain injured."
What made the case interesting, Doehrman said, was the type of brain injury his client suffered, as well as when the incident took place. Patients in the 1970s and 1980s were just starting to survive head injuries with the advent of new medications and procedures to reduce brain swelling.
"That was a wonderful thing, except what it wrestled in was a little boy who was going to be permanently dependent on others for the rest of his life for his care," Doehrman said. "It was quite a case to put together the damages. We were fortunate enough to get a multi-million-dollar verdict in 1981, which was such a satisfying result for
the family."
That case initiated a paradigm shift that sparked Doehrman's interest, leading him to gravitate toward brain injury cases. Those are what he calls his most rewarding work.
Reflecting on the legal legacy he's built, the attorney said he's learned at least two things. First, he said, learn to enjoy the life you have while you still have it. And second, learning from your mistakes is a part of getting older.
"It's just nice to know that despite the errors in judgment and such that I have made, I've done enough things right that people recognized the contributions I have made to my clients and the (ITLA) organization," Doehrman said. "That has been very gratifying."
A posture of gratitude
Tate, alongside friend and classmate Kevin Bowen, formed Tate & Bowen immediately out of law school in 2013. His small Indianapolis law firm is less than a decade old but has grown through two mergers in 2019 and 2021.
The cases Tate said he finds most interesting are the ones that aren't straightforward — "the ones we can really dig into and use our knowledge and our strengths in trying to develop the claims for the injured clients."
One of the most memorable aspects of Tate's job stems from the relationships formed with clients throughout the process of representing them and the resolution of their cases. Tate recalled an instance last year in which an elderly client gave him a big hug in gratitude following the mediation of her case.
"It's not the only time it's happened, but it's unexpected," he said. "Now I have several clients check in even though they don't need anything.
"What's memorable to me is the people that we are helping and the assistance we are able to give them," he added. "No one elects to be severely injured for any sum of money, so we are trying to help them out as much as we can."
In a year fraught with a pandemic, family health issues and office transitions, Tate said receiving the ITLA's Young Lawyer of the Year award was extremely meaningful.
"It's been quite a lot," he said. "In a year like that to be honored by our peers, it means a lot."•
Please enable JavaScript to view this content.