An Indiana University Maurer School of Law professor is among seven law professors nationwide named as 2021-2022 American Bar Foundation/JPB Foundation Access to Justice Scholars, the ABF has announced.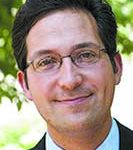 IU Maurer professor Victor Quintanilla, who is also an affiliated professor in the IU Department of Psychological and Brain Sciences, will examine access to justice for unrepresented persons in virtual court proceedings, particularly the structural, technological and psychological challenges people face, ABF said.
The ABF/JPB Foundation Access to Justice Scholars Program promotes the next generation of scholars leading the field of access to civil justice, ABF said. The program brings together cohorts of faculty scholars from across the nation to support research, provide mentorship and build intellectual relationships to improve access to justice and combat poverty.
Quintanilla's research investigates civil justice design, access to justice and legal education by drawing on theory and methods within the field of social psychology, including experiments conducted with judges, lawyers, law students and members of the public.
"I'm grateful to have been selected as part of this access-to-justice cohort at the American Bar Foundation, for the leadership of (program director Rebecca Sandefur, an ABF faculty fellow and Arizona State University professor), and to be in community with the outstanding researchers who have been selected, and I'm excited about all the work we will do to enhance access to justice," Quintanilla said.
IU Maurer Dean Austen Parrish called Quintanilla's appointment "great news. The program will enable him to continue his important work on access to justice, as evidenced most recently by his success in setting up the Expungement Help Desk through the Law School, Indiana Legal Services, and New Leaf New Life."
Along with Quintanilla, ABF also named as Access to Justice Scholars Robin Bartram,  assistant professor of sociology at Tulane University; Brittany Friedman, incoming assistant professor of sociology at the University of Southern California; Shannon Gleeson, professor of labor relations, law and history at Cornell University's Industrial and Labor Relations School; Karin D. Martin, assistant professor at the University of Washington Evans School of Public Policy & Governance; Michele Statz, assistant professor at the University of Minnesota Medical School and affiliated faculty at the law school; and Nicole Summers, lecturer at Harvard Law School.
More information about the scholars and their project descriptions is available here.
Please enable JavaScript to view this content.