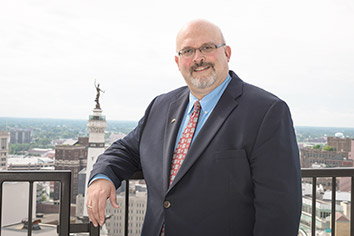 Indiana attorney Jim Dimos, who left private practice to help lead the American Bar Association after leading both his local and state bars, is being remembered as someone who was "quietly effective" and a friend to the legal profession. He died Wednesday of a heart attack at age 59.
Dimos moved to Indianapolis in 1986 after he graduated from Washington University School of Law in St. Louis. He was hired by Locke Reynolds and remained with the firm when it merged with Frost Brown Todd in 2009. In August 2015, he left private practice to become the deputy executive director of the ABA, and in September 2019, he was promoted to deputy executive director and general counsel of the organization.
"He was a big man with a great vision and huge accomplishments," ABA executive director Jack Rives said of Dimos. "His contributions to the legal profession over more than three decades will endure."
Lloyd Milliken, who was a senior partner at Locke Reynolds, became a mentor to Dimos and encouraged him to get involved with professional organizations. Dimos was proud to be a lawyer, Milliken said, and he wanted to work to enhance the legal profession.
He was active in the local and state bar associations, serving as president of the Indianapolis Bar Association in 2001 and as president of the Indiana State Bar Association from October 2013 to October 2014. Dimos stepped into the state bar's leadership role as lawyers were being buffeted by the encroachment of technology, a tight job market and growing need for affordable legal help.
John Trimble, partner at Lewis Wagner LLP and past president of the Indianapolis Bar Association, said Dimos made an extraordinary contribution to Indiana lawyers.
"In Indiana, we live in a legal community that is blessed by an abundance of bar association involvement and leadership. In that environment, Jim Dimos stood above us all," Trimble said. "He lived, ate and breathed the legal profession. He was a humble servant to all of us; he was kind to a fault; he was thoughtful and purposeful."
When he joined the leadership team at the ABA, Dimos said serving in bar associations was sort of his professional hobby so the opportunity to serve in the national organization was a perfect fit.
"I couldn't think of a job that was better suited for my interest at this point of my career," he told Indiana Lawyer. "I've enjoyed the practice of law and I've done it for 30 years now in the same place. It was going to take something very special to get me to change that."
As Deputy Executive Director, Dimos served as "second in charge" of the Association's staff, and through the years he was directly responsible for several functional areas, including membership, the professional services division, legal education and admission to the bar, the Center on Public Interest Law, strategy development, and the operations of the ABA offices in Chicago and Washington, D.C. He was the guiding force of the development and deployment of the ABA's new value proposition.
Dimos practiced for nearly 30 years, focusing on the litigation needs of the business community in the areas of intellectual property, competition and media law. Milliken noted Dimos' demeanor in partner meetings and around the office.
"The thing that I remember about Jim, and something I learned from him, I never really ever heard him raise his voice," Milliken said. "He was quietly effective. I saw how effective somebody could be by quietly making a point."
Frost Brown Todd member Tom Davis remembered Dimos as a family man, loving his wife and being incredibly proud of his three children. Dimos' tenure with the ABA took him away from the law firm but was the fulfillment of his dream.
"Very seldom in life do you get to do the job that you would most like to do," Davis said. "Jim Dimos loved the bar associations, interacting with lawyers and, especially with the ABA, the ability to do good things."
Judge Robyn Moberly of the U.S Bankruptcy Court for the Southern District of Indiana said Dimos was one of a kind. When she served as president of the Indianapolis Bar Association, she asked him to write a column for the Indy Bar newsletter and he used the forum to champion the opportunities bar associations offered.
"Jim Dimos loved lawyers.  He loved being a lawyer and being around lawyers," Moberly said. "He had a passion for our profession which drew him to Chicago, but he never left the IndyBar. At national conferences he was one of us, and we loved him for it.  Our profession has suffered a great loss, as has each of us individually."
In addition to his work for the bar associations, Dimos was active on the former Indiana Pro Bono Commission and led the effort to redraw the pro bono districts across the state. Charles Dunlap, executive director of the Indiana Bar Foundation, said the work encompassed determining the number of districts and creating the new boundaries that had comparable ratios between attorneys and low-income Hoosiers. Moreover, the work came as the commission was also confronting the challenges of the Great Recession, which flat-lined interest rates, which in turn sapped the pro bono revenues from Interest on Lawyers Trust Accounts.
"Jim's methodical and logical approach served as the framework that drove that entire process and helped us make more informed funding decisions that made it easier to distribute the limited funds in a more equitable way," Dunlap said. "He was a strong advocate for access to justice and he will be missed by so many people although his legacy of work and positive impacts in Indiana and nationally will continue long into the future."
Dimos leaves behind his wife, Kathy, and their three children, Stephanie, Jennifer and Jonathan.
"He was our friend and our leader," Trimble said. "His death has created a hole in our community and our hearts. Not many Jim Dimoses come along in the world, and we must honor him by seeking to emulate him."
Please enable JavaScript to view this content.