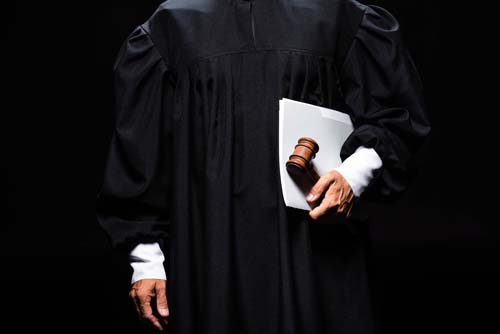 Two trial court judges and an attorney in private practice are the finalists to fill now-Justice Derek Molter's seat on the Court of Appeals of Indiana.
Hamilton Circuit Judge Paul Felix, Grant Superior Judge Dana Kenworthy and attorney Carol Joven of Williams & Piatt LLC were chosen Wednesday after a second round of interviews with the Indiana Judicial Nominating Commission.
The commission on Wednesday interviewed a total of six candidates for the COA vacancy, which opened up last month when Molter joined the Indiana Supreme Court.
Previously, the JNC had interviewed 12 applicants before whittling the group down to six.
That group appeared before the seven-member commission for a second round of interviews Wednesday morning, fielding questions ranging from judicial philosophies and desirable characteristics of an appellate judge to remote proceedings and judicial restraint.
The three finalists were selected by the unanimous vote of the JNC. Their names will now be submitted to Gov. Eric Holcomb, who will make the final selection on Indiana's next appellate judge.
Here is a sample of what the six finalists had to say during Wednesday's interviews.
Marion Superior Judge Marc T. Rothenberg
When asked how he might differentiate the judicial philosophies between judges appointed under leadership of different political parties, Marion Superior Judge Marc T. Rothenberg said he doesn't want to get into the "tribalistic" aspect of that issue because it makes him "very sad."
"A judge is a judge who is appointed," Rothenberg said. "If I were appointed, I wouldn't be a 'Holcomb judge,' I would be a judge."
A well-rounded Court of Appeals judge, he opined, should be a great listener and be understanding not only of the case being presented, but also of the people appearing before the court. 
"Each of us is an individual. That makes you diverse," Rothenberg said. "What's more important, as a judge, is when you sit on the bench you realize the person next to you is also different from you."
Carol N. Joven of Williams & Piatt LLC
According Joven, a strong candidate for the Court of Appeals of Indiana should have knowledge of the law and the ability to be fair. He or she should also have good writing skills and be curious, with a desire to learn more about the law, she said.
"Throughout my career, I've represented plaintiffs and defendants. I have experience in civil law and criminal law, worked for the judiciary, the Attorney General's Office and in private practice, and really had an incredible experience that I think would be a valuable asset to the (Court of Appeals)," she said.
Asked about judicial restraint being necessary in order for our democracy to successfully navigate through controversial societal issues, Joven said she thinks judges should have some degree of restraint.
"I think there are interests of continuity and reliance at issue," she said. "But on the other hand, you know, judges don't want to be so restrained that they don't take action when it's necessary."
Grant Superior Judge Dana J. Kenworthy
Looking back over her career, Kenworthy said she doesn't regret anything. But, she added, there have been days when she felt like she could have been more focused.
"Moments in the courtroom when I find myself looking at the clock, instead of at the litigants," she said as an example. "And when I find myself doing that, I need to recenter because this is about them and not about what's coming next. So on a daily basis, that's what I strive to do."
Kenworthy, who presides over many criminal and family law cases, said it was interesting to read the Indiana Supreme Court's reasoning in the case of Steven Church v. State of Indiana, 22S-CR-201, which looked at the issue of deposing child victims.
"Children under the age of 16 cannot be deposed unless there's good cause shown or reason shown by the defendant," she said. "The Supreme Court talked about the constitutional right of victims to be free from deposition in certain circumstances, and I thought it was interesting to balance those two rights."
Hamilton Circuit Judge Paul A. Felix
Addressing the same case, Church v. State, Felix said he would join Justice Christopher Goff's concurrence.
"I think the majority in this particular case said that this is a substantive rule and, therefore, the state law trumps our trial rules," Felix said. "Justice Goff saw that differently and I would tend to agree."
Felix rebuked the idea that the politicization of the judiciary is inevitable and therefore could possibly impact judicial decision-making.
"I don't think it's inevitable because of things like this. This is a merit-based selection process," he said, referencing Indiana's appellate judicial selection process. "If judges are able to be true to the rule of law, always understanding our lane, especially in the appellate court of being an error-correcting court … I think that will create trust in the judiciary."
Marion Superior Judge Ryan K. Gardner
 When asked if something as critical as the credibility of the court versus faithful application of law are complementary or mutually exclusive, Marion Superior Judge Ryan K. Gardner said he thinks courts should focus on an incremental approach when it comes to change.
"I don't think, though, thoughts about how the public will react is necessarily controversial or opposed to the idea that a judge should follow precedent and will follow the law," Gardner said. "As it's written, I think those things are compatible."
Gardner was quick to strike down questions about his swift ascent to the trial court bench and potential concerns that he may need more "seasoning" as a judicial officer, noting that he was qualified for the Court of Appeals and the Supreme Court without having ever having sat a day on the trial bench. 
"Our qualifications don't require that you spend any time on the trial court," he added. "But I will say that the experience that I have gained from practice, and from my time on the bench, has bolstered my ability to do the job."
Cass Superior Judge Lisa L. Swaim
The COVID-19 pandemic brought with it a new reliance on technology, prompting judges to conduct remote hearings that made access to the courts more accessible for many litigants, said Cass Superior Judge Lisa L. Swaim. At this point, she said she hopes it never goes back to the "old way."
"We've just learned so much from it," Swaim said. "And I don't think it takes away, in most hearings, from the quality of the hearing."
In her opinion, recent changes in federal precedent shows that the U.S. Constitution is a living document "that can be reinterpreted over the course of time."
"I think Indiana's Constitution is a living document, maybe even more so than the federal," Swaim said, "because we have always prided ourselves in Indiana on having the ability to take a look at the federal constitution, give it its appropriate due and then say in our Indiana constitution, do we believe that we have extra protection that we give to individuals in particular cases?"
Please enable JavaScript to view this content.