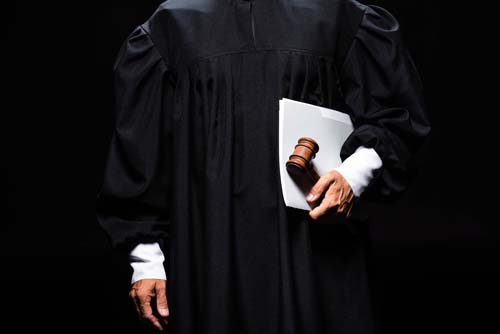 Indiana Gov. Eric Holcomb now has the names of three finalists chosen by the state's Judicial Nominating Commission to fill a vacancy on the Court of Appeals of Indiana left by now-Justice Derek Molter.
Chief Justice Loretta Rush, who heads the nominating commission, formally submitted the names in the JNC's statutorily-required letter detailing the three finalists to Holcomb on Monday.
Holcomb has until Dec. 22 – 60 days– to appoint the next appellate court judge. The governor must pick Molter's successor from the three finalists approved and selected by the JNC on Oct. 12.
Those finalists are Hamilton Circuit Judge Paul Felix, Grant Superior Judge Dana Kenworthy and attorney Carol Joven of Williams & Piatt LLC, who were chosen after a second round of interviews with the JNC. The finalists were part of an original crop of 12 applicants for the open position
Felix and Kenworthy both have more than a decade of experience as judicial officers while Joven has practiced law privately and for the state for more than 25 years.
Kenworthy attended the Indiana University Robert H. McKinney School of Law, while Felix and Joven both received their law degrees from Indiana University Maurer School of Law.
Felix's legal career began at the Johnson County Prosecutor's Office, where he served as a deputy prosecuting attorney from 1995 to 2006. He then served briefly as the Carmel City Court judge from 2007 to 2008 before being elected to the Hamilton Circuit Court in 2009. He was also appointed as presiding judge of the Hamilton County Drug Court after spending eight years as an assisting judge.
Presiding over a court of general jurisdiction, Felix hears 20% major felony criminal, 35% family law, and 45% civil cases, including contract disputes and environmental litigation, according to the JNC's letter. Felix is known for presiding over a nationally publicized juvenile delinquency proceeding that involved a school shooting at Noblesville West Middle School in 2018.
Off the bench, Felix has served on the Indiana Supreme Court's Criminal Law Policy Committee, the Innovation Initiative, and the Court Personnel Committee. He currently serves on the board of directors for the Indiana Judicial Conference and on the Indiana Supreme Court's Committee on Rules and Procedures.
"A patient leader, who is dedicated to the law and passionate about access to justice, Paul Felix impressed the Commission not only with his even-tempered oratory skills but also with his nuanced grasp of complex legal issues," Rush wrote on behalf of the commission.
Kenworthy has served on the Grant Superior Court since 2010, where she was initially appointed as a pro tempore before being elected to the bench in 2013. She presides over a court of general jurisdiction, including 46% criminal, 25% juvenile, 20% family, 5% civil and 4% probate cases.
She also worked in the Grant County Prosecutor's Office and spent time in education, teaching at Indiana Wesleyan University and Indiana Business College.
Kenworthy served on the board of directors for the Indiana Council of Juvenile and Family Court Judges from 2012 to 2021. She also served on the Juvenile Justice Improvement Committee from 2015 until 2021, where she was appointed to serve as chair by Rush, as well as on the Juvenile Benchbook Committee from 2013 to 2015.
Additionally, Kenworthy was appointed by the Indiana Supreme Court to serve on its Resuming Court Operations Task Force in response to the COVID-19 pandemic. She also served Indiana Juvenile Justice Reform Task Force in its efforts to assess Indiana's juvenile justice system.
"An innovative collaborator and leader, Dana Kenworthy has demonstrated, through her work with the Family Recovery Court and other professional endeavors, a unique skill set and a commitment to improving Indiana's legal system and the lives of at-risk Hoosiers," Rush wrote in the JNC's letter.
Joven, who serves as of counsel at Williams & Piatt LLC, has spent the majority of her practice in civil trial and appellate litigation — in both state and federal courts.
Throughout her career, Joven has represented plaintiffs and defendants in a variety of areas of the law, including business litigation, professional malpractice, civil rights, products liability, premises liability, transportation, personal injury and criminal law. She also served as a judicial clerk for now-Senior Judge John Baker and as a deputy attorney general in the Indiana Attorney General's Office from 1995 to 1998, where she handled civil and criminal appeals.
"Her colleagues praise her as a thoughtful and compassionate advocate who 'appreciates the real-world ramifications that appellate court decisions can have on the day-to-day practice of law,'" Rush wrote in the JNC's letter. "Carol Joven impressed the Commission with her intellectual curiosity and collaborative, open-minded approach to appellate work."
The JNC's letter states that Joven serves on the Executive Committee of the Appellate Practice Section of the Indianapolis Bar Association, where she provides Hoosier attorneys with continuing legal education programing, networking opportunities and scholarships to attend national training programs. She has also planned seminars and served as a moderator on panels relating to appellate practice, including the annual Appellate Roundtable.
Joven also participated in the IndyBar's Women and the Law Division's mentoring program from 2011 to 2021 and serves on the Indianapolis Bar Foundation Board of Directors.
"I would be pleased to discuss any of these candidates with you in greater detail. And I am confident that you will similarly conclude that all three nominees are of a high caliber and that any of them would be a lasting credit to the Court of Appeals of Indiana," Rush wrote in concluding the nomination letter.
Please enable JavaScript to view this content.