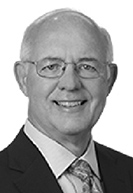 By J. Richard Kiefer, Dentons Bingham Greenebaum
The Indianapolis Bar Foundation has been serving our community for decades through grants and programs that help bring legal services to the poor, help educate the community about important legal issues, provide scholarships and assist non-profits that are vital to our local system of justice. By including a bequest to the IBF and joining the IBF's Legacy Society, you can help the IBF serve future generations and build your own legacy.
What is the IBF Legacy Society?
The Legacy Society is a group of distinguished members of the Indianapolis legal community who have made the Indianapolis Bar Foundation the beneficiary of a gift that will be realized upon the death of the donor. Its members include former presidents of the IndyBar Association and Foundation and lawyers like yourself. Its members are lawyers who want to make a difference and who believe that one of the most effective ways to do so is to make a gift at death. There are many ways to make such a gift.
As former IndyBar Association and Foundation president Christine Hayes Hickey says, "An easy way to give back to the IndyBar Foundation is by naming the foundation as a beneficiary or co-beneficiary of your life insurance policy. Many firms provide life insurance policies and that's a simple way to leave a lasting gift to the foundation to continue its very important work for our profession and our community." A team of estate lawyers working with the IndyBar Foundation can help you decide on the type of gift that is best for you. You can make a bequest, create a charitable trust or include the foundation in an existing charitable trust, make the foundation a beneficiary of a life insurance policy, gift real estate to the foundation, or make other forms of donations.
Who is the Legacy Society?
Members of the IndyBar Foundation Legacy Society are donors who have named the foundation as the beneficiary of a planned gift. Members are part of a specially recognized group of lawyers who want to make a difference in our community, one that will last long after their time has passed. When a person is making a current gift, they are typically giving out of their disposable income. Planned giving, on the other hand, is a gift that is realized in one's estate at the time of death. Although the contribution is delayed, many donors feel comfortable making larger donations in their wills or, as Chris Hickey mentioned, in life insurance policies, rather than current income. There are many benefits to being a lawyer. We provide valuable and needed services to our clients, we volunteer to support a wide variety of nonprofits, we mentor younger members of our profession, we provide for our families and enjoy the fruits of our success. For members of the Legacy Society, that's not enough. They want to do something that will build a legacy, to help future generations as well as our own. They have joined the IndyBar Foundation Legacy Society.
Why is it important to consider joining the IBF Legacy Society?
The Indianapolis Bar Foundation relies exclusively on donations and contributions from attorneys in the Indianapolis legal community. As the charitable arm of the Indianapolis Bar Association, the IndyBar Foundation has given grants of more than $2.3 million to support educational, cultural and community service organizations and to assist lawyers in providing legal services to disadvantaged members of our community. Your legacy gift could provide a scholarship to an indigent student. It could help fund the Ask a Lawyer program, providing guidance to those who cannot afford legal representation. It could help fund a free wills clinic or other programs to provide needed legal services to lessfortunate members of our Indianapolis community. Most importantly, your gift could make a meaningful difference. A legacy.
When should lawyers make a planned gift?
Like most things in life, there is strength in numbers. By joining an ever-increasing number of lawyers in the Indianapolis legal community now, you can help build a solid foundation to support the foundation's future service to the Indianapolis community. Joining the Legacy Society today encourages others to do the same. Collectively we can build a solid financial base for the IndyBar Foundation to continue its mission for future generations. Because the donation does not come out of your current income, there is no reason to wait. You can make a gift today that will be realized upon your death.
Where and how can you join the Indianapolis Bar Foundation Legacy Society?
You can join the Legacy Society by going to indybar.org/plannedgiving and selecting "Planned Giving." You can also simply call the Indianapolis Bar Foundation at (317) 269-2000.•
Please enable JavaScript to view this content.