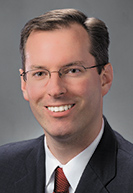 By Brian S. Jones
It's been a little over a year since I first heard the term "COVID-19." Back then, like many others, I thought Indiana would see a large number of suits attempting to force insurers to cover the myriad losses that resulted from the pandemic and its associated shutdowns. This is America, after all, and we sue over everything, right? Indeed, in mid-April 2020, the Indianapolis Business Journal published an article with the dire headline, "COVID-19 to unleash torrent of lawsuits against insurers."
With the benefit of hindsight, did that torrent actually materialize? Let's just say it doesn't look like we're going to need to get to higher ground, at least not yet. While there were some significant matters filed last year, to date, no Indiana state or federal case regarding COVID-19 insurance coverage has reached a decision on the merits.
The two cases mentioned in the IBJ article, for example, remain pending. Tom James Company, et al., v. Zurich Am. Ins. Co., was removed to federal court back in May, then remanded back to Marion County in November, and a motion to dismiss is pending. Similarly, Indiana Repertory Theatre, Inc. v. The Cincinnati Cas. Co., et al., is awaiting a decision on a motion for summary judgment in Marion County.
Also pending in federal court is Café Patachou at Clay Terrace, LLC v. Citizens Ins. Co. of America. There, Café Patachou is asserting a business-interruption claim, but the bulk of the case activity so far has concerned whether the case should be remanded back to state court. In August, Senior Judge Sarah Evans Barker decided that the case would stay in federal court. A settlement conference was held in December, but the case is still active.
What's likely to happen once these cases are decided? That may depend on whether the policies in issue have virus exclusions. After the SARS outbreak in the early 2000s, insurers began frequently incorporating such exclusions into their policies. The University of Pennsylvania Carey Law School has been tracking more than 1,450 COVID-coverage cases on its COVID Coverage Litigation Tracker (cclt.law.upenn.edu), 10 of which are in Indiana state and federal courts (none have reached a merits decision). Of the 188 cases that have reached a merits decision, 63% have been completely dismissed with prejudice, and 19% have been completely dismissed without prejudice. Of the dismissed cases, 72% had virus exclusions.
The absence of a virus exclusion, however, does not guarantee a payday. Many insurers across the country have successfully argued that business interruption policies are designed to cover losses from physical damage, such as floods, not from shutdowns caused by pandemics. Plaintiff's attorneys have also sought consolidation of numerous coverage cases through the Judicial Panel on Multidistrict Litigation. In August, however, the JPML largely rebuffed efforts to consolidate cases against several large insurers on a company-by-company basis, citing efficiency concerns.
But while the outlook has been gloomy for most insureds, there have been a few silver linings. The JPML allowed consolidation of claims against Society Insurance Company in August, which covers two cases that were pending in Indiana federal courts. It also consolidated claims against Erie Insurance Company and Generali.
And just a few weeks ago, in Henderson Road Restaurant Systems, Inc. v. Zurich Am. Ins. Co., the Northern District of Ohio granted the plaintiff's motion for summary judgment in an opinion that could affect some locations in Indiana. The plaintiffs there took an innovative approach. Instead of arguing that the COVID virus had been found in restaurants, the plaintiffs stipulated that no COVID was found in the facilities, attempting to avoid the microorganism exclusion altogether. They argued "that the loss of their properties was caused by the government closures and that those closures (in the absence of any presence or outbreaks at their restaurants) are not excluded by the Policy." The insurer, in attempting to keep the exclusion viable, argued that the COVID virus was an "indirect" cause of the damages.
The court, however, rejected that argument, finding that it was "clearly the government's orders that caused the closures." Construing an ambiguity in favor of the insured, the court held that policy's microorganism exclusion "does not clearly exclude loss of property caused by a government closure." While the court certified the issues for interlocutory appeal, its finding that the policy's "language did not clearly identify the unusual and unforeseeable events that led to the closings of Plaintiffs' properties" may find its way into some forthcoming Indiana decisions.
And if some of those decisions are favorable to insureds, will we see a "torrent" of new COVID coverage cases in Indiana? Given what we've seen so far, I don't think you'll need to put your waders on just yet. But it's always good to keep an umbrella handy.•
• Brian S. Jones is a partner at Bose McKinney & Evans LLP. Opinions expressed are those of the author.
Please enable JavaScript to view this content.