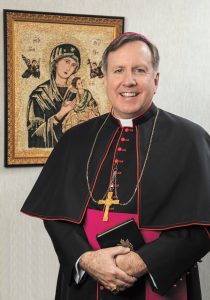 Neither Bishop Robert McClory of the Diocese of Gary nor United Methodist Pastor Denise Robinson experienced a jolt of conversion where they suddenly decided to make a U-turn and enter the religious life.
Rather, the former commercial litigator and the former prosecutor, respectively, had long heard a quiet call of their faith and tried to respond by being active members of their churches. Eventually, however, they each determined they needed to do more, so they walked away from their legal careers to join the clergy.
"It's kind of hard to put into words," Robinson said, trying to explain her journey from the courtroom to the pulpit. "It is an obsession that never goes away. It's a gnawing deep down that you should be doing something different than you're doing."
McClory said he sees his path to the priesthood as a continuation of his interest in public service. As a young adult, he said saw the law and study of public policy as a means by which he could offer his gifts and talents to help the wider community and the common good.
"While there are certainly many wonderful things in public service that can be accomplished, I increasingly realized that the call in my life is that if I dedicated myself to really sharing my faith, sharing Jesus with others, that would be a life well-lived," McClory said. "And that would be the more complete way for me to serve."
McClory is the fifth bishop to lead the Roman Catholic Diocese of Gary, which includes more than 60 parishes spread across Lake, LaPorte, Porter and Starke counties. A native of Michigan, growing up near Detroit, McClory served as the pastor and rector of the National Shrine of the Little Flower Basilica in Royal Oak, Michigan, before he was ordained and installed as the Bishop of Gary in February 2020.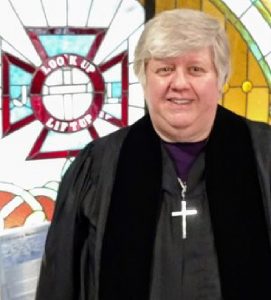 Robinson has overseen the historic Methodist Church in the heart of the Irvington neighborhood of Indianapolis since her appointment in July 2019. Inside the massive brick parish nestled among tree-lined streets and well-loved homes, she leads a ministry that nurtures its faith through Bible studies and weekly services and cares for the community through its pantry that offers food and clothing.
Occasionally her phone rings with an offer to return to the law. Other times, friends and former colleagues suggest she split her career, working part time as a prosecutor and part time as a pastor in a small church.
"I can't do that because my personality, I would not be good at either if I tried to do both," Robinson said. "I am committed to what I do."
Answering the call
McClory graduated from University of Michigan Law School and joined what is now Clark Hill in Detroit. He was raised in the Catholic faith and as an associate would regularly attend weekday masses while he was building his practice.
Working with a number of different partners and learning to draft documents to meet their individual editing styles was invigorating, McClory said, but he began reflecting deeper on his faith, attending retreats, talking to priests and praying. Ultimately, he told the partners at the firm of his decision leave the law for the church.
In the intervening month before his entry into the seminary, McClory remembers his colleagues being supportive and taking time to share with him their own faith backgrounds. They would talk about the church they attended, why they were interested in going to church or why they had stopped going to church.
That experience helped him see a need that often goes unmet.
"I think people are far more disposed to have meaningful conversations about spiritual matters than they let on. They need an invitation or an opportunity to have those conversations," McClory said. "… I think the inclusion of religion as something that we don't really talk about means that we don't have conversations oftentimes about some of the most meaningful things in our lives."
By the time Robinson enrolled in the University of Minnesota Law School, she was no longer practicing her faith. She was raised in a fundamentalist church where God was portrayed as judgmental and angry, and as a teenager she became angry and walked away from religion.
Robinson entered private practice and was excited to finally be able to pursue her dream of being a corporate attorney. She had wanted to be a lawyer since she was 12 years old after reading a contract law book that she had bought at a garage sale.
However, she hated the work. So Robinson returned to Indiana, opened her own law office and moved in with her aunt, Evelyn Myers, who was a Methodist minister in Albion. She met her aunt's requirement that she attend Sunday services with a defiant, "Fine, I'll come sit in the church, but I'm not going to believe anything."
But the services and the books by John Wesley introduced her to a loving, gentle God and brought her into the Methodist faith. At the same time, she discovered she liked trial work, which soon led her to becoming a prosecutor.
Robinson gravitated toward felony cases, major drug offenses and homicides. She continued handling heavy cases when she joined the Marion County Prosecutor's Office, but after successfully prosecuting Bob Leonard for his role in a 2012 explosion in an Indianapolis neighborhood that damaged dozens of homes and killed a young couple, Robinson said she felt she needed to make a change.
Things unexpectedly fell into place, and her original plan of being ordained in 10 years shortened to four years.
"That kind of tells me somebody else is in control," Robinson said. "You know, those types of things that after you feel the urge to go to seminary, then the process just made it so much smoother and it goes just so much more quickly than you anticipate, that kind of confirms this is what I'm called to do."
Leading the congregation
Shortly after McClory and Robinson settled into their current positions, the COVID-19 pandemic forced people to isolate and businesses, schools and churches to shut down. Both had to adjust to leading their congregations at a time when everyone could not gather to worship.
McClory spent part of his time during the lockdown traveling through the diocese to the places where, before the pandemic, he had been scheduled to meet a group of people or celebrate a mass. In the quiet outside the closed church, he would spend time in prayer.
"When things reopened, that's where my heart is, to be able to be with people," McClory said.
Robinson likewise said she is happy to be back ministering in person, and she wants to welcome the community, offering comfort especially to those who feel distant from God.
"I do believe in this message of acceptance, of love and grace," she said. "We need to be the voice for that message. Who else is going to do it if not the church that believes in it?"•
Please enable JavaScript to view this content.