Monetary sanctions potentially exceeding $100,000 and default judgment have been entered against state defendants and their attorney in a prisoner case that the presiding federal judge said "shattered" her trust in the defendants' litigation practices. The judge also imposed new requirements on lawyers in the Indiana Attorney General's Office who defend the Department of Correction in prisoner civil-rights cases.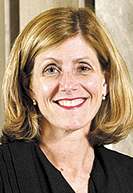 Indiana Southern District Chief Judge Jane E. Magnus-Stinson ordered the sanctions Jan. 3 in Phillip Littler v. Christopher Martinez, et al., 2:16-cv-472.
The litigation was brought by Phillip Littler, an inmate at the Wabash Valley Correctional Facility who claims he was subjected to excessive force during a December 2015 cell extraction. After refusing to comply with a strip search, Littler was sprayed twice with a chemical agent before he was shot with a pepperball gun and forcibly removed from a shower by a DOC cell extraction team.
Littler, initially proceeding pro se, sued several DOC officials and a former DOC nurse. Magnus-Stinson issued show cause orders to multiple parties, including Amanda Fiorini, a deputy attorney general representing the DOC defendants, and Frank Littlejohn, the deputy warden.
Meanwhile, Littler moved for sanctions against four other DOC defendants — Justin Shroyer, Mark Shroyer, Officer Denver Smith and Lt. Richard Yarber. Littler was then represented by appointed counsel Gavin Rose.
At issue was evidence Magnus-Stinson said undermined the defendants' summary judgment motions and sworn statements. Specifically, a video from the incident and an email involving Littlejohn proved the defendants repeatedly made false, or at least misleading, statements.
"The Court fears that no amount of judicial action can fully mitigate the harm done when defense counsel treats opposing pro se parties as second-class litigants or when counsel so ignores the standard of review on summary judgment as to demonstrate complete disrespect for the Court's and opposing party's time," the chief judge wrote. "This Order and the sanctions issued in it are a small but hopefully meaningful step toward halting this practice by deterring counsel litigating against pro se prisoners from proceeding down the same ill-advised path."
Turning first to Littlejohn, Magnus-Stinson wrote about an email exchange between the deputy warden and Captain Amanda Pirtle. In response to Pirtle's question about how to handle the noncompliant Littler, Littlejohn wrote, "I'm in the giving mood so instead of the team lets shoot him." The "team" was the cell extraction team, while "shooting" him meant using the pepperball gun.
The email did not come to light until after Littlejohn had moved for summary judgment, but the deputy warden said he still believed it supported his assertion that he was not "directly involved" in the cell extraction. Instead, he said, he was offering a recommendation, but Magnus-Stinson disagreed.
"Three different uses of force were at issue in this case — the use of chemical spray, a pepperball gun, and the physical removal of Mr. Littler from the shower by the cell extraction team — but in his declaration Deputy Warden Littlejohn only disclaims direct involvement or participation 'in the cell extraction,'" she wrote. "… If 'cell extraction' as used in his declaration did not include the two earlier uses of force, Deputy Warden Littlejohn could not have moved for summary judgment on all of Mr. Littler's claims. But he did, which shows that he and his counsel construed the term 'cell extraction' as broader than just the use of the cell extraction team."
The other DOC defendants were questioned based on prison range video that was not produced until Littler filed a motion to compel.
Justin Shroyer — whose father is Mark Shroyer, another defendant — testified that he had followed protocol by ordering Littler to "cuff up" before deploying the chemical spray. Unlike the other defendants, Justin failed to appear at his scheduled show cause hearing for reasons the court said "lacked credence."
But "(t)he time that passes from when Justin Shroyer appears on the video (when he is still around the corner from the shower cell) to when he sprays Mr. Littler is almost exactly two seconds," Magnus-Stinson wrote. "This is simply an insufficient amount of time (for) Justin Shroyer (to) give two different orders — to comply with the strip search and to submit to mechanical restraints — and receive two responses from Mr. Littler."
For his part, Mark Shroyer claimed Littler moved into the line of fire of the pepperball gun, resulting in his being shot in the face. But the chief judge said Mark had been "falsely report(ing) his shooting pattern since the day of the incident."
"Video evidence — which only came to light after Mark Shroyer submitted his declaration — indisputably shows that the sixth and seventh rounds were aimed at a downward trajectory toward the floor or Mr. Littler's feet. This completely undermines Mark Shroyer's facially dubious explanation that Mr. Littler moved into the line of fire of the eighth round — the round Mark Shroyer has twice sworn accidentally struck Mr. Littler in (the) face."
Like Littlejohn, Yarber moved for summary judgment on the grounds that he did not "witness or participate in the cell extraction," and further testified that "no one" ordered Shroyer to spray Littler with the chemical spray.
But calling his conduct "a microcosm of the case as a whole," Magnus-Stinson said the video showed Yarber briefing the cell extraction team. Further, in later testimony, the lieutenant said it was actually his decision to use the chemical spray a second time.
Thus, default judgment was entered against Littlejohn, Justin and Mark Shroyer, and Yarber, all of whom will be liable for damages determined by a jury. They are also prohibited from testifying at trial unless they are called by Littler.
The fifth DOC defendant, Officer Denver Smith, received a slightly lesser sanction only prohibiting him from testifying at trial unless called by Littler.
Smith had argued he did not touch Littler during the interaction, did not see another officer use excessive force and did not participate in the extraction other than recording relevant times. But as with the other defendants, the range video contradicted Smith by showing he had multiple interactions with Littler and had prepared the shower cell where the incident took place.
Additionally, Magnus-Stinson said Smith falsely claimed to have written the report he submitted after the cell extraction. His report, she said, was the exact same as another officer's, who had submitted a report just two minutes earlier.
The chief said she imposed lesser sanctions on Smith because, while his deposition testimony was "flagrantly false," his misconduct was not as severe as giving false statements to secure summary judgment.
Magnus-Stinson also imposed discovery sanctions on four DOC officials —Littlejohn, Pirtle, Warden Richard Brown and Major Dusty Russell — for their failure to produce the range video until Littler filed a motion to compel. Default judgment was entered against all of them.
As for Fiorini, the deputy attorney general representing the DOC defendants, the court said she violated Federal Rule of Civil Procedure 11 by failing to conduct a reasonable investigation before moving for summary judgment and filing a reply brief, and Rule 3.3 of the Indiana Rules of Professional Conduct by failing to correct Littlejohn's false statements after she learned of the inaccuracies.
"In response to questioning regarding why in her reply she ignored Deputy Warden Littlejohn's email with Captain Pirtle, Ms. Fiorini stated that she 'didn't feel it was [her] duty, as an advocate, to necessarily highlight all the bad information or information that doesn't help [her] clients in the reply brief,'" the chief wrote. "But this is precisely what she must do, and then present an argument (if there is a non-frivolous one) for why her client is entitled to summary judgment anyway."
Fiorini also violated Rule 26(g) by reporting that the range video did not exist without making a "reasonable inquiry" into its existence.
But noting Fiorini's "relative lack of experience" — the Roll of Attorneys shows she has been admitted to practice since 2015 — Magnus-Stinson also placed responsibility with the Office of the Attorney General for its lack of training. Monetary sanctions were thus imposed on both Fiorini and the OAG requiring both parties to pay attorney fees accrued by Rose, Littler's appointed counsel, during the show cause hearings and sanctions briefing.
Similarly, Fiorini, Brown, Littlejohn, Russell and Pirtle were ordered to pay Rose's fees attributable to their failure to produce all video evidence. According to Rose's fees petition, his relevant fees and costs total $114,364.41.
Fiorini also received personal sanctions requiring her, for two years, to submit Rule 11 compliance forms each time she files or replies to a motion for summary judgment in the Southern District. She was also ordered to complete a six-hour applied professionalism CLE within six months.
In the OAG, all attorneys practicing in the Southern District were ordered to file for two years discovery compliance certifications in prisoner civil-rights cases on the date of initial disclosures and in response to any motion to compel.
In a Jan. 10 amendment to the OAG sanction, Magnus-Stinson said all three elements of the discovery certification she listed in her original order are required only in cases she presides over. For all other judges, only the third element — a Rule 26(g) compliance certification — is required.
Finally, Fiorini was ordered to submit a copy of Magnus-Stinson's order to the general counsel or attorney discipline entities of each state bar where she is admitted. She submitted a notice of compliance with this sanction Jan. 10.
"This case has significantly undermined the Court's confidence that certain defendants and their counsel in pro se prisoner civil rights cases are litigating in good faith," Magnus-Stinson wrote at the conclusion of her 76-page opinion. "… When this misconduct is combined with Ms. Fiorini's failure to meaningfully read and consider Mr. Littler's response and evidence, the unethical result was the presentation of a meritless motion for summary judgment and reply containing a litany of false evidence. None of these practices can continue, and increasingly severe sanctions will be warranted if they do."
In March 2019, the chief judge also imposed sanctions in the same case against attorney Jeb Crandall and his client, Pamela Hagemeier, a former DOC nurse. Hagemeier, the court said, made false statements regarding her interaction with Littler after the cell extraction.•
Please enable JavaScript to view this content.