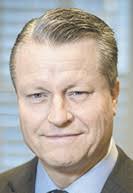 A federal judge this week refused to throw out the felony convictions for the former CEO of nursing home giant American Senior Communities, who'd argued for the relief on the grounds that his legal team at the Indianapolis law firm Barnes & Thornburg failed to disclose a "profound conflict of interest."
Indiana Southern District Court Chief Judge Tanya Walton Pratt found that Barnes & Thornburg, the state's largest law firm, did indeed have a conflict but concluded it did not adversely affect the firm's representation of the executive, James Burkhart.
Burkhart was sentenced to nearly 10 years in prison in June 2018 after he admitted to orchestrating what prosecutors called a $19 million overbilling and kickback scheme involving American Senior Communities vendors.
But months later he lined up new counsel, the Florida litigation firm Leon Cosgrove, and filed a motion blasting Barnes & Thornburg for failing to disclose that it did extensive legal and lobbying work for one of the principal victims of the fraud, the Health & Hospital Corporation of Marion County. Health & Hospital owns more than 70 nursing homes run by ASC.
Leon Cosgrove asserts those ties explain why Burkhart's lead attorney, Larry Mackey, and his colleagues consistently advised Burkhart to take a friendly approach and "wrap his arms" around Health & Hospital and encouraged him to plead guilty.
In a 21-page ruling Wednesday, Pratt, the same judge who'd sentenced Burkhart, concluded Barnes & Thornburg "clearly had a conflict in their representation." However, she let his felony convictions stand, saying the record demonstrates "there was no ineffective assistance of counsel."
She noted federal prosecutors were armed with tape recordings in which Burkhart implicated himself in the fraud. In addition, she said the law firm did pursue legal strategies that challenged Health & Hospital.
Further, she noted that under his plea Burkhart admitted to only three of the 32 counts against him and that three mock juries had unanimously voted to convict him — and that was before American Senior Communities' chief operating officer and Burkhart's brother agreed to plead guilty and testify against him.
"In sum, the record conclusively reflects that B&T's advice to Burkhart was based on the evidence against him, including the very damaging recorded conversations and potential testimony of his co-defendants who had already pled guilty," Pratt wrote.
"This is supported by the fact that three mock juries consistently convicted him. After Burkhart pled guilty, B&T sought lower sentencing guideline calculations and a lower restitution amount. In these circumstances, Burkhart has failed to show that B&T's relationship with HHC adversely affected his defense."
In a statement issued Friday in response to response to an inquiry from The Indiana Lawyer, Barnes & Thornburg said, "Barnes & Thornburg loyally and vigorously defended Mr. Burkhart and this decision confirms that he was unharmed by the claim of conflict of interest he raised with the court."
Pratt's ruling is the latest dramatic turn in a case that first splashed into the headlines in September 2015, when more than 100 law enforcement personnel fanned out across the Indianapolis area to execute search warrants at American Senior Communities' Gray Road headquarters, Burkhart's Carmel home and other locations.
Burkhart's motion seeking to vacate his convictions notes that, on the day of the raids, he contacted Faegre Baker Daniels partner Brian Fennerty about representing him. But in a meeting at Burkhart's home, Fennerty and J.P. Hanlon – at the time a Faegre partner and now a federal judge – said they had a conflict of interest because their firm represented Health & Hospital and suggested Mackey.
One year later, prosecutors unveiled charges against Burkhart; former American Senior Communities Chief Operating Officer Dan Benson; David Mazanowski, founder of the Fishers-based landscaping company Mainscape Inc.; Burkhart's younger brother Joshua; and one of Burkhart's business associates, Steven Ganote.
Indictments charged the men carried out the fraud from 2009 until the day of the 2015 raids. All five defendants had their own attorneys and pleaded guilty. Their prison sentences collectively totaled nearly 20 years.
In all, Burkhart took part in more than two dozen overbilling and kickback arrangements, according to prosecutors. The kickbacks covered all sorts of purchased goods and services, from landscaping and nurse call lights to American flags and hospice services.
In its motion to vacate, Leon Cosgrove asserted that Barnes & Thornburg's conflicts caused it not to pursue an obvious defense — that he had every reason to believe he was on solid legal ground in not disclosing financial interests in vendors.
That's because the Jackson family of Indianapolis — which owned American Senior Communities — also owned vendors that provided goods and services to HHC nursing homes and hadn't disclosed at least some of those ties, according to the motion. Among these vendors were Midwest Radiology and Design Aesthetics.
According to a sworn statement from Burkhart included with the motion, Frank Jackson had told him and another American Senior Communities executive that the family's interests in vendors were not a problem and did not need to be disclosed.
Burkhart's motion notes that the management agreements between American Senior Communities and HHC obligated Burkhart to continue with "past management practices," which had included the Jacksons' own vendors servicing the HHC nursing homes.
"Stated another way, Mr. Burkhart is in jail today for following practices that Health and Hospital contractually permitted or obligated Mr. Burkhart to adopt," Leon Cosgrove's motion said.
In an interview with the FBI that's summarized in an exhibit to Burkhart's motion, Matt Gutwein, then Health & Hospital's CEO, acknowledged he had not known about the Jacksons' ownership in some vendors prior to the FBI raids.
However, according to the summary, Gutwein said "the difference between Burkhart's side businesses and the companies owned by the Jacksons is that Burkhart's businesses received inflated" payments.
Pratt's ruling said Barnes & Thornburg's draft opening statement and other information on the record showed the law firm had planned to raise such issues if the case had gone to trial.
In the ruling, Pratt denied Burkhart's request for an evidentiary hearing on his motion to vacate, saying such a hearing isn't needed when the record conclusively shows a defendant is not entitled to relief.
She noted Burkhart has the right to appeal her decision. It's not clear whether his legal team intends to do so. Leon Cosgrove attorneys did not immediately respond to a request for comment.
Burkhart, 56, is serving his sentence at a minimum security prison in Montgomery, Alabama. He is scheduled for release in 2026.
The case is James Burkhart v. United States of America v. Barnes & Thornburg LLP, 1:18-cv-04013.
Please enable JavaScript to view this content.