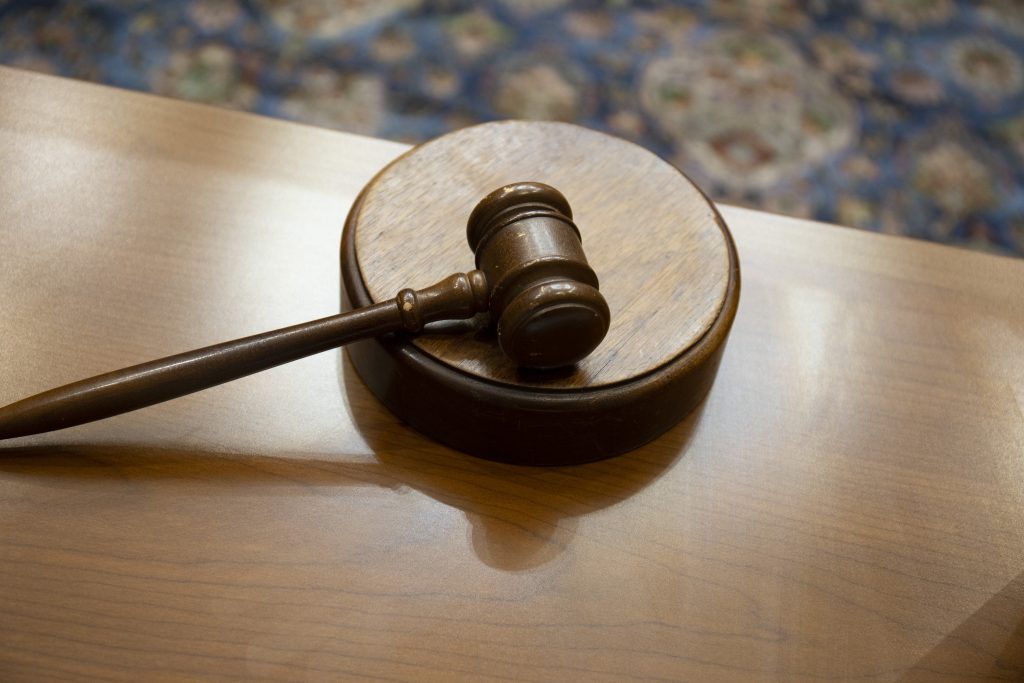 The question of whether an Indiana Department of Natural Resources officer committed "criminal" conduct when he committed the act of false informing against a motorist who struck and killed his dog is pending a decision on transfer to the Indiana Supreme Court, which has invited amicus curiae briefing in the case.
In a Friday order, the justices invited briefing in the case of State of Indiana, acting by and through its Department of Natural Resources v. Kailee M. Leonard and Jeffrey S. McQuary, 22A-MI-685.
In that case, appellee Kailee Leonard in 2012 struck and killed DNR Officer Scott Johnson's dog with her car, left the scene, then returned about 15 minutes later. She met Johnson at the scene, and he told her to report the accident to Hancock County Sheriff's Department, which she did. 
Three months later, Johnson "hypothetically" questioned a Hancock County deputy prosecutor about the legality of a motorist leaving the scene of an accident that killed a dog, then returning. The deputy prosecutor said that scenario could constitute a criminal offense and, after learning about Leonard's accident, told Johnson to speak with investigator Stephen Banks.
Months later, Banks executed a probable cause affidavit for Leonard's arrest, and she was charged with Class B misdemeanor failure to stop after an accident. But the state voluntarily dismissed the case about a year later when the prosecutor's office learned that Leonard had told Johnson about the accident shortly after it occurred.
After the case was dismissed, Leonard filed a federal civil lawsuit against Johnson for false arrest in violation of her Fourth Amendment rights. The state declined to represent Johnson in the case, and Leonard was awarded $62,462 in damages.
Later, Johnson and Leonard entered a contract in which Johnson assigned Leonard his right to indemnification by the state for the false arrest judgment and Leonard agreed she wouldn't collect the judgment from Johnson directly.
Then in the Marion Superior Court, Leonard filed a complaint against the state for indemnification for the false arrest judgment.
At a bench trial, the trial court ruled in Leonard's favor, finding Johnson had falsely told Banks that Leonard returned to the scene of the accident the next day, not a short time later. But the court also determined Leonard was entitled to indemnification, inherently ruling that Johnson's actions were "noncriminal."
The state then filed a motion arguing Johnson's actions were not "noncriminal" as required by the indemnification statute, but that motion was deemed denied when the trial court didn't rule on it within the 45 days.
The state then appealed and the Court of Appeals reversed.
Leonard and Jeffrey McQuary, another appellee, have filed a transfer petition, which the state opposes.
At issue is whether an employee found liable under 42 U.S.C. § 1983 for violating a claimant's federal rights committed a noncriminal act entitling the employee to indemnification, according to the Supreme Court order.
"Pursuant to Appellate Rule 41, any entity wishing to prepare and file a brief as amicus curiae must file a motion for leave to appear as amicus and tender its proposed brief on or before June 30, 2023," Chief Justice Loretta Rush wrote in the order.
The high court is encouraging the submission of joint briefs if similarly aligned entities seek to appear as amici. Any amicus brief must not exceed 4,200 words, exclusive of the items listed in Appellate Rule 44(C), and must be accompanied by the verified statement of word count.
Parties may also file a single response brief not exceeding 4,200 words on or before July 14. Response briefs must comply with Appellate Rules 44(C) and (F).
Please enable JavaScript to view this content.