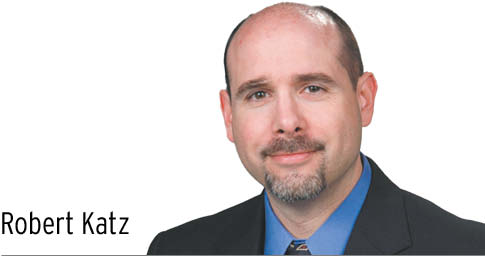 Antisemitism is both the world's oldest hatred and its most current news.
Just last week, the provost of Indiana University-Bloomington condemned antisemitic comments targeting Jewish students and fraternities. These comments, which included "GET THEM BECK [sic] IN THE GAS CHAMBERS WHERE THEY ALL BELONG," reflect a broader pattern of increased antisemitic activity at IU and in society at large. This was on sickening display on Jan. 15, when Jews were taken hostage during services at Congregation Beth Israel synagogue in Colleyville, Texas. Last November, a jury found neo-Nazis and other far-right activists liable for killing one and injuring other counter-protesters at the 2017 "Unite the Right" rally in Charlottesville, Virginia.
In other news, a Tennessee school board voted to ban the Holocaust-themed graphic novel "Maus," and Florida Gov. Ron DeSantis refused to condemn Nazi demonstrations and lashed out at those who called upon him to do so.
What do these headlines tell us? Antisemitism is more than a hatred or a practice — it is a legal phenomenon, too. Antisemitism gives rise to crime as well as civil suits. It creeps into educational policy and colors our nation's politics. Legal institutions and law enforcement today can be used to protect Jews from discrimination and hold the perpetrators accountable. At the same time, sadly, too many public officials perpetuate ignorance about the Holocaust and antisemitism.
Given the legal ramifications, it would make sense if law schools were teaching about the issues at the intersection of the law and antisemitism. But they are not. Remarkably, only a handful of legal scholars in America research this topic. Although law school curricula address discrimination based on race, gender, sexual orientation, gender identity and other protected characteristics, they largely ignore discrimination against Jews. Although Jewish Studies departments, including the Borns Jewish Studies Program at Indiana University, study antisemitism from a wide range of perspectives — social, historical, cultural, religious and political — nothing comparable exists in the law school setting.
To remedy the legal academy's failure to address the legal aspects of antisemitism, my colleague Diane Klein, visiting professor of law at Southern University Law Center, and I founded the Law vs. Antisemitism Project. Its mission is to promote legal research and education on how law perpetuates antisemitism and can be used to combat it.
This project includes creating a law school textbook titled "Jews, Antisemitism, and the Law" that we hope will be adopted in law schools nationwide for the teaching of this subject. We have also organized the inaugural Law vs. Antisemitism Conference to be held at Indiana University Robert H. McKinney School of Law and virtually March 14-15.
Law schools have played a crucial role in training civil rights lawyers of all kinds, from Thurgood Marshall, Howard University School of Law '33, to Ruth Bader Ginsburg, Columbia University Law School '59. Law schools and legal educators must do no less in training the next generation of lawyers to fight antisemitism.
Antisemitism is a legal phenomenon, and legal scholars should use all the tools at their disposal to research and teach it as such. By doing so, they can not only help to understand the legal dimensions of antisemitism, but use the law to fight it.•
__________
Robert Katz is a professor of law and John S. Grimes fellow at Indiana University Robert H. McKinney School of Law. Opinions expressed are those of the author.
Please enable JavaScript to view this content.