A former Indiana assistant attorney general who founded a major Indianapolis-based legal aid organization has been appointed to the national board that oversees federal funding for civil legal aid service providers across the United States.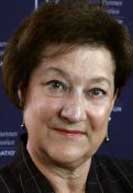 Abigail Kuzma was one of four new members of the Legal Services Corp. board of directors sworn in Wednesday by Chief Justice John Roberts at a ceremony in the East Conference Room of the Supreme Court Building in Washington. Kuzma and the new members join the 11-member board after her nomination to the board in June by the president and confirmation by the United States Senate.
Kuzma co-founded the Neighborhood Christian Legal Clinic and served as its first executive director. At the AG's office, her roles during a 12-year tenure included assistant AG, chief counsel for consumer protection, chief counsel for victim services and outreach and senior policy adviser, among others. In addition to her legal aid work, Kuzma, who also served as an aide to the late Indiana Sen. Richard Lugar, has been active in efforts to combat human trafficking.
Roberts noted at the swearing-in that it is "an extraordinarily appropriate day in this appropriate place" for the ceremony, because 52 years ago on that date, Thurgood Marshall was sworn in as the court's first African-American Justice.
Legal Services Corp. is the nonprofit entity created by Congress in 1974 that provides financial support for civil legal aid and low-income Americans, funding more than 133 nonprofit legal aid organizations across the country, in the District of Columbia and in U.S. territories.
Please enable JavaScript to view this content.