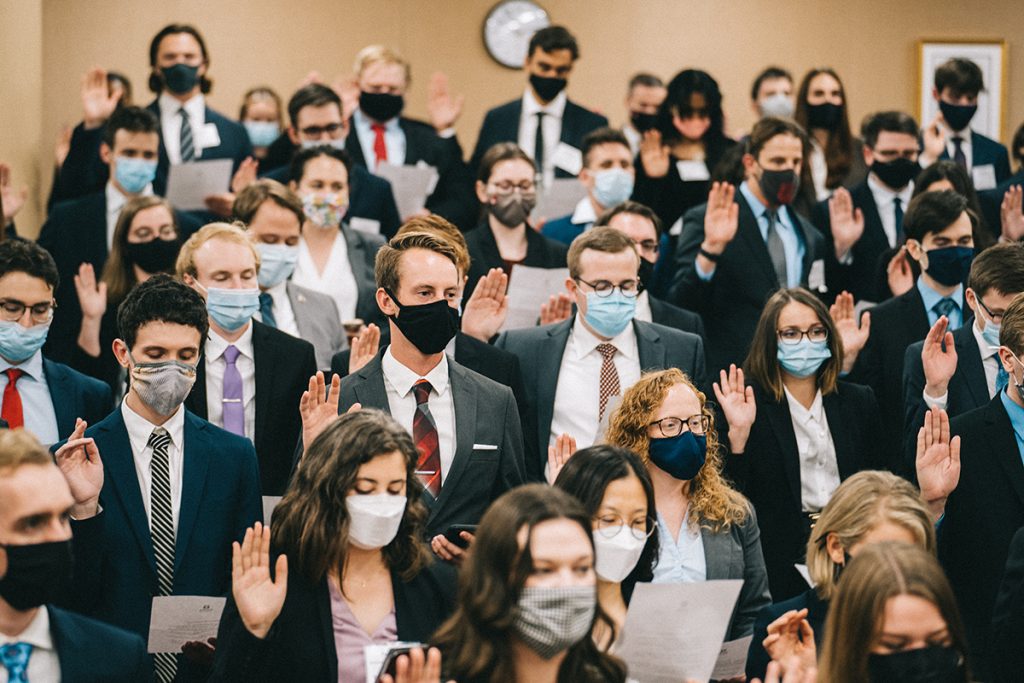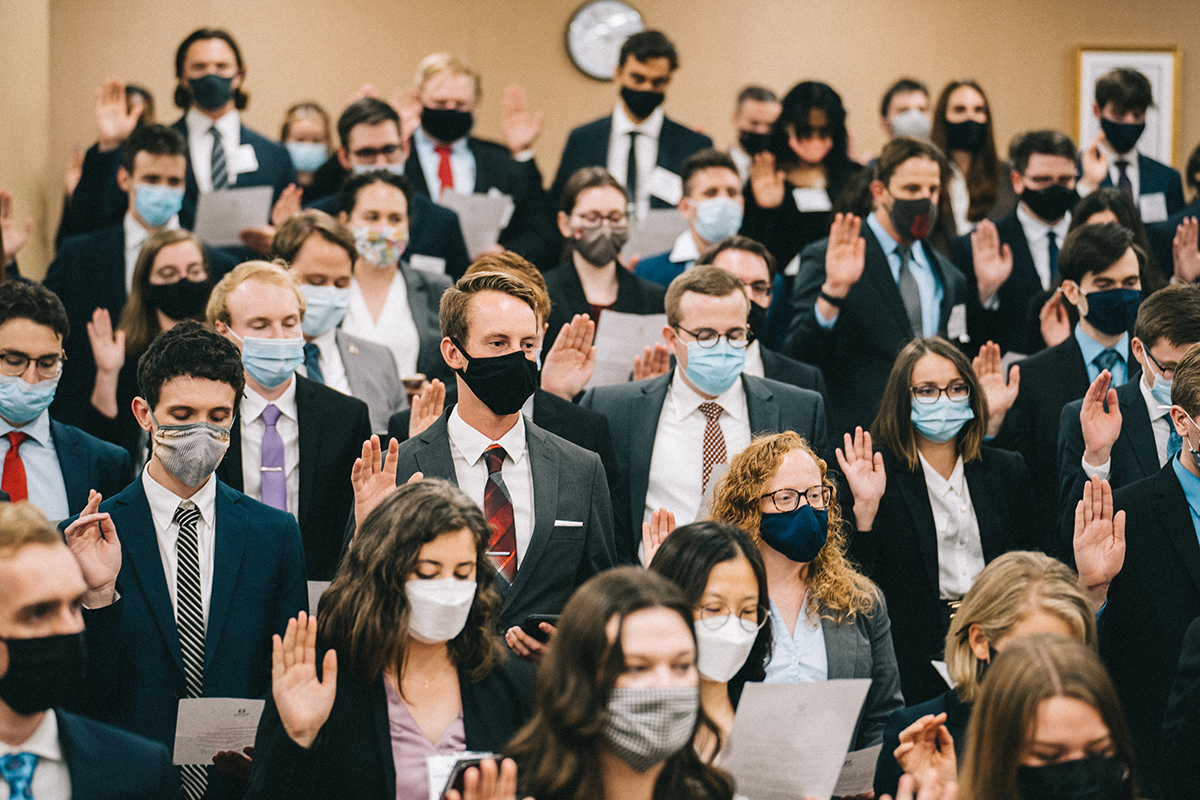 Having just completed his first week of law school, Griffin O'Gara was spending his day off in what will likely become his second home over the next three years — the law library.
The Cincinnati native, who is starting his first year of classes at Indiana University Robert H. McKinney School of Law, had considered deferring until COVID-19 was no longer a threat. Then he realized, after working a few years before enrolling, the time was right even though the coronavirus pandemic continues to surge.
O'Gara is entering the 2021-2022 school year with a mix of excitement and worry. While he said he is fearful the delta variant could worsen, potentially causing classes to shift online, he is also thrilled to have begun his journey into the legal profession. He said he is inspired by his professors, happy to be interacting with his classmates face to face and enjoying reading through his assignments in the quiet of the library.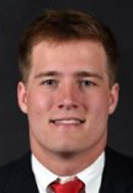 Just as many have learned to do in the era of COVID-19, O'Gara said he is prepared to adjust, pivot and take a deep breath no matter what happens.
"I'm committed, full tilt, to the pursuit of my legal education, then becoming a lawyer and practicing law," he said. "I'll take whatever challenges and obstacles come and try to make the most of them."
O'Gara's attitude is common as Indiana's law schools start another academic year.
IU McKinney, Indiana University Maurer School of Law and Notre Dame Law School have all started classes with the students, faculty and staff all in person and tentatively planning for a semester that resembles those prior to the pandemic.
The parent universities of the three law schools are requiring everyone to be vaccinated, with exceptions granted for religious and medical reasons, and have masking policies when indoors.
At the IU institutions in Bloomington and Indianapolis, everyone has been gathering in buildings for the typical opening activities. They have attended orientations and taken oaths of professionalism along with meeting friends, joining student organizations and keeping on top of the coursework, just as they have in years past.
"The online education was great under an emergency, but I think everybody agrees … it's better to be able to have that interaction. You learn more from your classmates, you learn more from your faculty," IU Maurer Dean Austen Parrish said of being in person. "And so generally, I think people are excited to be back. They missed that experience."
Karen Bravo became dean of IU McKinney in July 2020. Outlining the law school's plans for the upcoming year, Bravo explained she is considering this the start of her second, first year because the disruption caused by COVID-19 did not give her a normal beginning.
Likewise, the returning students are having a "different kind of second, first year." The 3Ls have had the bulk of their legal education upended by the pandemic and the 2Ls endured a truncated first year of online and in-person classes. Now they are learning the intangibles of what law school is like when everyone is physically together.
"I am very hopeful that we're transitioning into normalcy, whatever post-pandemic normalcy is," Bravo said.
"… I'm still optimistic. I think we have got to get a handle on this, and we've got to just face reality that we need to return to normalcy."
Notre Dame Dean Marcus Cole was not available for an interview.

'New abnormal'
The happiness that many feel at being able to convene again in the classroom, the library and lounging areas is tempered by the ongoing reminders that the virus could force everyone to return to working and learning from home.
Shana Wallace, professor at IU Maurer, gets such a reminder every morning when she, her husband and their three young children take a minute to make sure they have packed their masks. During the 2020-2021 school year, Wallace said she she worked hard to create the in-person environment in her online classes by prompting student interaction, meeting with small groups of students, having longer office hours, and providing a break from Zoom by gathering outside on warm days.
Wallace said she is glad to be in person with her students again, but she has planned for the worst. She is keeping her Zoom links open and online materials handy in case classes need to transition to a virtual format.
The students, she has noticed, are nevertheless energized. They are happy to see one another and have resumed the social and professional activities they enjoyed before the pandemic.
"Even though we're back in class and we're all still wearing masks, the feeling is different," Wallace said. "You know that we are mostly vaccinated, and people are still trying to be careful with one another, but I have not yet had kind of frequent emails of, 'We need to quarantine' or, 'I've had a diagnosis,' and that's very reassuring."
Concord Law School at Purdue University Global has always been virtual, offering everything only in an online format. It is preparing to welcome a new 1L class of 228 students — 55.3% are women and 46.5% are minorities — into what Dean and Vice President Martin Pritikin calls "the new abnormal."
"We're all kind of sick of it but I'm not sure what anybody can do," Pritikin said of the weariness surrounding COVID.
Because many Concord students are adults with families and full-time jobs, the law school got flexible with assignment deadlines during 2020. The school wanted to accommodate the disruptions that students were experiencing in their personal lives but, Pritikin said, after about six months, the schedules and expectations reverted to what they were pre-pandemic.
The dean emphasized the need to stay focused on preparing the next generation of lawyers even during a public health crisis.
"Especially in law school, I think we owe it to our students to tackle difficult issues and to get them comfortable with the idea there is no … one side of the debate," Pritikin said. "… If you kind of shut your eyes to the other side's argument or you only consider sort of a strawman caricature of it, you're not doing your clients a service. I think that's a really important norm that I don't know if law schools are doing as much as they can do in that regard."
Sense of community
Both Parrish and Bravo said their students have not regressed academically. They learned the material and performed well on their exams despite last year's distractions.
Yet students and professors are starting a new year fatigued from the demands of 2020 and 2021. The IU law deans said even as people are excited to be back in class, they are tired and exhausted in addition to still being worried about COVID. A silver lining to the situation, the deans said, is the realization that students and faculty are resilient.
"I think because of COVID, we have a sense of confidence that we were thrown a huge curveball, but we were able to achieve our mission," Bravo said. "We educated students throughout the year. The students completed their studies and graduated and joined the profession."
Heather Gin, 3L and president of the IU Maurer Student Bar Association, is focused on spending her last year nurturing the sense of community at the law school that she felt the first time she visited. She said she sees that camaraderie and supportive spirit on display in the many times IU Maurer students will hold the doors open for their classmates.
To help bolster the community feeling, the Student Bar Association hosted a back-to-school event on a Friday evening. Also, Gin said she is determined to resurrect the field day that COVID canceled last spring so the students can once more engage in an afternoon of outdoor games.
The Michigan native noted that she and her third-year classmates know their time in the law school community is fading, so they are being particularly mindful to pause and savor the experience.
"We do not want to start law school over again, but we just want to enjoy our last year," Gin said. "We've had so many moments taken away from us."•
Please enable JavaScript to view this content.