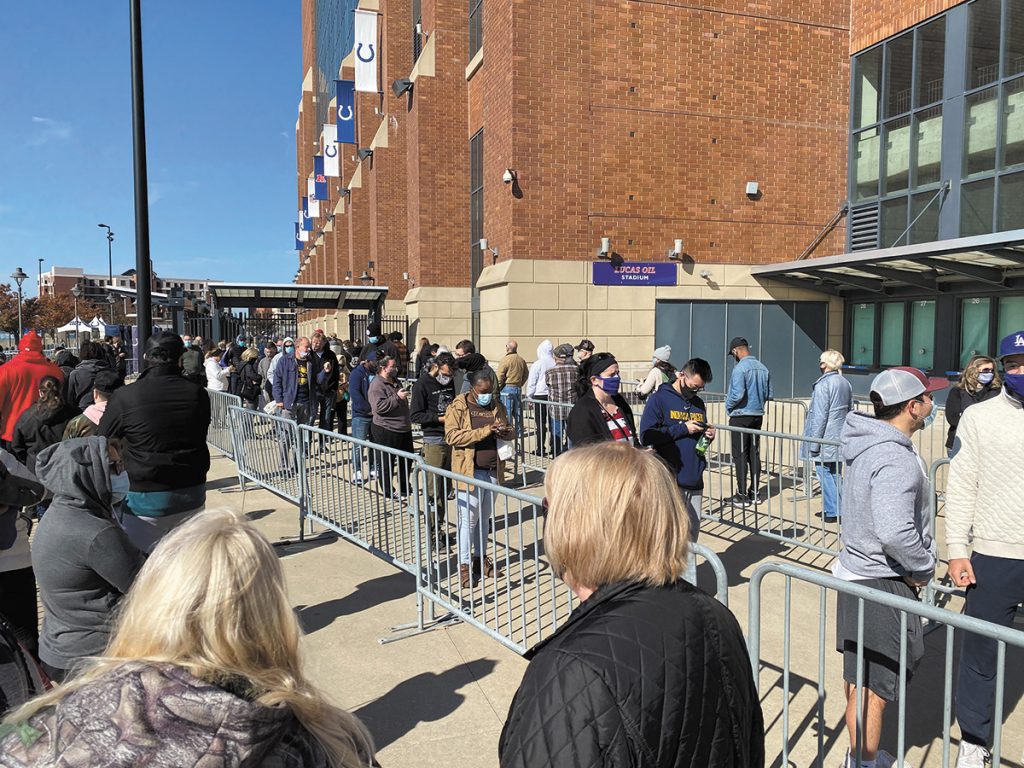 At least 13 bills dealing with election and voting have been introduced into the 2021 session of the Indiana General Assembly, but only three have received a hearing and none are addressing calls by Democrats for expanded absentee voting and easier access to early voting.
House Bill 1365, authored by Osceola Republican Rep. Tim Wesco, was heard on second reading in the House on Thursday but all 12 amendments offered by the minority party were defeated either by voice vote or in a roll call vote.
Wesco's bill is a comprehensive measure making several changes to Indiana election statute which he told the House Elections and Apportionment Committee were proposed by the Indiana Secretary of State. The provisions range from technical changes regarding day-to-day administrative problems to more substantive policy matters that require the General Assembly to act.
Among its provisions, the bill would permit a county election board to authorize the use of absentee ballots when a disaster emergency is declared within 11 days of the elections. Also, voters would have to be notified if their application for an absentee ballot is denied or if their absentee ballot is being treated as a provisional ballot.
On the House floor Democrats offered a variety of amendments, some of which tweaked the bill while others inserted whole new provisions.
The amendments that failed on voice vote included one offered by Rep. Matt Pierce, D-Bloomington, which would have allowed Indiana to enter an agreement among the states to elect the president by national popular vote.
Also, Rep. Pat Boy, D-Michigan City, proposed an amendment that addressed the issue of purging voter rolls, which Indiana is currently litigating at the 7th Circuit Court of Appeals. Boy's amendment would have prohibited the state from canceling a voter registration unless the individual confirmed in writing a change of residence or did not respond to a notification and had not voted in two general elections since the notice was sent.
The Indiana State Conference of the National Association for the Advancement of Color People, the League of Women Voters of Indiana and Common Cause Indiana filed a lawsuit that successfully challenged the state's practice of removing names form voter rolls without making direct contact with the voter to confirm the change of address. After the Southern Indiana District Court found Indiana was violating the National Voting Rights Act, Indiana appealed and the case, League of Women Voters of Indiana et al v. Connie Lawson, et al., 20-2815, 20-2816, is continuing to be briefed.
Rep. Tonya Pfaff, D-Terre Haute, attempted to amend HB 1365 to allow voters to cast a no-excuse absentee ballot by mail. The proposal was defeated on a 66-28 vote.
Pfaff pointed out that not only did Indiana conduct an election with no-excuse absentee voting in June 2020 without any incidents of fraud, but also more people voted in that primary.
"If we really consider ourselves representatives of the people, we need to show our constituents that their voices truly matter," she said. "We must allow for no-excuse absentee voting and other voting reforms. It is past time we bring our voting system into the 21st century."
Wesco's House Bill 1479 would enable counties to open a satellite office for early voting on the third Saturday preceding the election.
On the House floor Thursday, Rep. Cherrish Pryor, D-Indianapolis, submitted an amendment that would have expanded the number of voting locations. Current law mandates a voting center for every 10,000 active voters in counties that have at least 25,000 active voters while Pryor's proposal would have increased the number to one location for every 5,000 active voters.
The amendment was defeated 61-29.
"I'm extremely disappointed in the legislators who voted against voter participation," Pryor said. "These same legislators also voted down another amendment that would allow no-excuse absentee ballots, saying people should just vote in-person. And then they refuse to increase voting locations. These actions clearly speak to an effort that will hinder voter participation."
Indiana Vote By Mail, a nonpartisan organization, issued a press release encouraging the efforts by legislators to make elections more accessible and safe for all voters and calling upon the General Assembly to help "create a climate of citizen participation in our democracy."
That group unsuccessfully sued the state last year seeking a court order to permit no-excuse mail-in absentee voting.
"As demonstrated by the 2020 General Election, our elections in Indiana were safe even with the greatest number of votes cast by mail in the state's history," the organization said. "Continued vigilance is necessary to keep voter confidence high. But unwarranted barriers to voting must be removed."
Please enable JavaScript to view this content.