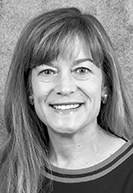 By Terry Harrell
They all laughed at Christopher Columbus/
When he said the world was round/
They all laughed when Edison recorded sound/
They all laughed at Wilbur and his brother/
When they said that man could fly …
I sometimes think of Stacey Kent's rendition of the Gershwin song "They All Laughed" when I think about lawyer well-being. When my colleagues first expressed a vision for healthier lawyers — not merely helping those already struggling with addiction and mental health diagnoses, but helping all lawyers to thrive — some laughed. Someone even suggested to me that the title for a presentation I was giving should be "Is Lawyer Well-Being an Oxymoron?"
However, the American Bar Association Commission on Lawyer Assistance Programs (CoLAP) and the Hazelden Betty Ford Foundation (HBF) joined forces and conducted a national study on substance use, mental health and help-seeking behavior in the legal profession. The survey of almost 13,000 lawyers from 19 states was reported in the Journal of Addiction Medicine in February 2016. The survey provided evidence that lawyers do have elevated rates of depression, anxiety and problems with alcohol. Lawyers are also extremely reluctant to ask for help. Honestly, we already knew this. But having solid evidence makes it a lot easier to motivate action.
Following release of the survey, a few lawyers from CoLAP, the Association of Professional Responsibility Lawyers and the National Organization of Bar Counsel met to talk about what action could be taken. The consensus was that it would take a "movement" to change the culture of the legal profession to one that fully supports well-being for its members. Because a successful movement requires wide participation, we sought members from the Conference of Chief Justices, the ABA Center for Professional Responsibility, the authors of the ABA-HBF study and others. In the end, the National Task Force on Lawyer Well-Being was comprised of 16 people representing organizations across the profession.
The task force wrote a report with recommendations on how to improve well-being across the profession, with a goal of not merely reducing the percentage of lawyers who are struggling, but increasing the number of lawyers who are thriving. In a forward to the report the co-chairs stated, "To maintain public confidence in the profession, to meet the need for innovation in how we deliver legal services, to increase access to justice, and to reduce the level of toxicity that has allowed mental health and substance use disorders to fester among our colleagues, we have to act now."
The task force report was published in August 2017 and outlined recommendations for the profession as a whole and for seven specific stakeholders in the profession: judges, regulators, legal employers, law schools, bar associations, professional liability carriers and lawyer assistance programs. If, like me, you are likely to put a 50-plus page report in your "to-read-later" pile, I suggest that you read just the first three pages that outline the recommendations. From there you can decide whether you want to learn more about or act on specific recommendations. Well-being for our profession is a team sport and if we all do our part, we can continue to improve our profession. Those changes are well underway.
In September 2017, ABA President Hilarie Bass also created the ABA Working Group to Advance Well-Being in the Legal Profession and charged the group with promoting and implementing the task force recommendations for legal employers. The working group successfully presented a resolution to the ABA House of Delegates in February 2018 that urged everyone in the legal profession to consider the task force recommendations. By August 2018, the working group had published a Well-Being Toolkit for Lawyers and Legal Employers. This is a well-researched document filled with practical suggestions on how individuals and employers can improve the work environment in the legal profession. This document and a Well-Being "Nutshell" version are the creative work of Anne Brafford, a member of the working group and expert in science-backed strategies to foster full engagement in legal professionals. The working group also collaborated with CoLAP to create a Well-Being Template for Legal Employers to assist legal employers in developing policies to promote well-being.
In September 2018, the working group launched a Well-Being Pledge for Legal Employers. The pledge is aimed at any organization that employs lawyers and asks employers to commit to the seven-point framework of the pledge. Thus far, about 150 organizations have taken the pledge, including law firms, corporate legal employers and law schools across the country. The seven points include:
• Provide robust education on well-being;
• Reduce the focus on alcohol;
• Develop partnerships with lawyer well-being experts;
• Provide confidential access to well-being resources;
• Develop proactive policies;
• Encourage well-being, self-care and getting help and support programs to improve physical, mental and emotional well-being for all employees; and
• Use this commitment to well-being to attract and retain the best talent.
In Indiana and across the country, law schools are making great strides in the area of well-being. A recent survey of law school well-being strategies found that many schools are providing mindfulness education, physical fitness offerings and collaborating more actively with lawyer assistance programs and other well-being resources.
Chief justices across the country, along with countless state and federal judges, have been leading the way on well-being efforts. In August 2017, the Conference of Chief Justices approved a resolution supporting "the concept of lawyer well-being as a critical component to lawyer competence" and recommending that all jurisdictions consider recommendations in the task force report. In February 2019, the Conference of Chief Justices also adopted a resolution urging state admissions authorities to remove questions based solely on diagnosis or treatment from the bar application. We are all proud of the work our own chief justice has done as the legal profession tackles the opioid crisis through the National Judicial Opioid Task Force.
National, state, specialty and local bar associations are providing more well-being education. We are seeing bar associations engage in creative programming to promote well-being and reduce the focus on alcohol at social events. While the Indiana State Bar Association created its Wellness Committee back in 2012 under the leadership of Erik Chickedantz, many more are now creating such committees. Several state bar associations, including the ISBA, are working to provide or assist solo and small firm attorneys to find health insurance.
Lawyer assistance programs have broadened their scope to include more services in the area of prevention. Helping members of our legal community navigate stressful times can often prevent the development of more serious conditions and increase overall well-being. JLAP's caregiver and grief support groups are examples of such services.
Disciplinary and admissions authorities are collaborating more with lawyer assistance programs to address underlying causes of misconduct or poor performance. These entities are giving more attention to what can be done to assist lawyers in performing well. The prevention-oriented presentations given by our Indiana disciplinary lawyers is an example of such efforts.
The goal of the well-being movement is not simply the absence of impairment. The goal is for all lawyers to thrive. And, as more people join the well-being movement, we can all laugh at our initial skepticism about lawyer well-being.•
• Terry Harrell is executive director of JLAP, current member of the task force, immediate past chair of CoLAP and proud partner with Gus, her therapy dog.
Please enable JavaScript to view this content.