A bill that requires schools across Indiana to test their water for lead contamination has passed the Statehouse and is headed to the governor's desk.
House Enrolled Act 1265, authored by Rep. Carolyn Jackson, mandates testing of all drinking water in school buildings before Jan. 1, 2023. For any water sample found to contain a level of lead that is 15 parts per billion or greater, schools will have to take steps to reduce the amount of harmful contaminants.
The measure passed through both chambers with little or no opposition.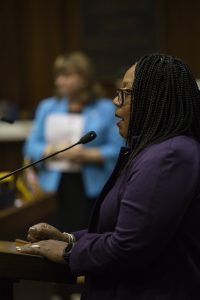 "I'm pleased with the work we've been able to accomplish this session," Jackson, D-Hammond, said in a statement. "This is a wonderful first step to tackling an issue I hope we can continue to work on next year."
The Greater Indianapolis Branch of the NAACP has been conducting a grassroots effort to push the Legislature to protect Hoosier children from lead poisoning. In addition to supporting bills that called for more testing, the organization has been hosting panel discussions to educate the public.
"The NAACP extends its thanks to Representative Jackson and to the many co-sponsors of House Bill 1265 which will help ensure that drinking water in our schools is safe for children to drink," Chrystall Ratcliffe, president of the Greater Indianapolis NAACP, said in a statement. "This legislation shows that Hoosiers of all colors and political beliefs can work together when the health and well-being of our children is at stake."
An amendment authored by Sen. Lonnie Randolph and passed on a voice vote created a special provision especially for Lake County schools. Because of the heavy industry and environmental problems in northwest Indiana, the drinking water in every Lake County school building will be tested at least one time every two years after the year 2022.
Sen. Mark Stoops, D-Bloomington, tried to lower the action level for lead to five parts per billion, but his amendment failed on a voice vote.
The bill exempts any school building that has been tested or will be tested as part of a program conducted by the Indiana Finance Authority. In its fiscal analysis of HB 1265, the Legislative Services Agency found that 880 public and charter schools along with adult education facilities had volunteered for the IFA program. Also, another 374 facilities reported they had already been testing for lead.
Consequently, this leaves about 655 school buildings in Indiana that are not enrolled in the IFA testing initiative and did not report any ongoing sampling of water.
The bill specifies that school administrators must seek state and federal grant money to cover the costs of testing, which the fiscal analysis estimates will reach $1 million. Additional undetermined costs would accompany any remediation work the schools have to do to lower the level of lead.
"In recent times, there has been increased awareness of the problems being caused by disrepair and old age in these schools," Jackson said. "There have been problems in both Hammond and East Chicago and I am sure that is only the tip of the iceberg."
The Indianapolis NAACP agreed and maintained the Indiana General Assembly can do more to help protect children.
"Our work is not done," Ratcliffe said. "We urge Gov. (Eric) Holcomb to sign the (HB 1265) and ask legislative leaders to appoint a summer study committee to review the issues raised by Sen. Jean Breaux in Senate Bill 285. Sen. Breaux's legislation would have required the (Indiana) State Department of Health to take all necessary steps to increase the number of Medicaid-covered children who are screened for lead poisoning during their well-baby checkups."
Please enable JavaScript to view this content.