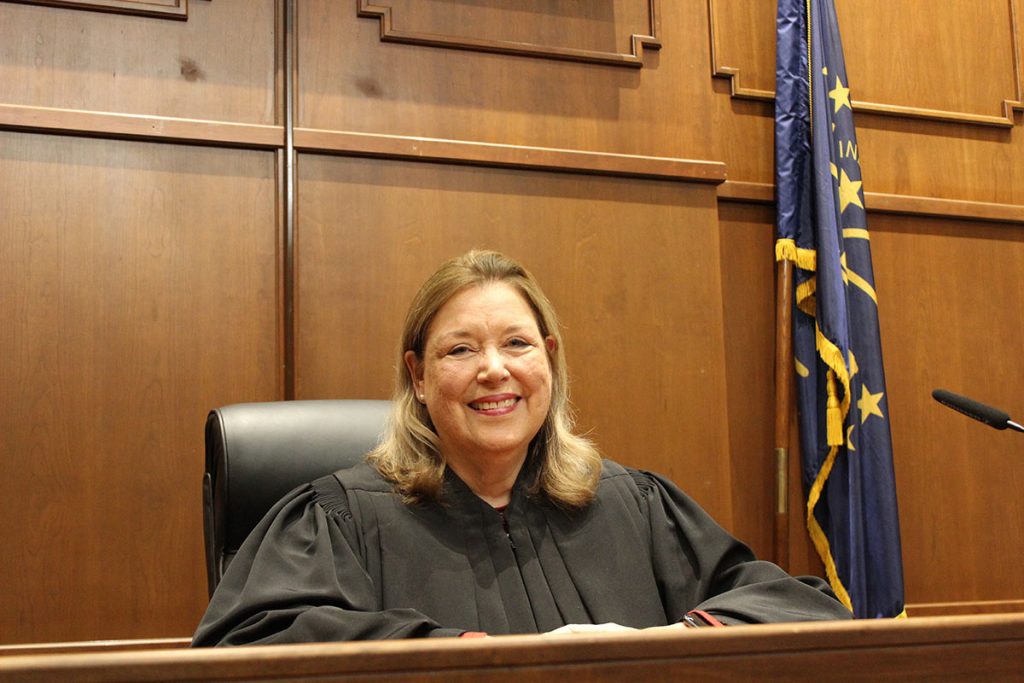 While law was the path she wanted, it wasn't what she chose to do at first.
Instead, now-Indiana Tax Court Judge Martha Blood Wentworth was told her options were chorus teacher or nurse — never lawyer.
"I said, 'I want to be a lawyer.' And they all looked at each other and smiled and kind of laughed. And they said, 'That's really a nice idea, honey, but you'll be a nurse or a chorus teacher,'" Wentworth recalled.
Wentworth did what was expected of her, going to school to get a teaching license, but she found that all of the available teaching jobs paid incredibly low.
"The only job I was offered — I think it was up in Yorktown, somewhere in that more rural place — was for $6,000 a year, and you couldn't even get an apartment for that," Wentworth said.
So, she went back to school to study counseling and education. When she returned to find a job, she discovered she was now overqualified for what was available.
So, she began working with her father's business, buying houses in Bloomington, converting them into duplexes and renting them out. She did that for 13 years and discovered during that time that what she loved most was doing taxes.
Since then, Wentworth has built a career in tax law — a career she will soon be stepping back from when she retires.
Finding her passion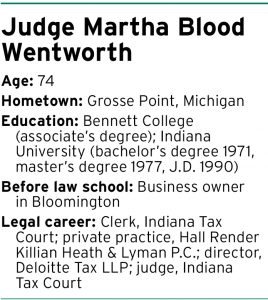 After working with her dad for over a decade and getting a divorce, Wentworth decided it was time to finally go to law school.
"I was darned if I was going to be an impoverished single mother, so I went back to law school so I could make a decent living to support my children," Wentworth said. Her daughters at the time were 12 and 8 years old.
One of her daughters, Katie Wentworth, remembers running around the law school library while her mom studied.
"It was definitely a different upbringing than a lot of our neighbors in the sense that my mom was very focused on getting these goals achieved careerwise, but she was always still there for us," Katie said. "She made sure that we understood why it was important to her and why it could be important to us in the future."
Katie said her mother always made sure she and her sister knew they could follow any career path they wanted — a message Wentworth herself hadn't received as a child.
"She would tell us in going back to school and throughout her career that she wanted us to believe that we could follow any career path we wanted as women and that we could be independent and strong but yet compassionate leaders if we wanted to be that. We didn't have limitations," Katie said.
Listening to her mom and following her own passion, Katie became an emergency veterinarian.
"I think people look at my mom and they're like, 'Why? Why tax law?' Lots of lawyers are like, 'Oh my gosh, why would you choose tax law? That's so boring,'" Katie said. "She's used to people not understanding why she loves her career the way she does. And when I chose to be an emergency veterinarian, I think she now has that experience with me. She's like, 'Why? You see trauma, you see all this?'" Katie said.
Still, Katie said her mom is supportive of what she does, and she knows she would be no matter what she chose to do, as long as she was following her passion.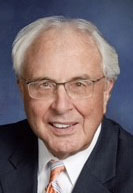 Following law school, Wentworth's plan was to become a federal tax attorney. But as often happens, life had other plans.
Upon her graduation from law school, Wentworth was offered two jobs: one in Fort Wayne, and one in Indianapolis to be a clerk for then-Tax Court Judge Thomas G. Fisher. She opted for the clerkship, commuting in daily from Bloomington.
"I fell head over heels in love with state taxation and I have fought to do it my whole career, and I've been lucky enough to be able to do it," Wentworth said.
'Intellectual 'Candyland''
Wentworth's predecessor, Fisher, was the first judge of the Indiana Tax Court following its creation in 1986. He said it was different than other courts because when he started, there weren't cases waiting there for him — instead, he waited for cases to be put in his jurisdiction.
"It was very gratifying and fun for me, and I gave it my best shot for 25 years," Fisher said.
When he interviewed Wentworth for the clerkship position, Fisher said the first thing he noticed was her energy.
"I was very impressed with her energy and her enthusiasm, and she had the credentials to do the job," he recalled. Fisher served as Tax Court judge until 2011, when Wentworth became his successor.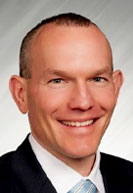 Randal Kaltenmark, a partner in Barnes & Thornburg's Indianapolis office, said Wentworth kept up Fisher's tradition of making the state Tax Court a model for resolution of tax controversies at the state and local level.
"It's kind of a model of efficient jurisprudence in terms of rendering well-reasoned opinions, resolving important issues that confront taxpayers as well as the state of Indiana," Kaltenmark said.
He described Wentworth as passionate about tax law, and that passion helped promote the profession to get younger attorneys interested.
"She's very passionate about resolving disputes at the court level and thereby creating a body of law that both the state as well as taxpayers can look at to guide their course of action and structure their affairs, and so she's always been an advocate of that, as well as for the profession," Kaltenmark said. "Generally, she's gone out of her way to bring younger people into the profession and promote the profession as a vocation, but also to attract quality young people to the field and spark their interest in tax and understand that despite the stereotypes, that the tax profession does important work."
Now, Wentworth is preparing to retire. She said she expects her last day to be in August or September.
Asked what she'll miss about the job, Wentworth had a simple answer: everything.
"It's an intellectual 'Candyland' for me," she said, adding, "I hope for my successor, as well."
In retirement, Wentworth said she plans to spend her time working on her art. She began painting before she took the bench 12 years ago and now has a sketchbook and watercolors she likes to work with.
"You can't think of stress, you can't think of anything but what you're doing when you paint, and so I'm very much looking forward to that," she said.
She's also preparing to welcome her first granddaughter in May — another girl whom she can encourage to follow her passion.
"She doesn't know it yet, but she's going to be spoiled rotten," Wentworth said.•
Please enable JavaScript to view this content.