Stepping up to the podium inside the Indiana Senate chamber, Indiana Sen. J.D. Ford made one final plea to his colleagues to curb House Bill 1041.
"Adopting this type of policy for our state is sending the wrong message to Hoosiers. What it's saying is, you don't belong here," Ford said. "Senators, these are kids we are actively attacking."
Ford's request was denied during the bill's second reading on Feb. 22, as the Senate voted down amendments presented by the Indianapolis Democrat aimed at diluting the legislation and/or sending the issue to a study committee.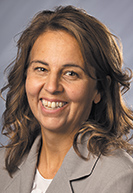 HB 1041, authored by Rep. Michelle Davis, R-Whiteland, would prohibit transgender girls from playing interscholastic girls' athletics.
The Indiana House passed the bill 66-30 on Jan. 27. As of Indiana Lawyer deadline, the bill hadn't been brought to the Senate floor on third reading.
Davis has contended her legislation aims to address "fairness" in sports while her opponents argue it's a bill targeting the transgender community. Multiple states have presented similar bills, with some state governors also signing them into state law.
"This legislation is the result of listening to the concerns of female student-athletes and parents in my district and across the state," Davis told IL in a statement. "As a former Division I college athlete, I know the life lessons and opportunities competing in sports provided to me while growing up and as a young adult. This bill is aimed at protecting those same opportunities for Hoosier girls now and in the future."
In Indiana, a legal battle is already brewing over the pending legislation. Representatives from the American Civil Liberties Union of Indiana have promised to file a lawsuit while Indiana Attorney General Todd Rokita has said his office will defend the bill's constitutionality.
Looking for a problem?
According to the Williams Institute at UCLA School of Law, there are 1.4 million transgender adults in the United States and just under 150,000 transgender youth aged 13 to 17.
A study released by the U.S. Centers for Disease Control and Prevention in 2019 found 1.8% of high school students nationwide identified as transgender. In Indiana, the Williams Institute estimated there were 3,350 transgender youth aged 13-17 in 2020.
Each year, around 65,000 girls participate in Indiana High School Athletic Association sports, according to IHSAA Commissioner Paul Nedig.
The IHSAA, which has 407 member schools, already has a policy in place regarding transgender athletes, requiring students to fill out a waiver before allowing participation. The waiver, in part, requires transgender athletes to prove they've been living as the gender they identify as for at least a year and also requires proof they've undergone hormonal treatments or gender reassignment procedures.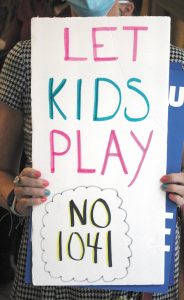 Nedig said that since the policy was amended in 2017, there have been just two transgender waivers submitted to the IHSAA, both in 2021.
Medical organizations like the American Academy of Pediatrics have also spoken out against the bill.
The Trevor Project, a suicide prevention and crisis intervention organization serving LBGTQ+ young people, has found that more than half of transgender and nonbinary youth seriously considered suicide in the past year, and 1 in 5 attempted suicide.
Research by The Trevor Project has also found that a majority of LGBTQ young people (68%) have never participated in sports for a school or community league or club, "with many citing fear of bullying and discrimination as a key factor for not participating."
"This law, and others like it, aren't about sports — they're about politics," said Sam Ames, director of advocacy and government affairs at The Trevor Project. "Dangerous bills have dangerous consequences. Over 85% of trans and nonbinary youth tell us that recent debates around anti-trans bills like this one have negatively impacted their mental health, and 1 in 3 tell us they are scared."
Indiana University Maurer School of Law professor Steve Sanders, who teaches constitutional law and litigation classes and has worked on LBGTQ+ cases in the past, said he sees the bill as a "wedge issue" being used by Republicans inside and out of Indiana.
"I think there's a lot of sort of overwhelming evidence that there's no immediate problem to be addressed here," Sanders said. "But it's a way of sounding like you're doing something commonsense, which plays on people's fears and anxieties about something there's still a lot of misunderstanding about."
Legal arguments
Opponents of HB 1041 say they believe there's legal precedent in their favor.
One of the opinions most cited against the bill is the 2020 SCOTUS ruling in Bostock v. Clayton County, 17-1618. Bostock expanded Title VII of the Civil Rights Act of 1964 to protect employees against discrimination based on sexual orientation and gender identity.
Jennifer Drobac, professor at Indiana University Robert H. McKinney School of Law, is an expert in sex and gender-based harassment and discrimination law.
"… Bostock established that discrimination and employment on the basis of trans status is unconstitutional as sex discrimination," Drobac said. "And so it has been interpreted from Bostock that any kind of discrimination on the basis of trans status would be unconstitutional under the equal protection clause of the 14th Amendment in the United States Constitution."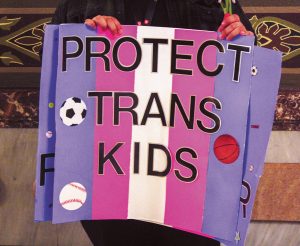 Looking to additional precedent, Drobac pointed to the 4th Circuit Court of Appeals ruling in G.G. v. Gloucester County School Board, 972 F.3d 586 (4th Cir. 2020). In that case, Gavin Grimm, a transgender male student, filed a lawsuit against his local school board in Virginia in 2015 after he was denied access to the boys' bathroom, arguing the school violated both Title IX of the Education Amendments of 1972 and the equal protection clause.
The 4th Circuit ruled in favor of Grimm in 2020, extending SCOTUS' opinion in Bostock to include Title IX. In 2021, SCOTUS denied a petition for certiorari.
"So, looking at this law, if you look at the 4th Circuit and its interpretation, I think it's extremely likely that the 7th Circuit would follow that because of the (Hively v. Ivy Tech Community College, 853 F.3d 339 (7th Cir. 2017)) decision," Drobac said. Hivley held that discrimination based on sexual orientation violates Title VII.
In addition, an executive order issued last year by President Joe Biden stated transgender students are protected under federal law and can't be denied access to school sports, and that the Bostock decision should apply to Title IX. Also in 2021, the U.S. Department of Education released guidance affirming transgender students' rights are protected.
Conversely, those in favor of HB 1041 say they believe Title IX supports the bill.
During a Senate Education and Career Development Committee meeting on Feb. 9, a representative from the Indiana Attorney General's Office testified that the office would defend the bill if it becomes law.
"Title IX prohibits discrimination based on sex in educational programs and activities that receive federal funding. In Title IX, 'sex' means a binary, or biological, understanding of sex," a spokesperson for the AG's office told IL in an email. "HB 1041 is consistent with Title IX and federal law, which has long permitted educational institutions that receive federal funding to operate separate athletic programs and opportunities based on biological sex."
During the committee hearing, the AG's office requested that collegiate athletes be included into the bill, but no amendment to that end was passed.
"Women deserve equal opportunity and allowing males to compete in women's sports reverses the progress made for women under Title IX of the Education Amendments of 1972," the AG's statement said.
Across the country, more than 100 bills similar to HB 1041 have been filed this year, according to the nonpartisan campaign Freedom for All Americans. At least 10 states already have such laws in place.
Court cases challenging the laws are underway in at least four states, according to the Associated Press.
On Feb. 23, Freedom for All Americans and the Human Rights Campaign announced more than 40 companies, with nearly 25,000 Indiana employees, "vocally opposed anti-LBGTQ+ legislation in Indiana."
Holcomb has largely been silent on the bill but suggested last week he would support it, according to the AP.•
Please enable JavaScript to view this content.