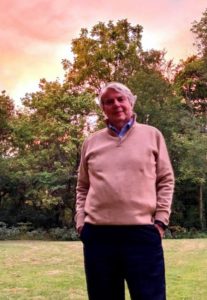 Longtime Indianapolis lawyer and Kroger Gardis & Regas partner Sydney Steele has died, the law firm announced. He was 81.
Steele died May 26 after "a short battle with COVID-19 and the complications that developed," according to his obituary.
"If you talked to anybody else or read about his life, you'll know what an incredible person and lawyer he was," said Jim Knauer, a KGR partner and longtime friend of Steele's.
Born in 1939, "Syd" Steele grew up in Martinsville and spent his early days at the family lumber mill. He graduated from Martinsville High School in 1958 and enrolled at Purdue University, where he graduated with a bachelor's degree in mechanical engineering in 1961. He then enrolled at what's now the Indiana University Maurer School of Law, earning his J.D. in 1964.
Steele married his wife, Pam, in 1964 and moved to Germany as a commissioned officer in the U.S. Army. He rose to the rank of captain, then returned to Indiana in 1967 "with two small children and a cuckoo clock," according to the obit.
Although he had a job in Chicago, the Steeles chose to settle in Indianapolis, with Syd Steele co-founding the firm Lowe Gray Steele & Darko in 1970. He moved to Kroger Gardis & Regas in 2003, with KRG's Jim Knauer credited for prompting Steele to make the switch.
"He and I were working on a case together in separate law firms. I don't remember who asked who, but it was a conversation of not even five minutes, and we said, 'Let's make a deal,'" Knauer recalled. "It didn't take but an hour, and we were thrilled to get Syd."
Steele was senior counsel and partner at KGR from 2003 until his death. One of his primary concentrations was construction law, but Knauer recalled his friend and partner as being skilled in civil law generally.
Steele was not the manager of the firm, Knauer said, but he was still a leader.
"When he talked, people listened," Knauer recalled.
A running joke at KGR was Steele's promise each year that he was going to "slow down," Knauer recalled. Steele would announce each year at a firm retreat that he intended to cut back on his workload, but every year his work remained the same. The same was true at the time of his passing, Knauer said.
"Every year he'd say, 'Don't expect too much from me.' And year after year he worked just as hard — nothing changed," Knauer recalled. "We all laughed and would wait for him to announce it, and he'd said, 'This year I mean it.'
"I think he loved the law, and he loved the people he worked with, and they loved him," Knauer continued. "He didn't know how to quit because he liked it so much."
In 1982, Steele co-founded the Indianapolis Law Club, a group of litigators who regularly meet to discuss legal matters. He was designated a distinguished attorney fellow by the Indianapolis Bar Foundation and, in 2019, was named an Indiana Lawyer Distinguished Barrister.
Outside of work, Knauer described Steele as an "interesting guy" who rarely said a bad word about anyone, and about whom a bad word was never said. Knauer recalled one instance when, before he joined KGR, Steele bought a motorcycle and left for Alaska, telling his colleagues that he wasn't sure if he would come back.
Steele did eventually return, but Knauer said that adventure was representative of his friend.
"He was a very independent guy. It was his way," Knauer said. "He liked what he liked."
Among the things Steele liked were motorcycles — a shared loved between the two men — and his family home in Colorado, Knauer said. He also served in leadership positions at the Columbia Club and Big Brothers of Central Indiana, was a board member and officer of the Center for Leadership Development, and was awarded the highest honor from the National Board of Osteopathic Medicine for three decades of service, according to his obituary.
Steele was preceded in death by his wife but is survived by his children, John, Susan and Elizabeth, their spouses, his five grandchildren — Taylor, Jack, Adeline, Charles and Saress — and his sister and sister-in-law.
A calling will be from 4-8 p.m. Friday at the Leppert Mortuary – Nora Chapel, 740 E. 86th St., Indianapolis. A private celebratory service will be held the next day due to limited capacity.
Memories and condolences can be shared at leppertmortuary.com. In lieu of flowers, his family appreciates contributions on his behalf to the IU Maurer Sydney and Pamela Steele Scholarship, P.O. Box 500, Bloomington, 47902, the Center for Leadership Development, 2425 Dr. Martin Luther King Jr. St., Indianapolis, 46208, or another volunteer organization in the Indianapolis community.
Please enable JavaScript to view this content.