When Byron Washington's military discharge turned into bad paper, he lost his job, his ability to pay his children's college tuition and his honor.
The native Hoosier had served in the U.S. Navy for 12 years when he claims he blew the whistle on what he believes was fraud and abuse. Shortly thereafter, he began getting written up for violations and misconduct, which eventually got him booted out with a general discharge under honorable conditions.
Washington fought for nearly 10 years by himself to get his discharge upgraded to Honorable while he tried to build a stable life outside the military. However, his success at securing a job with the Federal Aviation Administration quickly evaporated when a background check revealed his discharge had been downgraded to Other than Honorable.
The so-called "bad paper" discharge put a black mark on Washington's record that erased his financial support, taking the FAA position and military benefits and, he said, painting him as disloyal.
Searching for help, Washington stumbled across Polli Pollem, director of the Military Assistance Project at Indiana Legal Services. The Air Force veteran-turned-legal aid attorney understood Washington's military lingo, traded war stories with him and knew how to maneuver the complex and convoluted task of changing his discharge status.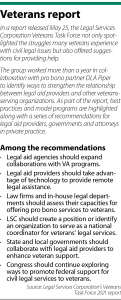 Washington liked Pollem and was confident she could help him, but he was not confident the Navy would change its mind. About a year after Pollem submitted a dissertation-sized document arguing for a status change, a letter arrived that Washington expected would be another rejection.
"I had tears of joy because I had finally reclaimed my honor," Washington said of the letter informing him that his discharge had been upgraded to Honorable. "… Not just my honor but my family's honor. Polli helped me restore my family's honor."
Military veterans often hear about how much their service is valued but, as Washington found, the transition from active duty to the civilian world is a difficult journey that can force them to face, alone, struggles with physical and mental health, endless bureaucracy and the nuances of living life out of uniform.
Compounding the difficulties are the civil legal issues that burden many former service members. In 2017, the Legal Services Corporation found 71% of households with either veterans or service members had experienced a civil legal problem within the previous year.
A leader in the legal aid community and member of a military family, Abigail Lawlis Kuzma knows former soldiers and sailors need more than platitudes and accolades.
"It's easy to say thank you once a year and talk about how wonderful they are and how much we appreciate them, but then if we don't follow through and actually appreciate them in terms of their service, then it must feel very meaningless to be in that situation where you don't have any help," said Kuzma, current LSC board member and founder of the Neighborhood Christian Legal Clinic.
These days, Kuzma said she is more hopeful that veterans will receive more assistance.
She was a member of the LSC Veterans Task Force that spent much of 2020 examining the problems and the help available. The group reviewed the resources the military provides to its personnel reentering civilian life, identified the legal issues veterans experience and examined ways to strengthen the relationship between civil legal aid providers and other veteran-services organizations.
The task force released its report May 25, announcing a series of recommendations for legal aid providers, law firms and in-house legal departments as well as state and local governments and Congress.
Kuzma said she is optimistic that what she sees as the practicality of the report will prevent it from being tossed on a shelf and ignored. The LSC is going to ensure it is studied and discussed by hosting trainings to highlight what was discovered and what the best practices are.
"The whole point of identifying best practices is so they will be used," Kuzma said. "That's what I was the most thrilled about, is that I think it's a very practical document and I think it will be really useful."
Working together
According to Pollem, the civil legal issues that veterans often face can range from being military-related, like eligibility for benefits, to the more common civilian issues, like child support and evictions.
Layered over every problem is the complications that come from being a former service member. Often the individual is suffering from post-traumatic stress disorder, military sexual assault, depression or anxiety, which can exacerbate the legal issue.
Moreover, the trauma could lead to a bad paper discharge. The LSC Veterans Task Force's report highlighted that 62% of the 91,764 service members separated for misconduct from fiscal years 2011 through 2015 had been diagnosed within two years prior to separation with PTSD, a traumatic brain injury or "certain other conditions."
Just as veterans cannot always tackle their problems by themselves, the 77-page LSC report emphasizes the need for collaboration. Nonprofits and public agencies that serve veterans should get to know each other and create a network so that if they cannot provide the necessary help, they will know who can.
Connections between organizations are helping Vietnam veteran William Ross get his driving privileges restored.
Saddled with addiction and depression issues, Ross was facing a habitual offender charge and possible jail time for driving on a suspended license. When the judge asked for his statement in court, he spewed forth a string of indignities punctuated with ample profanity. But instead of jail, the judge sent him to the Hamilton County Veterans Court in October 2020.
As he was working through the program, Ross applied for assistance from Indiana Legal Services to get his driver's license returned. The application was rejected but the veterans' judicial officer with the court resubmitted the application, and soon ILS' staff attorney and JAG officer Trever McSwain was helping Ross.
The veteran credits McSwain with giving him a mission. Ross explained that in the military, service members are assigned their missions, but in civilian life, they have to define their mission themselves. The attorney is helping the Navy veteran keep focused on the next mission of improving his credit score so he can get a home loan.
Establishing networks and trust can take a while, but Pollem has seen the positives that can result.
"It's the relationships that really give it the umph that you wouldn't get if it was just ILS attorneys," she said.•
Please enable JavaScript to view this content.