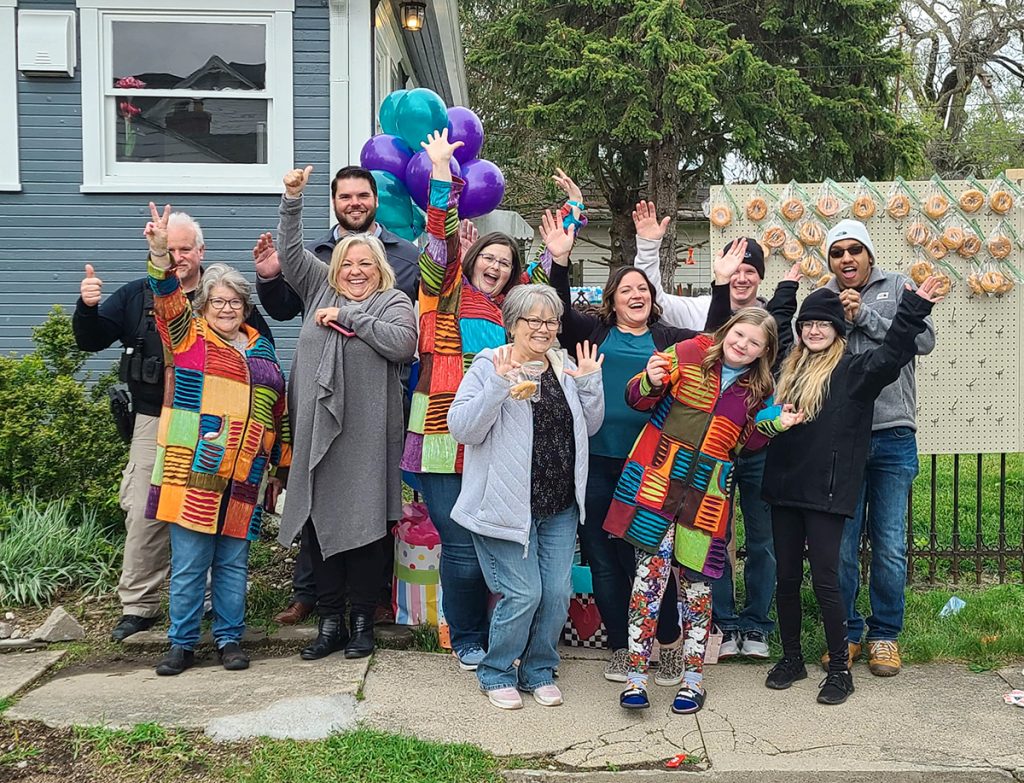 Like so many others, the pandemic threw a wrench in their plans.
Corinne Havenstrite and Tiffany Martin were each finalizing adoptions this spring when COVID-19 came to Indiana. Both mothers had adopted before, so they had an idea of what the celebrations should look like: family and friends gathered in the courtroom, their children banging gavels, wide smiles everywhere.
The result was the same: both the Havenstrites and the Martins haew additions to their families, with their respective adoptions finalized in July and May. But what came before, during and after their final hearings was unusual.
With in-person proceedings largely called off, adoptive families have had to adjust their plans. But as long as a case is uncontested, lawyers say judges have been willing to hold final hearings via Zoom or other platforms to give these families a sense of finality.
And now, as courtrooms begin to reopen, some families have been able to experience the traditional in-court hearing, mostly. There are still masks and social distancing to consider, but lawyers and adoption advocates say their clients are choosing to see the bright side of their unusual roads to family unification.
Adjustments and delays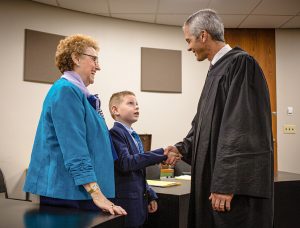 In Judge Mark Dudley's court, the adoption docket has still been moving. As judge of Madison Circuit Court 6, Dudley said his goal has been to provide foster families with the permanency that comes with adoption.
The first time the pandemic impacted Dudley's adoption docket was in March, when a final hearing was scheduled after the Anderson courthouse closed to the public. At that point, formal remote-work procedures weren't yet in place, so he, the family, the lawyer and a representative from the Department of Child Services used FaceTime to finalize the proceedings.
"It wasn't ideal," Dudley said, "but all the T's were crossed and all the I's were dotted."
Since then, the judge has developed a procedure for using Zoom to finalize uncontested adoptions. Contested adoptions, however, still require in-person proceedings.
Rebecca Bruce of Bruce & Bruce in Muncie has seen a similar court response in her practice, which is exclusively adoption law. In fact, she's finalized adoptions for 75 children since the pandemic hit.
But those cases didn't always go off without a hitch. Home studies, for example, were temporarily called off during the height of quarantine, Bruce said. Similarly, many adoptive parents were not able to make appointments for fingerprinting, stalling the process.
Paperwork has also been an issue, as the reduction in staff and business hours has slowed processing. Havenstrite, who adopted her son Cade in Henry County, experienced this slowdown when the move to remote work meant some of her documents were briefly lost in the shuffle.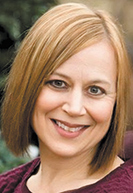 "I think during that time we (society) missed a lot," Havenstrite said of the initial switch to remote work. "There were documents missing, but nobody was communicating what was missing."
Martin, however, had the opposite experience. As she gathered financial documents to present to the court in Randolph County, some extra documents, such as receipts, were waived. Those waivers, she said, were taken into consideration as her case was finalized.
Even adoption recruitment was impacted by the pandemic. Erin Carter leads adoption recruitment for the Indiana Adoption Program, a partnership between DCS and Children's Bureau Inc., which works to recruit adoptive families through in-person gatherings that allow would-be parents to meet the children in foster care.
"Because of the stay-at-home order, we had to reschedule several of those, and have shifted our focus to virtual matching events instead," Carter said. "Virtual matching events are not as interactive, but they do allow parents to learn more about the children who are waiting for adoptive families."
Different experiences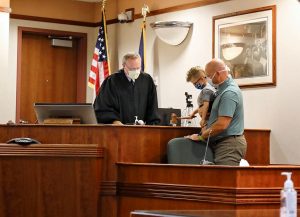 Though the preliminary work is important, Havenstrite and Martin had their sights set on the end: the final adoption hearing. As mothers, they wanted their children to remember "their day" as special.
For Havenstrite, the solution was to delay Cade's hearing from May 19 to July 10.
If she'd gone ahead with the May date, only Havenstrite and her husband could have joined Cade in court — their two other children would not have been allowed. By contrast, the family had brought a group of 40 to their daughter's adoption in 2016, holding an in-court event complete with T-shirts and a professional photographer.
But by July 10, Judge Bob Witham of Henry Circuit Court 1 was willing to allow 25 people to attend Cade's ceremony. There were certainly differences between the two ceremonies — the smaller crowd, the masks — but Cade's day still included matching T-shirts and an after-court ice cream celebration.
"Even though COVID is the reason for the differences, kids don't understand that," Havenstrite said. "I didn't want him to think I did anything differently — I wanted to make things as similar as possible."
In Randolph County, Martin agreed to a virtual hearing in mid-May. But when her community found out that her daughter, Vivian, would not get to have the traditional experience, friends and neighbors rallied around the family.
"They decided to do something bigger for us," Martin said, "so the local police officers decided to put on a parade."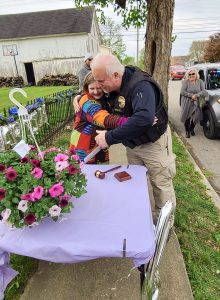 Gatherings of about 20 were permitted at that time, Martin recalled, so a few people joined her family in-person for the celebration. Otherwise, the Martins began handing out donuts to those who passed by, with Vivian receiving cards, stuffed animals and balloons.
But there was one element missing to Vivian's day, Martin said — she didn't get to meet the judge who presided over her adoption. Martin's older daughter met her judge when she was adopted five years ago, and the mother had hoped that Vivian would have the same experience.
But once again, Martin said, her community came to the rescue.
"The police officer that was there during the first initial call presented her with the documents and let her smack the gavel," Martin said. "It was incredible."
Rolling with it
Like the Havenstrites and the Martins, adoption lawyers say their clients have largely chosen to make the best of the necessary changes that have come with COVID-19. But that doesn't mean there hasn't been sadness, even for the lawyers.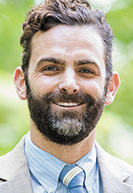 Grant Kirsh of Kirsh & Kirsh in Indianapolis likes to go all out for his clients' final hearings. He celebrates right along with them, bringing balloons and stuffed animals into the courtroom.
For Kirsh, the experience of a virtual finalization is not quite the same, though he does see one perk: he's able to handle more final hearings remotely than he is when he has to travel throughout the state. Bruce has likewise saved time working remotely.
But the lawyers know that in-person hearings are the goal for most clients, so they hope to return to in-court proceedings soon. Dudley said he has not yet developed a plan for resuming in-person adoptions, choosing to err on the side of caution when it comes to COVID-19.
Though Martin would have liked for Vivian's ceremony to be held in a courtroom, she thinks the remote ceremony and parade were the best fit for her daughter's personality.
For Havenstrite, delaying Cade's hearing worked out for the best, because she'll be able to put together an Adoption Day photo book, just like she did for her daughter.
To Carter of the Indiana Adoption Program, the changes wrought by COVID-19 underscore an important part of being an adoptive parent.
"The most successful foster and adoptive parents," she said, "are those who can roll with unexpected changes and be flexible while retaining a good sense of humor."•
Please enable JavaScript to view this content.