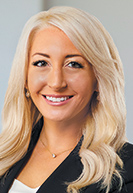 By Nicole Makris
The COVID-19 pandemic has caused widespread changes to everyday life that have presented new questions for parents and family law practitioners alike. While we began in uncharted territory, this experience has been an opportunity for attorneys to creatively problem solve in a time when we, like our clients, are navigating many of the same uncertainties. While every case is fact-sensitive, the golden rules for co-parenting during COVID-19 are to always put the children's health and best interests first, to follow the custody and parenting time order, to not use the coronavirus as an excuse to withhold parenting time, and to be open to reasonable adjustments to these orders when appropriate.
On March 31, the Indiana Supreme Court issued its order, In the Matter of Custody, Parenting Time, and Child Support During the 2019 Novel Coronavirus (COVID-19) Pandemic. This order makes clear that existing court orders are to remain in place and be followed during the pandemic, and states that parties should be flexible and cooperate for the best interests and health of the children. The order provides that if both parents and any other parties to the court case believe the custody or parenting time order should be temporarily modified during the COVID-19 pandemic, they may agree in writing to temporarily modify the order.
Solutions to parenting time issues caused by COVID-19 vary by case. The following are a few examples of co-parenting dilemmas that have surfaced since the coronavirus outbreak.
Parents employed on the front lines
A frequently occurring question is whether a parent who could potentially be exposed to COVID-19 due to the nature of their employment is still entitled to parenting time. The answer is "yes." However, accommodations and modifications should be pursued when appropriate under the circumstances and facts of that particular case. Information should be freely exchanged between parents regarding COVID-19 exposure. Whenever parenting time is missed for reasons due to potential or actual COVID-19 exposure, make-up parenting time and consistent FaceTime or telephone communication with the child should be part of any temporary modification.
Social distancing and at-risk family members
Disagreements arise when one parent's level of social distancing does not meet the other parent's expectations. This is particularly an issue when one parent or a household family member is at high risk for contracting COVID-19. Parents may also disagree on the amount of the child's exposure to public places. Whether it is the grocery store, daycare or public gatherings, the Centers for Disease Control and Prevention guidelines are a useful resource for establishing ground rules as to the child's exposure to public places and interactions with non-family members. Parents negotiating a temporary COVID-19 agreed entry should remember that the priority is the child's health, safety and well-being.
Out-of-state travel
When stay-at-home orders first began to go into effect across the country, one of the first questions to arise for parents was how travel required for parenting time exchanges would be addressed. Gov. Eric Holcomb's executive order issued March 23 clarified that travel required for custody and parenting time orders was included as essential travel. However, health and safety concerns continued for many parents for whom parenting time exchanges required the child to travel across state lines. This has been especially problematic at times when the noncustodial parent's home state reported high rates of COVID-19 cases. Potential compromises in these situations are to schedule make-up time or to travel by car rather than transport the child by plane.
The same considerations apply to previously scheduled vacations. Fortunately, the flexibility provided by airline vouchers can assist in the resolution of disputes regarding the child traveling during the COVID-19 pandemic. The practicality of the implicated travel should be weighed carefully, and the paramount consideration is the best interest of the child.
Effects of e-learning
When schools began transitioning to remote learning, parents suddenly faced the task of facilitating e-learning while many also worked from home. Amid the disruptions, the goal should continue to be to keep the child's schedule and routine the same to the extent possible, adapting when necessary. The previously mentioned Supreme Court order states that custody and parenting time are not to be affected by school closures due to COVID-19. The exchange of information regarding the child's e-learning progress and extracurricular activities helps keep both parents on the same page, including when assessing whether a child's extracurricular activity should continue in the fall. A co-parenting app can be beneficial in facilitating communication and exchanging information.
Lessons for the future
As with any co-parenting issue, the focus should be on the best interests of the child, not only from the standpoint of physical health but also emotional wellbeing. The experience of practicing law during COVID-19 has been an exercise in resourcefulness and problem solving within a novel fact pattern. While we may not have had a pandemic playbook to begin with, we have been actively developing one through our collective adaptation to allow for some certainty despite uncertain circumstances.•
• Nicole Makris is an attorney at Cohen & Malad LLC in Indianapolis. Opinions expressed are those of the author.
Please enable JavaScript to view this content.