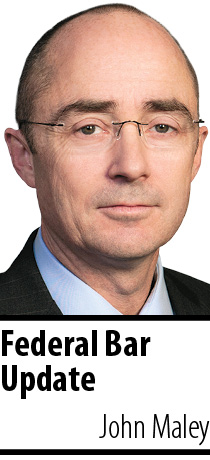 At the annual federal civil practice seminar held in December, federal judges and staff offered practical insights and information. Today's column highlights key lessons.
Report from the chief judge: Chief Judge Tanya Walton Pratt of the Southern District of Indiana reported on key developments. Magistrate Judge Mario Garcia commenced service in April of 2021 as a result of a new position created by the Judicial Conference of the United States. He is the court's first judge of Hispanic heritage.
Magistrate Judge Debra McVicker Lynch is set to retire Oct. 31. District Judge Richard Young intends to assume senior status upon confirmation of a successor district judge.
Regarding COVID-19 protocols, face coverings are required in all public court spaces, free masks are available, social distancing is in effect and all visitors are asked regardless of vaccination status about any COVID-19 symptoms in the last 48 hours.
From a weighted caseload perspective, the court remains one of the busiest in the nation and the busiest in the 7th Circuit. The court has had a 12% increase in pending civil cases since the onset of the pandemic (10,975 at year-end). The court had 67 pending motions ripe over six months, with 1,353 total pending ripe motions for all judges.
During 2021 the court received 210 Rule 12(b)(6) motions, of which 34% were granted and 10% were granted in part. The court received 717 motions for summary judgment, of which 54% were granted and 13% were granted in part. A total of 326 summary judgment motions were ripe for ruling at year-end.
Magistrate Judge Garcia's Insights: Judge Garcia described his background, including 21 years of civil, criminal and appellate practice. He had extensive involvement in Southern District of Indiana programs (Local Rules Committee, Criminal Justice Act panel, Recruited Counsel program). He described himself (accurately) as approachable, patient, fair-minded, homegrown and a racing fan (his chambers are a mini museum of fascinating memorabilia).
Since starting in April, he had conducted 76 initial pretrial conferences, 262 status conferences and 88 settlement conferences. Judge Garcia emphasized that counsel should be prepared, organized, on time and nice. If your appearance is on file, you should know the case. He expects counsel to confer prior to hearings and to be courteous at all times.
He noted that on proposed orders submitted to any judge in the Southern District of Indiana, counsel should remove the judge's signature and date lines. Court staff actually have to manually remove those, as the court does its own signature and date. He confirmed this with all other judges.
For settlement conferences, he expects counsel to talk ahead of the conference and to timely submit the settlement statements (and not on the day of the conference). He advised not to ignore the magistrate judge's thoughts or messaging.
Magistrate Judge Kolar's insights: Magistrate Judge Joshua Kolar discussed the Northern District of Indiana's new local rules, including Local Rule 6-1, which no longer requires consultation for extensions in pro se cases but does not prohibit it. Judge Kolar walked through currently proposed Local Rule 56-1 amendments, which would require numbered statements of material facts with corresponding responses. The amendment, if passed by the court, would also require disputes about the admissibility of evidence to be addressed in the summary judgment briefing rather than through motions to strike.
Judge Kolar also noted the court's Volunteer Attorney Panel for Civil Rights Cases. Attorneys can review this on the court's website and volunteer to be on the panel to help serve the court and those who cannot afford counsel.
Finally, Judge Kolar noted the rate of parties consenting to magistrate judges in the court has increased to 29% in non-Social Security cases. He noted the magistrate judges remain interested and available in consents and have more flexibility in trial scheduling without criminal trials.•
• John Maley — [email protected] — is a partner with Barnes & Thornburg LLP, practicing federal and state litigation, employment matters and appeals. He clerked for Judge Larry McKinney from 1988-90. Opinions expressed are those of the author.
Please enable JavaScript to view this content.