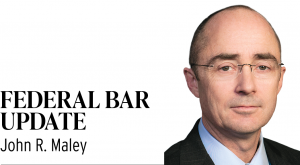 During January, Indiana federal judges issued multiple informative opinions on common procedural issues.
Rule 72 objections: Rule 72(a) allows objections to magistrate judge rulings on nondispositive pretrial rulings. Pursuant to that rule, the judge "must consider timely objections and modify or set aside any part of the order that is clearly erroneous or is contrary to law."
In Jones v. Dollar Tree, Inc., 1:22-cv-01395 (S.D. Ind. Jan. 25, 2023), Magistrate Judge Tim Baker struck an amended complaint that had been filed without leave of court beyond 21 days from the answer to the original complaint, contrary to Rule 15(a). Plaintiff objected under Rule 72(a), which Judge J.P. Hanlon denied. He wrote, "Clear error is an extremely deferential standard of review" that will be found only when the reviewing court 'is left with the definite and firm conviction that a mistake has been committed.' Pinkston v. Madry, 440 F.3d 879, 889 (7th Cir. 2006)."
Judge Hanlon further explained, "Ms. Jones argues that her objection should be sustained because '[t]he court should freely give leave to amend when justice so requires.' Dkt. 20 at 2. But Ms. Jones did not file a motion for leave to amend explaining why justice required leave to amend; instead, she filed a bare amended complaint. See dkt. 17. She also did not respond to Defendants' request that the Court order the amended complaint withdrawn since it was filed without consent and without the Court's leave. See dkt. 18. The Magistrate Judge therefore did not clearly err in striking the amended complaint. See Fosnight v. Jones, 41 F.4th 916, 924–25 (7th Cir. 2022) (explaining that if leave to amend is required, plaintiffs should explain the nature and purpose of a proposed amended pleading)."
More on amendment: In Edmondson v. German American Bank, 1:22-cv-1745 (Jan. 18, 2023), the defense moved to dismiss seeking to compel arbitration. Plaintiff moved to amend the next month after the as-of-right 21 days to amend had passed. Defense opposed amendment, asserting futility.
Judge Hanlon granted leave to amend, writing, "Under Federal Rule of Civil Procedure 15(a)(2), the 'court should freely give leave [to amend] when justice so requires.' See Runnion v. Girl Scouts of Greater Chi. & Nw. Ind., 786 F.3d 510, 519 (7th Cir. 2015). A plaintiff should therefore 'be given every opportunity to cure a formal defect in his pleading … even [if] the court doubts that plaintiff will be able to overcome the defects.' Id. If 'it is clear that the defect cannot be corrected so that amendment is futile, it might do no harm to deny leave to amend.' Id. But '[s]uch cases of clear futility at the outset of a case are rare' and '[a]mendment should be refused only if it appears to a certainty that plaintiff cannot state a claim.' Id."
He found that amendment would clarify several issues in play in the dismissal motion, and that it would be more efficient and just to address after the amendment. He thus granted amendment and denied the pending dismissal motion without prejudice as moot.
Expert reports at summary judgment: In Brumitt v. Smith, 3:20-cv-260 (S.D. Ind. Jan. 25, 2023), Chief Judge Tanya Walton Pratt addressed summary judgment in a Section 1983 case. Notable procedurally, in opposing summary judgment, the plaintiff relied upon two expert reports regarding use of force. Both reports were unverified, leading Judge Pratt to disregard them.
She wrote: "Defendants are correct that Brumitt has not submitted an authenticating affidavit or declaration for his designated expert reports as required by Federal Rule of Evidence 901. Unauthenticated evidence is inadmissible and may not be considered in evaluating a motion for summary judgment. See Scott v. Edinburg, 346 F.3d 752, 759 (7th Cir. 2003) (concluding report introduced without authenticating affidavit was inadmissible and could not be considered on summary judgment); see, e.g., Schmutte v. Resort Condos. Int'l, L.L.C., No. 05-CV-311, 2006 WL 3462656, at *5 (S.D. Ind. Nov. 29, 2006) (citing United States v. Kelly, 14 F.3d 1169, 1175 (7th Cir. 1994)); Bennett v. Gates, No. 09-cv-00647, 2010 WL 4668367, at *3–4 (S.D. Ind. Nov. 9, 2010) (disregarding unauthenticated evidence on summary judgment)."
Rule 12(b)(6) and plausibility: In Krupa v. TIC Int'l Corp., 1:22-cv-1951 (S.D. Ind. Jan. 10, 2023), Judge James Sweeny denied a Rule 12(b)(6) dismissal motion in an interesting case alleging data breach. The substantive law discussion on bailment is interesting, but procedurally the decision has a good discussion of current Rule 12(b)(6) and plausibility standards, as follows:
"A motion to dismiss under Rule 12(b)(1) tests the jurisdictional sufficiency of the complaint, accepting as true all well-pleaded factual allegations and drawing 'reasonable inferences in favor of the plaintiffs.' Bultasa Buddhist Temple of Chicago v. Nielsen, 878 F.3d 570, 573 (7th Cir. 2017) (citing Ezekiel v. Michel, 66 F.3d 894, 897 (7th Cir. 1995)).
"'A Rule 12(b)(6) motion tests 'the legal sufficiency of a complaint,' as measured against the standards of Rule 8(a).' Gunn v. Cont'l Cas. Co., 968 F.3d 802, 806 (7th Cir. 2020) (quoting Runnion v. Girl Scouts of Greater Chi. & Nw. Ind., 786 F.3d 510, 526 (7th Cir. 2015)). Rule 8(a) requires that the complaint contain a short and plain statement showing that the pleader is entitled to relief. Fed. R. Civ. P. 8(a)(2). 'To meet this standard, a plaintiff is not required to include 'detailed factual allegations,'' but the factual allegations must 'state a claim to relief that is plausible on its face.' Bell Atl. Corp. v. Twombly, 550 U.S. 544, 570 (2007). A claim is facially plausible if it 'pleads factual content that allows the court to draw the reasonable inference that the defendant is liable for the misconduct alleged.' Ashcroft v. Iqbal, 556 U.S. 662, 678 (2009) (citing Twombly, 550 U.S. at 556).
"Because the defendant must ultimately be liable, 'Rule 12(b)(6) authorizes a court to dismiss a claim on the basis of a dispositive issue of law.' Neitzke v. Williams, 490 U.S. 319, 326–27 (1989). That applies 'without regard to whether [the claim] is based on an outlandish legal theory or on a close but ultimately unavailing one.' Id. But "'[a] complaint need not identify legal theories, and specifying an incorrect legal theory is not a fatal error.' Rabe v. United Air Lines, Inc., 636 F.3d 866, 872 (7th Cir. 2011).
"When considering a motion to dismiss for failure to state a claim, courts 'take all the factual allegations in the complaint as true,' Iqbal, 556 U.S. at 678, and draw all reasonable inferences in the plaintiff's favor, Roberts v. City of Chicago, 817 F.3d 561, 564 (7th Cir. 2016). Courts need not, however, accept the truth of legal conclusions, and '[t]hreadbare recitals of the elements of a cause of action, supported by mere conclusory statements, do not suffice.' Iqbal, 556 U.S. at 678."
Other notable decisions include:
• Schorr v. PPA Holdings, 1-22-cv-2083 (S.D. Ind. Jan. 9, 2023) (Pratt): Plaintiff's pleading lacked sufficient information to determine diversity jurisdiction; corporate state of incorporation was pleaded but not also principal place of business; supplemental jurisdictional statement ordered.
• Kamel v. Anderson Post Acute, 1:22-cv-1115 (S.D. Ind. Jan. 25, 2023) (Magistrate Kellie Barr): Lengthy opinion denying dismissal in Americans with Disabilities Act case, concluding, "Ms. Kamel's Complaint does not inexorably establish an impenetrable defense. It does not concede that Anderson merely applied a standard work rule applicable to all employees as the grounds for her termination. While Ms. Kamel's Complaint pleads with certainty that absent her PTSD, she would not have engaged in the behavior that led to her arrest, her Complaint reasonably may be read to allege that Anderson used the arrest as a mere pretext to rid itself of an employee with PTSD, and there was no policy justifying her termination."
• Myers v. Equifax Information Services, 1:20-cv-392 (S.D. Ind. Jan. 2023) (Judge Jane Magnus-Stinson): Reviewing clerk's taxation of cost; $3.65 per page allowed for original deposition transcripts; $.90 per page for others; costs incurred due to remote nature of depositions recoverable.
• Bradley Corp. v. Lawler Mfg., 1-19-cv-1240 (S.D. Ind. Jan. 9, 2023) (Barr): Good discussion of rules on what is/is not permissible in deposition errata sheets; denying motion to strike errata in trial context — "the trier of fact will determine the credibility of witness testimony and will 'evaluate the honesty of the alteration.'"
• Fricke v. Menard, Inc., 1:21-cv-3086 (S.D. Ind. Jan. 12, 2023) (Magistrate Judge M. Kendra Klump): Denying motion to toll response deadline to summary judgment motion; no good cause or excusable neglect shown; plaintiff did not take any depositions during the one-year pendency of the case, and did not seek depositions until after the close of discovery and the defense summary judgment motion had been filed; "Plaintiff was not diligent in seeking this discovery or in seeking to reopen and extend the non-expert discovery deadline. Moreover, Plaintiff's motion is entirely devoid of any explanation or reason that would justify a deadline extension."•
__________
John Maley — [email protected] — is a partner with Barnes & Thornburg LLP, practicing federal and state litigation, employment matters and appeals. He clerked for Judge Larry McKinney from 1988-90, serves as Chair of the Local Rules Advisory Committee, S.D. Indiana, and is a member of the Local Rules Advisory Committee, N.D. of Indiana. Opinions expressed are those of the author.
Please enable JavaScript to view this content.