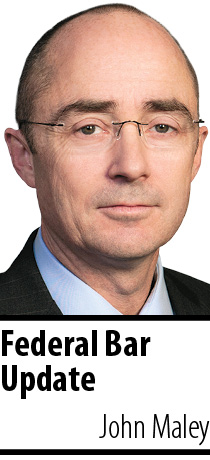 Prince's opening lyrics to "1999" come to mind about my writing of this column — "Forgive me if it goes astray." Today's column was originally going to address, per usual, recent procedural decisions of note.
But as I write this, I'm still processing the news that this morning my court-appointed death-row client, Wesley Purkey, was executed. I was his pro bono counsel on three civil-rights/conditions of confinement claims in the Southern District of Indiana, while another team of outstanding defense lawyers across the country addressed his weighty death penalty and execution issues. Two of his civil-rights cases I was handling had survived dismissal and/or summary judgment motions, with one (dealing with claims of deliberate indifference to medical needs) heading towards a settlement conference then, if not resolved, trial.
So as I wrestle now — and hopefully for some time — with the legal and moral aspects of capital punishment that otherwise have been remote, it seems appropriate and timely to discuss the needs and opportunities for pro bono service in civil cases in our local federal courts. Both are robust.
Seventh Circuit: The Seventh Circuit has a long history of appointing counsel to represent pro se litigants in civil appeals. These provide excellent opportunities for appellate briefing and oral argument experience.
The Seventh Circuit's Practitioner's Handbook for Appeals posted on the court's website has a section on civil court appointments. Included is this description of the court's expense reimbursement program, "To recognize the fine appellate representation provided by attorneys who accept pro bono civil appointments in the appellate court, the United States Court of Appeals for the Seventh Circuit has implemented an appellate expense reimbursement program. Through this program, the Court hopes to encourage and enable more lawyers to accept pro bono appointments and provide much needed appellate representation by providing reimbursement for some of the necessary costs of appeal that lawyers must now absorb. The Court of Appeals will reimburse certain out-of-pocket expenses incurred by appointed counsel providing pro bono representation on appeal up to a maximum of $1,000.00."
For those interested in a possible court appointment, contact Don Wall, Counsel to the Circuit Executive at [email protected] and submit the questionnaire found at http://www.ca7.uscourts.gov/forms/cjaques.pdf Note that Don typically discusses prospective cases with volunteers prior to appointing counsel (as opposed to the court simply ordering service).
District courts: The federal district courts in Indiana likewise have a long history of lawyers volunteering for court appointments in civil cases. In the Northern District of Indiana, Local rule 83-7 provides the framework for such pro bono service. The Local Rule provides a basis for expense reimbursement from the Library and Court Administration Fund.
In the Southern District, the court reworked its local rule and court appointment process in 2016, resulting in new Local Rule 87. The rule is lengthy, detailed, and comprehensive. The Southern District likewise has a vehicle for some expense reimbursement.
Local Rule 87 created a voluntary panel and obligatory panel, with the latter necessary because of the high demand for pro bono counsel given the court's pro se caseload. As the Comments to Local Rule 87 explain: "Proposed Rule 87 was adopted out of necessity. The Southern District of Indiana has an especially high volume of pro se and prisoner litigants. Over half of the district's civil case load is initiated pro se, and over half of the pro se cases are brought by prisoners. This requires the court to frequently recruit counsel to represent pro se litigants pursuant to 28 U.S.C. § 1915(e)(1). In recent years, the Seventh Circuit has increasingly emphasized that § 1915(e)(1) requires district courts to recruit counsel for pro se litigants in a significant proportion of pro se cases, especially in complex cases brought by prisoners. … Local Rule 87 is the court's effort, after consultation with a broad range of attorneys who regularly practice in this court, to ensure that the court can recruit counsel in every case in which the law requires it."
The Southern District frequently appoints pro bono counsel for limited appointments, for instance to represent the litigant solely at a settlement conference. In fact, last year 52% of appointments were limited, with most being for settlement conferences. Last year, 138 attorneys participated in pro bono civil appointments.
Both district courts need more assistance, and attorneys can simply contact the clerk's offices to inquire further.
On a personal note: I highly recommend this pro bono service. Pro se litigants struggle in litigation without counsel, the courts benefit from involvement of counsel, and we attorneys have the privilege of advocating for our nation's constitutional rights. My first federal court trial was before Judge S. Hugh Dillin in a prisoner case, as was one of my most recent trials before Chief Judge Jane Magnus-Stinson. In between I've been privileged to represent a wide variety of pro se litigants through trial and in the 7th Circuit, and work with dedicated defense counsel from the U.S. Attorney's Office and Attorney General's Office defending their clients.
Consider stepping up to serve. Our federal courts need us.•
• John Maley – [email protected] – is a partner with Barnes & Thornburg LLP, practicing federal and state litigation, employment matters, and appeals. He clerked for Judge Larry McKinney from 1988-90. Opinions expressed are those of the author.
Please enable JavaScript to view this content.