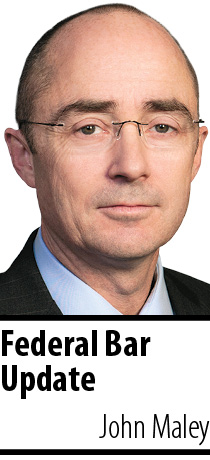 Removal from state court to federal court is a routine aspect of federal court practice, though one fraught with procedural pitfalls. Federal judges in Indiana frequently address removal issues, yet errors continue.
Removal primer: Although plaintiffs' counsel get to select their forum upon filing, if state court is elected, defense counsel should consider if the case can be removed to federal court based on federal question jurisdiction or diversity jurisdiction. Removal is governed by 28 U.S.C. § 1441 and 28 U.S.C. § 1446. Removal is due by a defendant within 30 days of service per § 1446(b)(1), and for diversity cases no longer than one year from commencement of the action absent bad faith by plaintiff to prevent removal. § 1446(c)(1).
In-state defendants: A frequently violated removal limitation is found in § 1441(b)(2), which states: "A civil action otherwise removable solely on the basis of the jurisdiction under section 1332(a) of this title may not be removed if any of the parties in interest properly joined and served as defendants is a citizen of the State in which such action is brought." Put simply, if the basis of potential jurisdiction in federal court is diversity, an in-state defendant cannot remove to federal court. This is commonly referred to as the "forum defendant rule."
The reasoning behind this diversity-only limitation makes sense: The in-state defendant sued in state court on state-law claims is not presumed to face local bias, while diversity jurisdiction otherwise recognizes that out-of-state defendants could face local bias. As the 7th Circuit has explained, "The forum defendant rule is 'designed to preserve the plaintiff's choice of forum, under circumstances where it is arguably less urgent to provide a federal forum to prevent prejudice against an out-of-state party.' In other words, the forum defendant rule disallows federal removal premised on diversity in cases where the primary rationale for diversity jurisdiction — to protect defendants against presumed bias of local courts — is not a concern because at least one defendant is a citizen of the forum state." Morris v. Nuzzo, 718 F.3d. 660, 664 (7th Cir. 2013).
Section 1441(b)(2) is not jurisdictional: For a plaintiff to challenge an improper removal, a motion to remand to state court must be filed within 30 days after removal per 28 U.S.C. § 1447(c). The forum-defendant removal prohibition for diversity cases under Section 1441(b)(2) is not jurisdictional. Morris, 718 F.3d. at 665. As the 7th Circuit explained in Morris: "[The] argument that the district court lacked diversity jurisdiction over this case because its removal violated the forum defendant rule is wrong. The argument ignores our decision in Hurley v. Motor Coach Industries, Inc., where we joined 'the longstanding line of authority that holds that the forum defendant rule is not jurisdictional.' 222 F.3d at 379 (listing cases). See also Holmstrom v. Peterson, 492 F.3d 833, 836 (7th Cir. 2007)." Accord, Countryside Bank v. Sheikh, 2020 U.S. Dist. LEXIS 18933, *24, 2020 WL 564158 (N.D. Ind. Feb. 5, 2020) ("Plaintiff argued for the first time in reply in support of the Motion to Remand and then again in the instant Motion to Reconsider that the forum defendant rule precludes removal under 28 U.S.C. § 1441(b)(2) because Defendant . . . is a citizen of Indiana. Plaintiff waived this statutory challenge by failing to raise it within thirty days of the removal of the lawsuit.")
"Snap" removal: Can a defendant remove prior to being served, and if an in-state defendant does so in a diversity case, does the 1441(b)(2) forum-defendant bar apply? In these so-called snap removal settings, although there is contrary authority across the country, some courts in the 7th Circuit have held that the forum-defendant limitation does not apply.
For instance, in W. Bend Mut. Ins. Co. v MSPPR, LLC, 2021 U.S. Dist. LEXIS 24545 (N.D. Ill. Feb. 9, 2021), the court denied plaintiff's remand from an in-state defendant's removal in a diversity case where the defendant removed prior to being served. The court took the "plain text" approach, concluding that 1441(b)(2) on its face only applies to "parties in interest properly joined and served as defendants." (emphasis added). The W. Bend Mut. Ins. opinion notes the split even in the Northern District of Illinois on the issue, but notes, "Courts outside of the Seventh Circuit are split on the issue, although, for whatever it's worth, decisions that adopt the plain-text approach tend to be more recent."
Senior Judge Sarah Evans Barker addressed the issue last year in Whipkey v. Eli Lilly & Co., 2020 U.S. Dist. LEXIS 105275 (S.D. Ind. June 16, 2020), and followed the plain-text approach. Judge Barker provided a thorough discussion of the issue and the split of authority in the country, and noted the lack of any 7th Circuit precedent is likely because failure to comply with the forum-defendant rule is a defect in removal that bars appellate review. She concluded: "Accordingly, we now join our sister district courts in the Seventh Circuit as well as the Second, Third, and Fifth Circuit Courts of Appeals that have concluded that § 1441(b)(2) permits a forum defendant to remove before service of process. See, e.g., Texas Brine Co., L.L.C. v. Am. Arbitration Ass'n, Inc., 955 F.3d 482, 485-87 (5th Cir. 2020); Gibbons v. Bristol-Myers Squibb Co., 919 F.3d at 706-07 (2d Cir. 2019); Encompass Ins. Co. v. Stone Mansion Rest. Inc., 902 F.3d 147, 153-54 (3d Cir. 2018). While the forum defendant rule would ordinarily bar Lilly from removing this action because it is an Indiana citizen sued in Indiana state court, Lilly filed its notice of removal before being formally served. Accordingly, because Defendant was not 'properly joined and served' at the time of removal as required by § 1441(b)(2), the forum defendant rule does not apply to bar removal in this case."
Federal question: When diversity jurisdiction is not present or blocked by the forum-defendant rule and removal is sought based on federal question jurisdiction, the defendant has the burden of establishing federal jurisdiction as the removing party. Gleske v. Jayco, Inc., 2020 U.S. Dist. LEXIS 228026 (N.D. Ind. Dec. 4, 2020) (Leichty, J.) But "'[w]hen it comes to invoking federal question jurisdiction, the bar is low.'" Gleske, quoting McCoy v. Iberdrola Renewables, Inc., 760 F.3d 674, 681 (7th Cir. 2014). As Judge Damon Leichty held in denying remand in Gleske: "The court has jurisdiction over a claim arising under federal law. See 28 U.S.C. § 1331. This dispute concerns a warranty claim covered by the MMWA that isn't immaterial to the suit, see, e.g., Steel Co. v. Citizens for a Better Environment, 523 U.S. 83, 89, (1998), so a federal question exists."
Answer deadline post-removal: Finally, the deadline for answering post-removal is oddly placed in Fed. R. Civ. P. 81(c), and provides that a defendant that did not answer in state court must answer within the longest of 21 days after service of the pleading or summons or seven days after removal.•
• John Maley — [email protected] — is a partner with Barnes & Thornburg LLP, practicing federal and state litigation, employment matters and appeals. He clerked for Judge Larry McKinney from 1988-90. Opinions expressed are those of the author.
Please enable JavaScript to view this content.