The Indiana Supreme Court has named Amy Karozos as Indiana's next state public defender, according to a Friday announcement from the high court.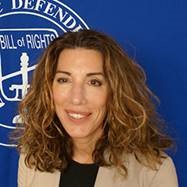 Karozos, currently a Marion County public defender in the juvenile division, has previously served as a project director for the Indiana Public Defender Council. She is a graduate of Indiana University McKinney School of Law.
"I am honored and look forward to working with the talented and hard-working attorneys and support staff in the State Public Defender's Office to serve our clients," Karozos said in a statement.
The new state public defender will begin  her role when current public defender Stephen Owens retires at the end of the year. Owens announced his retirement in August after serving eight years in the office. He was appointed as state public defender in 2011 and has worked in the public defender's office since 1986.
Applicants to succeed Owens were interviewed by Victoria Casanova, federal habeas community defender; Mike Moore, Indiana Public Defender Council; Stacy Uliana, private criminal defense attorney; Professor Fran Watson, IU McKinney; Steve Creason, Office of the Attorney General; Mark Rutherford, Indiana Public Defender Commission; Jim Oliver, Indiana Prosecuting Attorneys Council; Judge Peter Nugent, Johnson Superior Court 2; and Justin Forkner, Office of Judicial Administration.
Members of the high court interviewed finalists for the post, ultimately selecting Karozos to fill the four-year term.
The State Public Defender is a state-funded judicial branch agency that provides representation to indigent incarcerated individuals and some juveniles in post-conviction relief cases to assure the fundamental fairness of the criminal justice system. Providing services in all capital cases, the office receives roughly 500 requests from inmates each year asking for their case to be reviewed.
Please enable JavaScript to view this content.