The judge pro tem leaned back in his chair and looked bored.
Indianapolis attorney Fred Pfenninger was standing at the bench and shuffling through a stack of papers during a recent proceedings supplemental hearing in Marion Superior Court. He was working through his list of cases, asking the court to order wage garnishments for defendants who were not paying their debts after judgments. Occasionally, he asked the court clerk to double-check some information, or he called his paralegal on his cellphone.
All the while, he kept telling the judge that the limit on the number of cases he could present was hindering his ability to be efficient. He explained he used to bring his paralegal, who would confer with any defendants who arrived for the hearing, and have all the paperwork ready when his turn came to file the motions with the court. But no longer able to file all his motions in one day, he said it was not economically feasible for him to have the paralegal accompany him to the hearings.
However, the judge was unsympathetic. Losing his patience, he told Pfenninger other attorneys were able to get through the hearing without their paralegals. Then he accused the attorney of putting on a show and noted his time was valuable, too.
Pfenninger, of Pfenninger & Associates, retorted, "I'm not attempting to make a show."
The collections attorney, who has practiced in state and federal courts since the mid-1970s, is baffled and slightly miffed about the Marion Superior Court imposing a limit of roughly 15 cases per law firm per supplemental hearing. Pfenninger said he first learned of the cap about two months ago, when 55 of the motions he had filed for one hearing got cancelled.
"If it makes sense, I haven't been able to figure out what the sense is," he said of the limit, "because it's much more efficient when I can bring my paralegal."
An attempt to discover if anyone else had concerns about the restriction was unsuccessful. Several creditors rights attorneys and debt defense attorneys in Indianapolis did not return phone calls and emails requesting comment. Also, the one collections attorney who did reply said he was not aware of the cap, but that any such limitation would likely not impact him because he typically files a handful of motions at a time.
James Joven, presiding judge of the Civil Term for Marion Superior Courts, said the limitation on the number of filings has been in place for several years. The restriction was instituted to prevent the court from getting overwhelmed in any one session with single attorneys filing multiple motions and with a large number of defendants appearing for their hearing.
A reminder was sent out recently when the court noticed one firm had filed 76 motions for a single hearing.
"The problem came up because people were trying to cram all their proceedings supplement hearings into one day," Joven said. "We can't allow an attorney to monopolize one session, because that pushes everything back for the other attorneys."
Active day
Proceedings supplemental hearings have an air of informality.
At the hearing on the last Tuesday in October, attorneys clustered around the tables in the well of the courtroom going through documents, while a few defendants wandered in and sat on the orange-padded seats in the gallery. Once the judge took his seat at the bench, the attorneys, one at a time, would approach and present their cases. Behind them, other attorneys would take the defendants in their cases into the hallway for a conference.
Pfenninger and a female defendant eventually took their place before the judge. The woman calmly answered questions about her employment and hourly wages, but after the judge granted the attorney's request for a garnishment, she began to cry. Pfenninger tells the court the woman is not receiving child support while the judge hands her a facial tissue and explains the garnishment process.
"You do get somewhat hardened being a collection attorney," Pfenninger said later. "Otherwise you couldn't do it."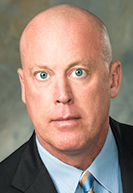 Consumer attorney Robert Duff of the Law Office of Robert E. Duff sees defendants at a disadvantage in superior court. In particular, the complaint and summons that arrives for a defendant who owes money does not include a hearing date, and the individuals may not be able to figure out that they first have to file an answer before the day and time for a court appearance are scheduled.
As a result, they may not realize a default judgment has been entered against them until they receive a notice that their wages are going to be garnished, he said.
Even when defendants do answer, Duff said, they can still be in trouble because they may not respond in the proper manner. Sometimes they will write a letter to the judge, and whether that is treated as an appropriate answer depends on the court.
Joven was unconvinced superior court poses an obstacle for these defendants. He said receiving a complaint and summons "ought to trigger something" in the recipients that they need to take action. Also, he pointed out, defendants can ask for the default judgment to be set aside.
Gasoline and pollution
As for the proceedings supplemental, Joven said he has only heard complaints from two attorneys. The court is reviewing the data from the hearings to see if raising the limit would be appropriate, but Joven reiterated that collections attorneys prefer having a cap.
Chris Baker, attorney at Hester Baker Krebs LLC, said he had not heard about any restriction, but he would not be impacted anyway because he, at most, would present only two or three cases at a proceedings supplemental hearing.
Attorneys have to appear when they move for proceedings supplemental. Baker noted that what happens is sometimes uncertain. Often, many of the defendants will not show up, he said, adding that if six appear out of 20 cases, "that's a great day." Also, the collections attorneys might sometimes consider the defendant's circumstances and agree to a lower garnishment amount.
Still, Baker does not expect the limit on filings will make a huge difference in his practice.
Pfenninger sees a broader impact. The limit, he said, might cause collections attorneys to adjust their caseload for the most success and not present cases against clients who are unlikely to pay.
Pfenninger says he is feeling the pinch. He is having to handle the proceedings supplemental hearings by himself because, as he explained to the judge, having his paralegal accompany him for just 15 cases is not worth the expense. Pointing to his practice, Pfenninger recalled two different times when, with his paralegal in court, he was able to get through 60 or more motions in 10 minutes or less.
Moreover, with his office near 93rd Street, the frequent trips downtown, coupled with the cost of parking, will only add to his headache and harm the environment, as well.
"If you're opposed to pollution, then you've just lost out on this rule," Pfenninger said, only partly in jest. "If you love the smell of gas fumes, you'll probably love this rule."•
Please enable JavaScript to view this content.