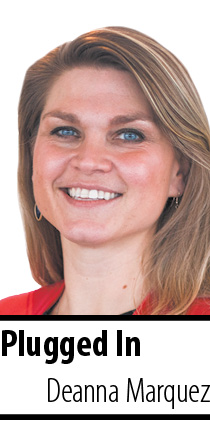 With floods of daily emails, files scattered across saved locations and colleagues in multiple locations, working effectively and efficiently as a team can be challenging. There are many forms of collaboration tools on the market, but one is included free with many Office 365 subscriptions.
Although Microsoft Teams was initially released more than three years ago, it is "still on the front end of the adoption curve" by users, according to the company's corporate vice president for Microsoft 365. As a result, the company began a new ad campaign that launched in the form of a commercial during this year's Super Bowl. The ultimate mission is to persuade us to replace the combination of products many currently use for instant messaging, video conferencing, screen sharing, task management and file sharing with a central "Teams" hub.
Instant messaging
One of the most commonly used features of Teams is its instant messaging capability. Conversations can take place 1:1 or as a group, and with internal members of a firm or including external members such as co-counsel or experts. Members of a conversation can share pictures or files related to the discussion at hand. While conversations can be initiated between individuals or groups, many firms also create "channels" to keep conversations a bit more organized.
Channels can be created for members of a particular practice group, matter or department/committee so that the conversation threads remain ordered and are not intermingled with other subject matters. This is important because prior conversations can be preserved and searched within a thread or across a channel to locate key pieces of information previously shared. Conversations also can be explicitly saved by clicking the bookmark-like icon to quickly be retrieved in the future if a specific thread is of higher importance.
One of the primary benefits of instant messaging is that it allows for quick response time between team members and the conversations do not get buried in a flood of emails. A popular use for this feature within the legal realm is at depositions or meet-and-confers to be able to quickly retrieve input from others on your team without being disruptive to the meeting itself. Whether it is asking someone at the other end of the room or someone back in the office to provide input, the response can be received instantaneously.
Manage files
In addition to being able to send and share files within a conversation thread, teams also can use the channels to house files as part of an organized folder structure. While your firm likely already has a location for you to save files to share with others internally, this provides a nice platform to distribute key documents with external teammates in an organized fashion. The files can be collaboratively edited right from within the platform. There is some ability, although not as robust as traditional Windows folders, to set up folder permissions to restrict access from some team members if desired.
Manage wiki
Each channel also is able to create a "wiki," which is essentially a landing page to provide the ability to create an FAQ section, list of commonly used hyperlinks or even just important team notes. It is a great resource to locate information without bombarding the same people repeatedly with similar questions.
Anyone on the team can update the wiki and can create additional pages and sections within each page, which automatically builds a nice Table of Contents down the left side of the pane. For example, one page could be called "travel reimbursement," and there might be separate sections on the page for meals, hotel, airfare and mileage. This provides an easy way for all teammates externally and internally to see the travel reimbursement policies for a specific matter.
Virtual meetings
One of the capabilities most hyped by Microsoft is its virtual meeting atmosphere. Rather than being crammed in a conference room with too few printed handouts, projectors not displaying properly and difficulties hearing people on the call, Microsoft suggests replacing it all with a virtual meeting using Teams.
Microsoft Teams allows the meeting to be set up in advance through the calendar tab or on a whim within a conversation thread. Users can share video of themselves and their screens to review information together, and send files to ensure everyone receives a copy to review in real time. Conversations can be typed along the side or audibly via the computer. The whiteboarding feature allows users to draw out concepts and ideas just as they might within a conference room.
Meetings can be recorded and the link to view the recording is automatically placed within the conversation history for the meeting at the end of the meeting.
As teams change, let Teams help you change.•
• Deanna Marquez — deanna[email protected] — is a co-owner of Indianapolis-based legal technology company, Modern Information Solutions, LLC. Areas of service include traditional IT services, software training, and litigation support including trial presentation services. Opinions expressed are those of the author.
Please enable JavaScript to view this content.