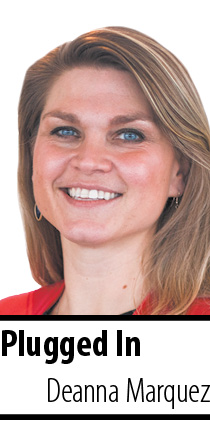 The year 2020 has brought a lot of change in our world, including how and where we work. Many have experienced the frustration of lagging WiFi speeds, the sounds of dogs barking in the background and the quick panic to find the cleanest spot in the house for a last-minute, unplanned videoconference request. Below are five key tips that will help improve your work-from-home experience. Even if you are starting to return to the office, these tips will remain helpful when the need to work remotely arises, and some will even come in quite handy in the office.
1. Get 'plugged in'
While WiFi networks are very convenient for browsing the web and checking the occasional email, WiFi is not generally the best solution for working from home for an extended period. Plugging into a wired connection will speed up your download and upload speed considerably. This is especially true if there is interference from other radio signals or the presence of obstacles that weaken the signal strength, such as several walls between you and the router. Even though there are ways to boost your WiFi signal, plugging in directly to a hard-wired connection will still typically provide you with the most stable internet connection. There should be marked improvement in your speed in uploading and downloading files as well as in general performance in online video and voice conference calls.
Check out the difference for yourself with a speed test. Run the test at https://www.speedtest.net/ once on WiFi and again once plugged in to see the impact.
2. Eliminate background noise
From dogs barking, babies crying and kids asking questions to the celebratory parade going on down the street, we have all experienced the distraction of background noise either because of our own environment or that of someone else on the same call. Although many may ask the person with the background noise to put themselves on mute, it is not helpful when that is the person who is supposed to be speaking. Noise canceling headphones and microphones often diminish the issue, but they are not perfect, nor does everyone have access to them. New software, Krisp, is receiving rave reviews for its ability to block out noisy distractions from any device, in any app, whether the noise is on your end or someone else's. With a single click, users can speak or listen without background noise upon downloading Krisp at https://krisp.ai/. The site even provides a few test environments to allow you to "hear it" in action. There are multiple pricing plans available, including a free version for up to 120 minutes per week or a $3.33 per month plan that provides unlimited noise cancelation.
3. Change your scene
Just as audible noises can be disruptive, so can the pile of laundry on the treadmill in your background while on a video chat. While not everyone has a large environment to escape to, most video chat programs allow you to utilize a virtual background to prevent others from seeing what is located behind you. Microsoft Teams allows you to simply "blur" your background by selecting "background effects" to the right of the mic switch. Zoom allows you to select from a few stock images or upload your own by selecting "Choose Virtual Background" from the menu where the video can be stopped and started. One thing to note is that good lighting is important when using a virtual background so that you don't end up looking like a hologram.
4. Videoconference platforms do not require 'remoting in'
Many firms have remote desktop connectivity, Citrix or a similar solution that allows you to "remote in" to the network. This connection provides you access to the firm's network drives and certain software programs that are not otherwise available to you when working remotely. However, this does not mean that everything should be done through such a connection. Specifically, videoconferencing is best if it is done directly from your computer through the web-based solution rather than from inside of your remote connection. Why? The webcam, microphone and speakers that are on installed on your computer will not be the default resources that the videoconference tries to use if you have "remoted in." In fact, many of these remote solutions have audio capabilities turned off to boost the resources available for multiple users working simultaneously in the remote atmosphere. If you need to access things only available from your remote desktop while on a videoconference, simply log in to the videoconference through your local internet browser and then open the connection to the remote desktop separately.
5. Web-based platforms do not generally require 'remoting in'
Similarly, many web-based software platforms also perform better when connected directly from your local internet browser rather than through the remote connection. This is true of many document review platforms and court websites. Simply skip the middleman of the remote desktop and open the link in your local browser to see a boost in speed and overall performance.
Last but certainly not least, remember to take care of yourself. Take regular breaks to stretch, move around and give your eyes a break. Just because you can work anytime from anywhere does not mean that you should be working all the time.•
• Deanna Marquez — [email protected] — is a co-owner of the Indianapolis-based legal technology company Modern Information Solutions LLC. Areas of service include traditional IT services, software training and litigation support including trial presentation services. Opinions expressed are those of the author.
Please enable JavaScript to view this content.