To put it mildly, the year of COVID-19 has been a time of uncertainty. That's why a group of law professors, including two from Indianapolis, has been working since March to shine a light on the role the law plays in a national emergency.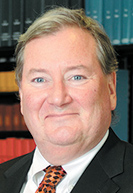 Initially, that light came in the form of Twitter videos known as "COVID-Law Briefings," as well as a podcast, "This Week in Health Law," hosted by Professor Nicolas Terry of the Indiana University Robert H. McKinney School of Law. But as the pandemic grew, so did the number of related legal questions. It was then that this group began preparing a more formal assessment of how the law could be used to slow the spread of COVID-19.
The result is a nearly 300-page report, "Assessing Legal Responses to COVID-19," released last month. Authored by 50 national experts, the report includes 35 chapters covering six core themes:
• Using government powers to control the pandemic.
• Fulfilling governmental responsibility in a federal system.
• Financing and delivering health care.
• Assuring access to medicines and medical supplies.
• Protecting workers and families.
• Taking on disparities and protecting equal rights.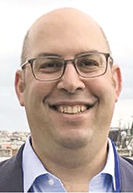 In addition to Terry, the report features a chapter from Ross Silverman, a professor at IU McKinney and at the Richard M. Fairbanks School of Public Health at IUPUI. Terry describes the report as an assessment of legal failures.
"COVID-19 is the new virus this country has been preparing to take on for decades — and has, so far, failed miserably to stop," says the opening summary, co-authored by Terry. "… This has been, first and foremost, a failure of leadership and the implementation of an effective response."
Silverman said the goal of the report is to equip leaders with legal and policy recommendations — more than 100 total — to help control the spread of the virus and also "help build an effective and more resilient long-term effective public health system."
Silverman's recommendations are focused on contact tracing, quarantine and isolation. All three have long been used as public health tools, he said, but shortcomings in the COVID-19 response created hurdles in their current implementation.
For example, many states including Indiana have contracted with outside vendors to operate centralized contact tracing call centers. That could enable tracers to reach a larger audience, Silverman said, but historically, contact tracing has been a community-based effort focused on local connections.
On the quarantine side, Silverman added, a novel issue emerging from the pandemic has been state-based travel restrictions. His chapter points to Maine and Hawaii, where out-of-state visitors have been required to quarantine for two weeks upon entering. Legal challenges resulted, but courts so far have upheld these policies.
Terry's chapter looks at liability and liability shields for health care providers and other businesses operating during the pandemic. There's an argument in favor of shielding health care providers who have faced "extraordinary pressures" in responding to the pandemic, Terry said, but "reopening shields" for other businesses may not be as wise.
"I think the standard of care for a restaurant is reasonable care in all circumstances," Terry told Indiana Lawyer. "I think that's what we should all expect in that situation, and we should not protect them against liability for being unreasonable."
The recommendations are specific to the federal, state and local levels of government. Here are highlights for each governmental group:
Federal

Traditionally, Terry said, the federal government has taken the lead in responding to national crises, and the law reflects that. The report points to three areas of federal statutory authority: the Public Health Service Act, the Stafford Disaster and Emergency Assistance Act and the National Emergencies Act. Presidential emergency powers can also be invoked under the Defense Production Act.
"Each of these has been activated in the wake of COVID-19; however, the chronology of these declarations exposes the delay in action in what could have been a united, sweeping, and life-saving federal response," the report says.
As a result, Terry said states have found themselves in a sort of "Darwinian competition" for resources. Indeed, looking at contact tracing specifically, Silverman noted all states were fighting the pandemic, so one state couldn't look to another for help.
The report partially attributes these concerns to the politicization of the pandemic response. To that end, it recommends making the Centers for Disease and Prevention an independent agency similar to the Federal Reserve.
Terry also sees great need for health care reform, suggesting that an action as simple as reopening the health care enrollment period could have eased the burden of the pandemic. If nothing else, the pandemic has exposed serious flaws in the American health care system, he said.
Other federal recommendations were narrower in scope. In Terry's analysis of liability, he advocates against a broad federal shield, which he says would likely be unconstitutional. And under Silverman's analysis, more federal funds should be allocated toward "culturally-sensitive" contact tracing efforts.
State
In the context of contact tracing, a lack of public trust has impacted the efficiency of tracing efforts, Silverman said. But that lack of trust isn't contact tracing-specific — citizens have also been skeptical of stay-at-home orders, mask mandates and the like.
As a remedy, the report calls for state legislatures to "amend or enact new public health legislation clarifying the scope and authority of state officials to limit person-to-person interaction and impose closures, movement restrictions, gathering bans, and physical distancing requirements." It also emphasizes equity, calling on state policymakers to consider "the needs of disenfranchised and underserved communities in COVID-19 response … ."
Specifically as to liability shields, Terry wrote that state policymakers "would better serve businesses and other stakeholders not by providing immunity from unreasonable care but by reducing uncertainty with transparent, data-driven guidance on reopening and allowing that to inform the existing and appropriate reasonable care standard."
When statewide stay-at-home orders are imposed, Silverman spoke of the need for the government to protect its people. He specifically called for the extension of moratoriums on foreclosures and evictions, along with similar employment protections.
"We need to make sure that the people who are going to quarantine or be isolated can do so safely without running the risk of them losing their jobs," he told IL.
Local
Similarly, the report calls on local governments to "enact paid sick leave policies with anti-retaliation provisions" that facilitate quarantine/isolation.
Additionally, local governments should collect data on the populations/locations most affected by the virus, then allocate resources accordingly. At the tribal level, the authors called on tribal leaders to incorporate "culturally appropriate mechanisms and legal measures to contain the spread of COVID-19."
Local governments must adequately fund their health departments to facilitate contact tracing, Silverman said. Ideally, those tracers would live in the communities they serve.
Even courts can get involved, with Terry urging judges to interpret liability shields narrowly "to avoid creating unjustifiably broad immunities."
"COVID-19 is here now and there is no time to waste in getting it under control," the report says. "… This country is still capable of great things, and the legal recommendations in the Report offer a detailed roadmap to successful control of the pandemic and amelioration of its worst economic and social effects. We cannot settle for less."•
Please enable JavaScript to view this content.