Declared eliminated in 2000, measles returned to the United States, bringing an outbreak not seen in more than 25 years and spotlighting the individuals and communities opposed to vaccinations of any kind.
The Centers for Disease Controls and Prevention link the measles to the increased number of travelers who get the disease while abroad and to pockets of unvaccinated people. Questions about the side effects of the shots and objections over government mandates to inoculate have been cited by those who refuse to roll up their sleeve or the sleeves of their children.
As of July 11, the number of individual cases of measles hit 1,123 in 28 states. Indiana, according the Indiana State Department of Health, has one confirmed case.
Yet while the debate rages over the safety of immunizations and consequences of eshewing inoculations, family law attorneys in Indiana say the issue of whether to vaccinate children is rarely a source of discord between divorced, separated or unmarried parents. Fights over shots are just not that common.
"Most people want to have their kids vaccinated," said Marylyn Ernsberger, attorney at Ernsberger & Helmer in Angola. "Their children's health is very important."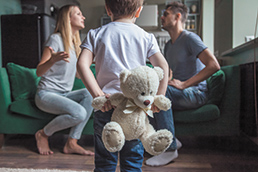 However, arguments over medications and doctor's appointments happen frequently. Parents can disagree about when to seek medical treatment for their youngster and who should provide it. Attorneys recall having parents who complained about their former spouse going to the doctor every time the child has a sniffle while other parents asserted their child should have been taken to an urgent care center instead of the emergency room.
Also, prescriptions have inflamed tensions between households. Lawyers noted fights over medications such as those to treat attention-deficit hyperactivity disorder, where one parent will not give the pills while the child is visiting. Another time, one parent would not pay for the flu medication because the other parent did not seek consent before taking the youngster to the doctor.
"Parents use children as pawns on a daily basis only because they want to punish the other side," said Indianapolis attorney Richard Mann. "Occasionally the dispute arises over a sincerely held belief, but most times, it's a way to bet back at the other party."
Doctor's orders
In 2018, the median immunization rate in Indiana hit 67 percent for children 19 months to 35 months, according to the state health department. The rate has been increasing in recent years from 60 percent in 2016 and 63 percent in 2017.
Indiana requires all children attending public school to get immunized against such diseases and illnesses as hepatitis B, diphtheria, tetanus, polio, as well as measles, mumps and rubella. Also, the state recommends students receive a flu shot annually and a vaccination to protect against the human papillomavirus or HPV.
Hoosier students can be exempted from receiving shots for medical and religious reasons. Individuals whose health may be compromised by the immunization or who object because of their religious beliefs can be excused from the vaccination requirement.
Unlike 15 other states, Indiana does not allow for an exemption on the basis of personal or philosophical beliefs.
Ernsberger once represented a mother who belonged to the same religion as her child's father but did not hold his more conservative views. The mother had, in fact, grown up in the very conservative sect of that religion but wanted her son to attend public school, which meant he had to get inoculated. Although the father objected, the court found the mother had sole legal custody and, therefore, had the power to make all medical decisions.
Elisabeth Edwards of Wanzer Edwards PC in Indianapolis, has had clients who have wavered over vaccinations. In particular, brand new parents want what is best for their child but still might push back because they've read some articles alleging the dangers of vaccinations or they do not want to put their little one through the pain of receiving multiple shots at once.
Edwards has had success at getting the parties to find common ground by slowing the pace of the inoculations. Hesitant parents have agreed to the vaccinations when the parties are able to work out a plan to give the injections a little farther apart.
For those parents who do not reach an agreement with their ex-spouses and do not want to abide by the court's order, Edwards advises caution. She acknowledges they can fight, but they risk losing the authority to make any future medical decisions regarding their children.
The courts, both Edwards and Mann said, are following the recommendations of the medical professionals. If a physician says a vaccination or medication is needed, judges typically do not rule otherwise.
Medical disagreements
The Indiana General Assembly last amended the state's immunization law in 2017. Meningitis was added at that time to the list of vaccinations that students enrolling in a state college or university had to have before being allowed to attend classes. The measure passed with strong bipartisan support.
In her 16 years of practice, attorney Donna Jameson in Greenwood has only handled one case involving a dispute over immunizations.
But she has represented parents fighting over medical conditions and treatments. Sometimes the disagreements border on the ridiculous — like a mother who insisted the child was allergic to the father's dog but not her dog.
Most often, discord centers around the diagnosis of ADHD or autism. One parent commonly refuses to believe the child has a condition that requires continuous medical attention. Although the court may order the doctor's recommendations be followed, the parent will relent only after being held in contempt and having to submit to supervised parenting time.
Jameson empathizes with these parents, knowing they are not so different from every other mother and father.
"They want the perfect child," Jameson said, "and when the child they get is not the perfect child, they are in denial about it."•
Please enable JavaScript to view this content.