A new report from the American Bar Association's Commission on Women in the Profession is sparking conversations in the workplace about how male colleagues can become allies in the ongoing journey to reach gender equity in the legal profession.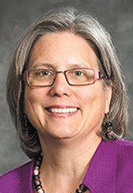 The study, "Men in the Mix: How to Engage Men on Issues Related to Gender in the Legal Profession," is based on research gathered from focus groups in New York, Dallas and San Francisco. The report reveals insights about why some men are more actively engaged in issues facing women lawyers than others.
Maureen Mulligan, who chairs the commission, said the report was the brainchild of commission member Alan Bryan, who serves as managing counsel of Walmart Inc.
"(Bryan) started talking about how it's really important to broaden the discussion about women's advancement in the legal profession outside of just groups of women and that many men express frustration with not knowing how to be an ally," Mulligan said.
Similar insights were revealed in the report's findings, including four key points:
• Men want to be invited to join "women's" events.
• Men want to see the benefit to their organizations and themselves.
• Men want to know how to support women.
• Everyone needs to create a safe space for gender equity discussions.
"I think when you are having a dialogue about organizational change, you need buy in from all constituencies in the organization, and part of the purpose and impetus for this report is that women can't just speak with women in an organization. You need everyone in the conversation," Mulligan said.
Mixing it up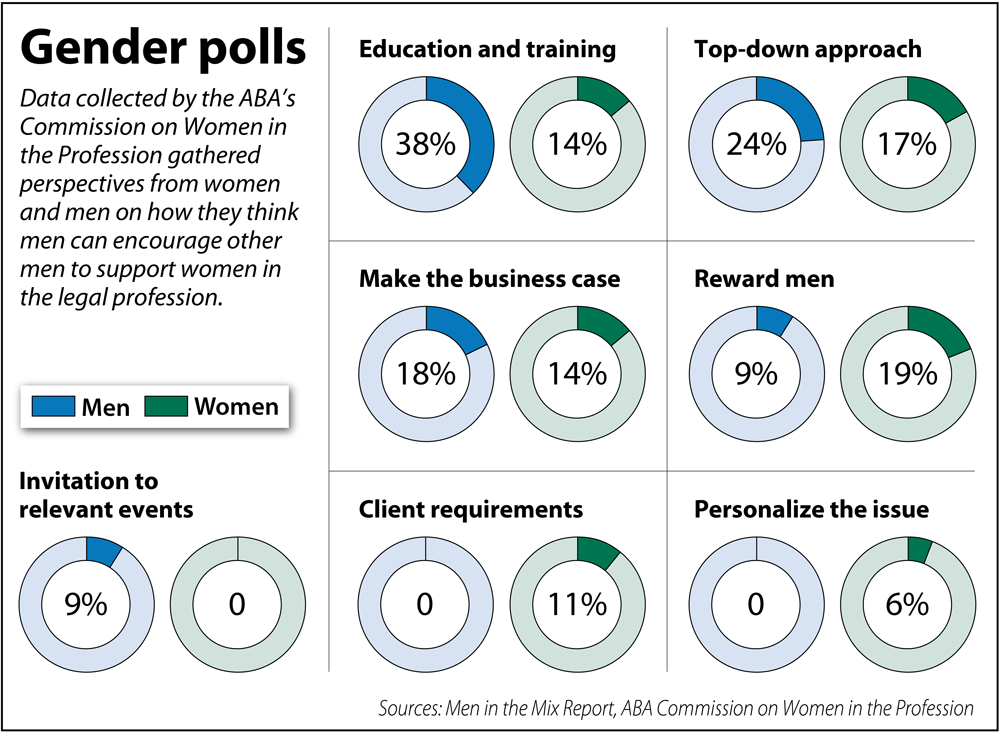 Indianapolis attorney and women's business advocate Paula Finch said she was not surprised by the findings of the report. She's heard the same concerns and dialogue in the business industry, and she sees opportunities for growth in the legal profession just as she sees it in the business realm.
"They talk about rewarding or acknowledging men and thanking them for being engaged," Finch said. "They figured that out and I agree, I think it's successful. I think it would help."
Another thing that jumped out to Finch from the report is the concept of fostering a safe space for gender equity conversations. From her perspective, it's one of the most important things that can be done.
"I think the difficulty that men have in supporting women is that they don't want to look stupid and they are afraid of offending," she said. "They don't want to be in a group setting in an era where everything is recorded. … We have created an environment where men, even if they want to help, are afraid to talk about it and ask the questions."
To change that, Finch proposed that women be the ones to invite men to female-driven events. Another key point is communicating with men in a manner that is familiar to them.
"We continue to try and find a one-size-fits-all approach that everyone needs to come to the middle. But I think when you are talking about how to get men engaged with other men, I think those of us who are interested in getting those folks to engage, we to need to meet them where they are," Finch said. "That means we need to go further than the middle. We need to go where they are comfortable and talk in language they are comfortable with."
Exposing misconceptions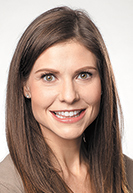 When she considers why men may not realize how they can advocate for and assist their female colleagues in the legal profession, Indianapolis attorney Elizabeth Trachtman Villa said she thinks it's because men don't always know what women are seeking.
As a new mother returning from maternity leave, Trachtman Villa was worried about her job opportunities – not that she couldn't handle them while being a mother, but that she might be deprived of opportunities to grow.
"What am I going to miss out on? Good opportunities, good work, challenging client teams because there is a perception that I want to focus on my family and put work to the side for a period of time? That wasn't the case for me," she said. "It was really important to me that that part of my life was not negatively impacted."
For her, it wasn't. Trachtman Villa took an opportunity just two days after returning from maternity leave that led her out of state for an overnight trip. The attorney said she is grateful the men in her office didn't count her out.
"They were going to have that open discussion and find out how I wanted my practice to look and what was meaningful to me," she said. "
Being a leader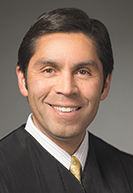 Minnesota Court of Appeals Judge Peter Reyes, who serves on the commission, said he found it interesting that men want to know how to support women.
"I think that's a real opportunity there for us to share this information and ways that men can get more involved," Reyes said.
That could include making sure men are proactively mentoring, coaching, championing and advocating for women to make sure male colleagues are giving opportunities for their female colleagues, Reyes said. It could also look like leaders in law firms communicating that gender equity is an important issue.
"Those are ones that it's very difficult to overcome unless you actually change the structure. People can change their behavior, but if the structure is one that doesn't allow women to advance, then that is going to be an issue no matter how well intentioned everyone is," he said.
Another key point for men in the legal profession is being willing to learn about how they can best support their female colleagues.
"I, as a male, for example, might not understand issues that may arise with an employee of mine who will be having a child or having a place to go where she could breast pump or take time off during the day to do that," he said. "…But I as a male would need to have that conversation and allow that safe space for that conversation for a female employee to say, 'We need to have accommodations for this. Why don't we?'"
At the end of the day, the lawyers agreed everyone should be involved in the conversation.
"We want men going out and encouraging other men to advocate for and advance the equality of women in the legal profession," Reyes said.•
Please enable JavaScript to view this content.