Justin Mills, the attorney who won the 2022 Republican primary for Crawford Circuit Court judge, has officially temporarily taken the bench to fill the vacancy created when Sabrina Bell resigned in July following her arrest for domestic battery.
Mills had been appointed to the position Sept. 7 by Gov. Eric Holcomb. The Indiana Supreme Court issued an order Friday revoking Senior Judge Harris L. Whitis' judge pro tempore appointment and installing Mills, effective Monday.
Prior to his judicial appointment, Mills had been running his own personal injury firm, Mills Law Office LLC, in Marengo. The Roll of Attorneys lists him as active in good standing and having no disciplinary history.
He is a graduate of Indiana State University and earned a J.D. degree at Southern University Law Center in Louisiana, according to WDRB in Louisville. Practicing in Crawford County since 2014, Mills has also served as a deputy prosecutor.
Mills is on the November ballot for the Crawford Circuit Court. His opponent is Democrat Stanley Pennington, who practices at Pennington Law Office P.C. in Milltown.
Whitis had been appointed as judge pro tempore on May 23 to serve in Bell's absence. His appointment ended Sept. 25 with Mills' transition to the bench.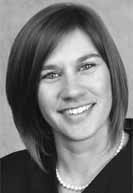 Bell and Mills had faced each other before in previous Republican primaries and were both on the ballot again for the May contest. However, less than two weeks before the primary, Bell dropped out and encouraged voters to support her opponent.
On May 12, Bell was suspended with pay after she was arrested and charged with the felony domestic battery in the presence of a child less than 16 years old. In exchange for stopping the disciplinary investigation into her conduct, Bell resigned from the bench July 25, agreeing to never held a judicial position again and relinquishing her law license for 150 days with the condition that she pass the Multistate Professional Responsibility Examination to have the license reactivated.
Bell had a previous run-in with the Indiana Supreme Court Disciplinary Commission for her involvement in a 2019 early-morning shooting in Indianapolis that left two other judges seriously injured. She was back in the Circle City recently for the trial of gunman Brandon Kaiser, who was convicted of multiple felonies for the shooting.
The domestic battery case against Bell is continuing. The online docket shows a pretrial conference was held Aug. 1 in Dubois County. She has also entered into a pretrial diversion agreement.
Please enable JavaScript to view this content.