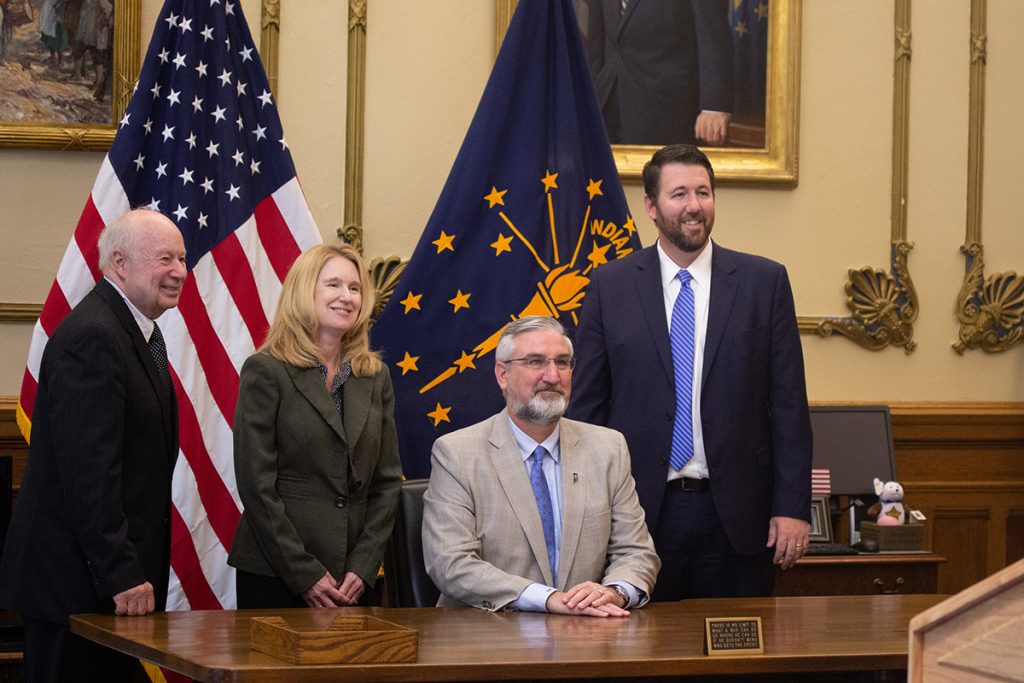 Private practitioner Derek Molter has been chosen as the newest Indiana Court of Appeals judge, Gov. Eric Holcomb announced Aug. 12.
Indiana's governor selected Molter, a partner at Ice Miller LLP and a leader of the firm's appellate practice, to succeed Judge James Kirsch,  who is retiring  from the 15-member Indiana Court of Appeals in September.
A native of Newton County, Molter was selected from a pool of three finalists, which also included Madison Circuit Court Judge Mark K. Dudley and Marion Superior Judge Heather A. Welch. Molter had previously sat in front of the seven-member Indiana Judicial Nominating Commission along with 22 other candidates vying for the appellate vacancy.
Standing before an intimate group of Molter's family and fellow judicial officers on Aug. 12, Holcomb acknowledged that Kirsch is leaving "big shoes to fill" upon his retirement. But the governor said he is confident Molter will live up to it.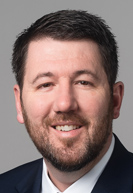 "(Molter) is a legal scholar in his own right, and he will put his remarkable intellect to work on the Court of Appeals, where he already has a lot of experience up close and personal," Holcomb said, adding that Molter has written numerous articles and is looked upon as an expert in his field.
The governor said he is daily in awe of how Indiana judges do their jobs and the impact they have on the Hoosier State. It's a source of pride, he said.
Holcomb went on to praise Molter for never losing sight of where he came from, adding that the traits that will help Molter succeed as a judge can be traced to his roots.
"He has been described as someone with the personality, demeanor and intellect fitting for a judicial position, and I could not agree more," Holcomb said. "I couldn't be more certain that Mr. Molter is the right person to join our second highest court and couldn't be more confident that as a judge he will serve both honorably and justly as the newest member of the Indiana Court of Appeals."
Molter expressed gratitude to his family, the judiciary and his Ice Miller colleagues.
"We often acknowledge that we stand on the shoulders of those who came before us, and for me, I stand on the shoulders of many who have given much to public service," he said.
Molter descends from a long line of attorneys, dating back to the mid-1890s when his great-great aunt Agnes became one of the first female attorneys in the United States, followed by his grandfather, and then his own father, who serves as the judge of the Newton Superior Court.
"I'm extremely grateful for this opportunity and excited to join such a wonderful group of colleagues on the Indiana Court of Appeals," the appointee said. "It is an incredible honor to be considered and selected for this judicial position."
Molter graduated from Indiana University Maurer School of Law in 2007 and served as a judicial law clerk for now-Senior Judge Theresa Springmann of the U.S. District Court for the Northern District of Indiana. After a stint at Arnold & Porter Kaye Scholer LLP in Washington, D.C., he returned to Indiana and joined Ice Miller in 2013.
Molter is the third Court of Appeals' judge Holcomb has appointed since he was elected governor in 2016, making him the 66th judge appointed by the governor.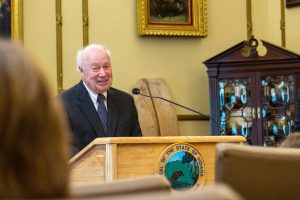 The GOP governor previously appointed former Lake Superior Court Judge Elizabeth Tavitas in 2018 to succeed Judge Michael Barnes. He then selected solo appellate practitioner Leanna Weissmann in September 2020 to fill the seat vacated by now-Senior Judge John Baker.
Holcomb has also made one appointment to the Indiana Supreme Court, elevating Justice Christopher Goff, a former Wabash Superior Court judge, to the state's highest bench in 2017.
Noting the Indiana judiciary will welcome 78 new judges to its annual meeting this year, Indiana Chief Justice Loretta Rush said Judge Molter will serve as the face of the new judiciary.
Closing the event with words of wisdom from a retiring judge to a successor, Kirsch imparted "the best career advice" to Molter that he's lived by during his time on the bench.
"Find something you love and you'll never work a day in your life," Kirsch said. "I have loved every single one of those days."
The Indiana Court of Appeals did not announce a date for Molter's investiture by IL deadline.•
Please enable JavaScript to view this content.