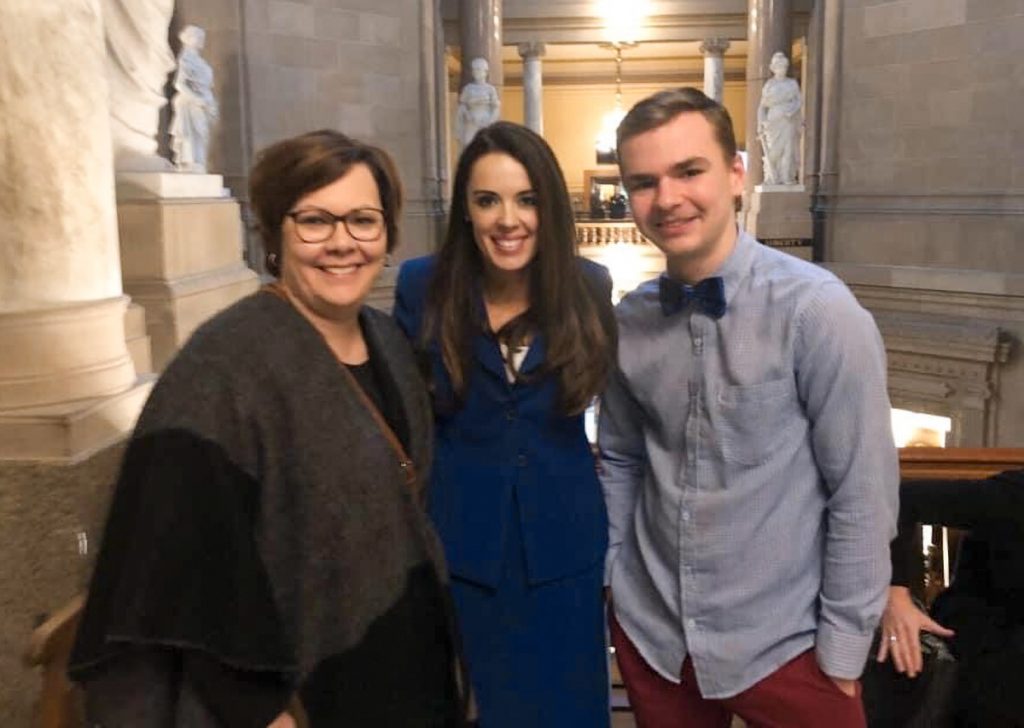 As a mother, Brandi Wetherald wants what's best for her son. That includes making sure he is provided with a proper education that best serves his needs — even if it means fighting tooth and nail.
Wetherald and her son, Caiden, who has been diagnosed with autism, ADHD and several other disabilities, moved to Carmel specifically because of the services and resources the school district offers to children with autism. She made sure to check things out, take tours and talk with people in special education before deciding to pack up and move. But things weren't as she expected once they got there.
"When he was going to the high school, they suggested a program and they told me it was for kids like Caiden, that it would be great for him and it was smaller, so it would be a good way for him to adapt," Wetherald said. "It wasn't that."
Instead, the mother said her son was placed in a classroom that felt more like a jail. Students with emotional disabilities and mental health issues joined Caiden in the program, but not students with autism. By October 2016, Wetherald had filed her first Article 7 due process hearing request after disagreeing with Carmel Clay Schools about Caiden's individualized education program. He was eventually placed in an intense behavior support day treatment program with one-on-one assistance, but that didn't last long, either.
Caiden was eventually placed at The Independence Academy, a private nonprofit school that offers education to adolescents on the autism spectrum, after a January 2018 IEP was developed at Wetherald's request. At the academy, Caiden was to have a one-on-one aide supervised and trained by the Carmel school district's autism consultant.
When the academy then reached out to Wetherald a few months later informing her that her son was being suspended for disrespectful and disruptive behavior, Carmel schools asked her to meet to discuss Caiden's behavior. But before that could happen, the academy dismissed Wetherald's son from its program altogether.
Grasping at straws
As Wetherald scrambled to get her son's education on track, meetings took place with the Carmel school system regarding an interim IEP for Caiden during the summer. Wetherald expressed her opposition to residential placements, which would place her son at a facility 24 hours a day, seven days a week. She feared any sort of placement like that would ruin him.
Although Wetherald thought the school would look for an appropriate day placement, Carmel only offered written releases to three facilities that offered residential placements. It did not identify other options after two of the three fell through.
The mother later learned that the school withheld information about a placement opportunity at one of the facilities that had disclosed it could offer Caiden an immediate day placement. The school instead told Wetherald at later meetings that the facility had accepted her child into its residential program and was waitlisted, although the facility had told the school that it could not meet Caiden's needs in its residential program.
"I didn't know that when we were sitting in those meetings that they knew that," Wetherald said with emotion. "That for me is still very fresh because I can't explain what that did to me and to him."
In June 2018, Wetherald filed a request for an administrative hearing in an effort to secure an appropriate education for Caiden, which she claimed the school failed to provide. To her relief, an independent hearing officer eventually agreed. The hearing officer concluded, among other things, that the school did not provide Caiden with a free and appropriate public education under the Individuals with Disabilities Education Act. When Wetherald heard the news after two years of legal battle she described as "hell," she broke down.
"When I got that phone call, I just sat and cried. To sit there for five days and listen to them rake my son and me over the coals and to listen time and time again to the lies, it's hard," she said.
Catching a breath
Now Wetherald is praising another victory. The U.S. District Court for the Southern District of Indiana last month upheld the hearing officer's decision, concluding that the school district had denied Caiden a free and appropriate education since January 2018 and May 2018, in part by failing to ensure he received his special education and related services.
The court also ordered Carmel schools to pay Wetherald's legal fees.
"It didn't hit me until they sent me the decision and I got to sit down and read. It was like I could finally breathe," Wetherald said.
"This is a situation where the courts have upheld again and again, that schools can't lie to parents. The great thing about (the Wetherald case) is that it is illustrative of what goes on out there," said Catherine Michael of Connell Michael Kerr, LLP.
Michael, who represents Wetherald, said the family's case is not unique. Although she doesn't see many cases like Wetherald's in the Carmel area, Michael said there are many similar cases statewide. But this case is precedential in one respect, the attorney noted.
"Previously, they had placed him in a private school, they hadn't checked to see if any of the teachers were licensed, they didn't do any of his programing. When things started to go badly, they did nothing," Michael said. "It does establish that public schools cannot park a student somewhere and wash their hands of the case."
That makes this a significant case, especially in Indiana's federal circuit.
"There are not a lot of these cases that even make it up to the federal court level," Michael said. "So it does establish a precedent for schools all over our state and others that you can't simply throw up your hands and say, 'We have placed this child and now we have to do nothing.'"
Andrew Manna, partner at Church Church Hittle & Antrim who represented Carmel Clay School Corporation, declined to comment on the district court's ruling in the case, Wetherald v. Carmel Clay School Corporation, et al, 1:19-cv-00003. He twice requested from IL a signed release from the Wetherald family giving him permission to discuss the case, which attorneys for Wetherald declined.
Michael Beresford, superintendent of Carmel Clay Schools, did not say whether the school would appeal to the 7th Circuit Court of Appeals.
"We were disappointed by the court's ruling. At this time we are working with legal counsel to evaluate our next steps," Beresford said in a statement.
Changing lives
Evaluating the past few years of her life, Wetherald said fighting for her son's education is the hardest thing she has ever done. But she doesn't regret any of it.
Caiden, now 18, is caught up and on track to graduate next year, albeit one year late. Wetherald said he's doing better now that he has the right services in a placement that fits his needs.
The mom said she hopes the federal judge's ruling will prevent other students like Caiden from going through the same ordeal. Michael agreed, saying she hopes the Wetherald case gives parents courage.
"I'm happy that we did it, and I would do it again," Wetherald said.•
Please enable JavaScript to view this content.