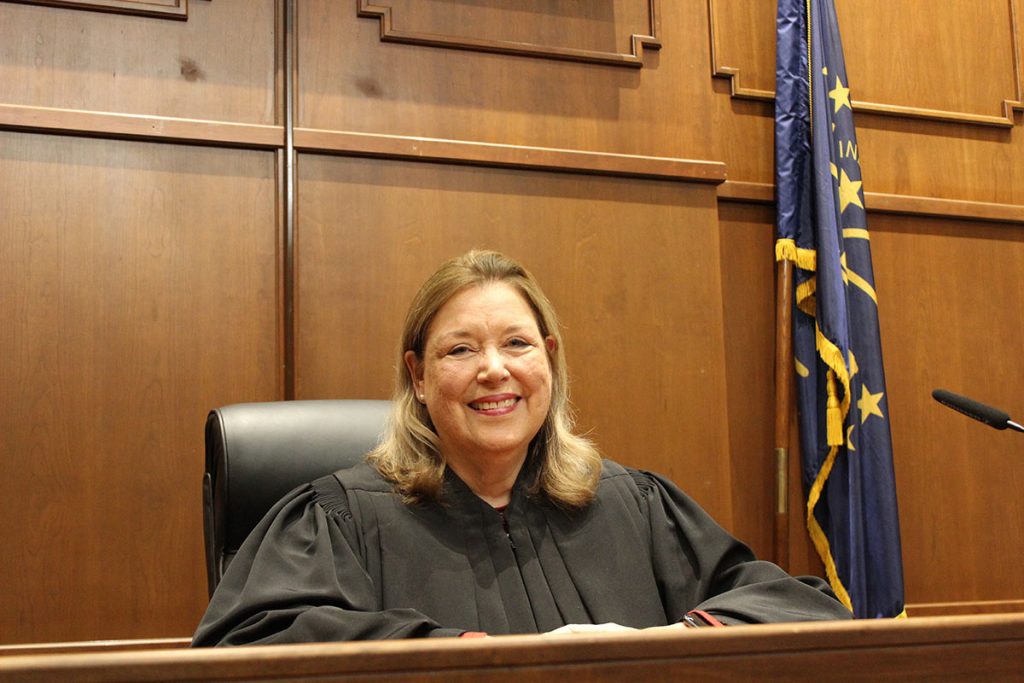 Candidates to be the next Indiana Tax Court judge answered questions about how they would improve the court, rules they would want to change and what their role would be away from the bench during interviews Tuesday.
There were five candidates interviewed in the morning session, with five more to follow in the afternoon.
The seven-member Indiana Judicial Nominating Commission, led by Chief Justice Loretta Rush, is interviewing the applicants and will select three finalists. Those finalists will then be submitted to Gov. Eric Holcomb, who will have 60 days from receiving their names to select Indiana's next Tax Court judge.
The vacancy is the result of the upcoming retirement of Judge Martha Wentworth, who will retire from the Tax Court bench later this year after 12 years.
Applications and other information about the vacancy can be found online.
Here's what candidates had to say in their 30-minute interviews.
Kevin Halloran
Kevin Halloran was the first applicant to face questions from the commission in the morning session. Halloran, a tax attorney at Quarles & Brady LLP, said the three most important qualities for the next Tax Court judge to have are intelligence, ethics and not having an agenda.
"I literally am a tax nerd," he said. "This is what I do. This is what I love."
While he said the Tax Court has "without question" had a positive impact — in part because it prevents litigants from being able to shop jurisdictions for favorable outcomes — Halloran said one thing he would advocate for is a speedier process for the court.
He gave as an example the Indiana Commercial Court rule related to the scope of discovery, which he said could be helpful to the Tax Court.
Halloran is a 1992 graduate of the Indiana University Maurer School of Law.
Patrick Price
Patrick Price, special counsel in the Indiana Office of Management and Budget, said the Tax Court is unique and has potential.
"It could be and should be the premier trial court in the state," said Price, a 2004 graduate of Yale Law School.
But The Tax Court hasn't reached its potential yet, he said, so the question is how to get it there.
One thing Price said he would want to change is making the court more "hospitable" for practitioners. He said he would work with attorneys to come up with more realistic case management plans.
Price, who clerked for then-10th Circuit Court of Appeals Judge Neil Gorsuch in 2007, described his leadership style as calm.
"I also try to give goals," he said. "I think there's a lot of work that goes into creating appropriate goals."
Jennifer Thuma
Jennifer Thuma, deputy general counsel at the Department of Local Government Finance, said one thing she would like to do as the Tax Court judge is hold hearings in different counties, with the goal of making the court more accessible.
She said her role away from the bench would include visiting law schools and working with bar associations.
Thuma, who also has a master's in Arabic language and Middle East studies from IU Bloomington, described herself as a humanitarian and touted her work at the Indiana Attorney General's Office helping victims of human trafficking.
One thing Thuma said she would like to change on the Tax Court are the rules regarding pro se litigants so they can have a better idea of how to proceed with a case.
Thuma is a 1997 graduate of the University of Cincinnati College of Law.
Lee Mandel
Lee Mandel, deputy prosecuting attorney in Marion County, said one of his strengths is being able to manage a large caseload.
He said he also has experience screening cases to determine their strengths and weaknesses. Mandel, a 2015 graduate of the IU McKinney School of Law, said the screening experience would be helpful considering he doesn't have judicial experience.
When it comes to his role away from the bench, Mandel said he would try to stay out of the spotlight.
"I'm not going to try to draw attention to things that aren't necessarily related to actual work," he said.
Mandel said his interest in the position goes back to law school, where he took a class taught by Judge Wentworth.
Winston Lin
Winston Lin, chief deputy prosecutor of Vanderburgh County, was the last interviewee for the morning session. He said one of his goals for the Tax Court would be to issue opinions within 60 days, which he said is "more than sufficient."
Lin, a 2011 IU Maurer graduate, said he would also aim to make opinions more "readable" for the general public, not just the tax community.
Asked about the role of artificial intelligence, Lin said while AI can "capture the charm" of writing, he's not confident it can make a good judgment about whether to actually write something.
Like others, Lin talked about the need to make legal proceedings easier to follow for pro se litigants and said that's one of the things he would like to address if he were to become the next Tax Court judge.
Check back with theindianalawyer.com for coverage of the afternoon interviews, plus the announcement of the three finalists.
Please enable JavaScript to view this content.