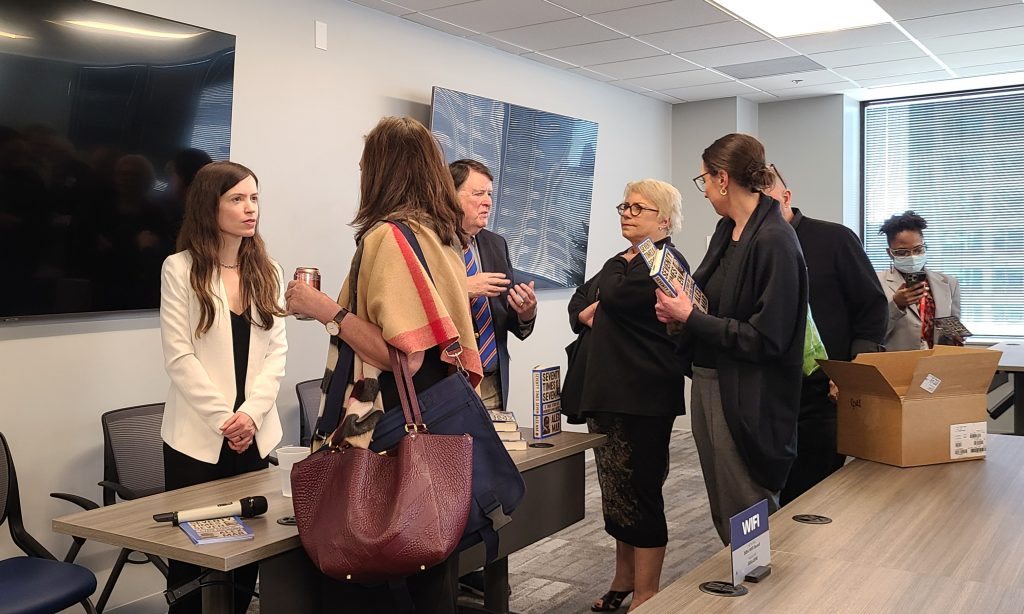 A story of a teen girl sentenced to death garnered international headlines and, after extensive interviews and research, is now being told through a new book, "Seventy Times Seven."
The author of the book, Alex Mar, hosted an event Wednesday at the Indiana State Bar Association's downtown Indianapolis headquarters, where she discussed the book and answered questions about the case against Paula Cooper.
Mar said she first learned of Cooper's case while doing research on violent crimes committed by women.
"I also write long-form journalism pieces for different newspapers and magazines, and so I kind of go where my curiosity takes me and I wanted to see what patterns might be there, because it is so much more of a rare phenomenon," Mar explained. "I stumbled across this case, and everything else just fell away."
Cooper's case gained international attention in the 1980s because she was convicted and sentenced to death as a teenager for the 1985 murder of Ruth Pelke, of Gary. Pelke was stabbed 33 times.
"It was, by all accounts, without question, a very heinous, terrible crime, with no discernible motive," Mar said.
Although Cooper was sentenced to death, Pelke's own grandson came to oppose her execution, believing his grandmother wouldn't want Cooper to die in her name.
Cooper also received international support, with European headlines saying things like, "U.S. sentences girl to death."
Cooper received so many letters written in Italian that she had to publicly announce that she couldn't read them nor respond. So, someone sent her an Italian dictionary.
Cooper also wrote her own letter to Italy, penning a message to then-Pope John Paul II.
"This letter was then put in the hand of this attorney, who handed it to one of the Italian journalists, who then was on the pope's plane as part of his press junket when the pope came to visit President (Ronald) Reagan and do a little mini tour of the states," Mar said. "And so it was then kind of passed along and put eventually right into the hands of the pope on his private plane."
After learning of her situation, the pope himself publicly advocated for Cooper's sentence to be changed. He wrote to then-Indiana Gov. Robert Orr and asked him why he wouldn't commute her sentence.
Randall Shepard, who became Indiana chief justice in 1987, said during Wednesday's Q&A that the oral arguments in Cooper's case were an example of how the three branches of Indiana government work together.
"Gov. Orr takes the posture that he does not rule that out (commuting Cooper's sentence), but he thinks the courts should do their work before he intervenes," Shepard said. "The Legislature passes this statute, setting the minimum (age for capital punishment), but decides that it should be prospective only."
Monica Foster, chief federal defender for Indiana Federal Community Defenders in the Indiana Southern District, represented Cooper in her efforts to overturn her death sentence. Those efforts were successful, as the sentence was commuted in 1989. Cooper was sentenced to 60 years and was ultimately released in June 2013.
"It was a beautiful thing because it meant it was over, and it meant we can go out and tell her there's nothing they can do about that," Foster said.
Joanna Green with the Indiana State Public Defender Office described the book as a look at both families, Cooper's childhood and what led her to her crime.
"I think it's a great opportunity for people to see what these children who end up sentenced to life … sort of how they got there," Green said. "A lot of times the victim's family wants something that the justice system just can't deliver. And reconciliation sometimes goes so much further than punitive justice."
The book was published March 28 and is Mar's second. She said she plans to take a break from writing books and work on other projects.
Please enable JavaScript to view this content.